Philippines
Country in Southeast Asia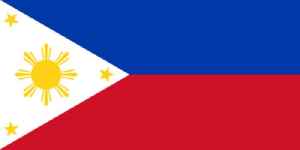 The Philippines, officially the Republic of the Philippines, is an archipelagic country in Southeast Asia. Situated in the western Pacific Ocean, it consists of about 7,641 islands that are broadly categorized under three main geographical divisions from north to south: Luzon, Visayas and Mindanao. The capital city of the Philippines is Manila and the most populous city is Quezon City, both within the single urban area of Metro Manila. Bounded by the South China Sea on the west, the Philippine Sea on the east and the Celebes Sea on the southwest, the Philippines shares maritime borders with Taiwan to the north, Japan to the northeast, Palau to the east, Indonesia to the south, Malaysia and Brunei to the southwest, Vietnam to the west, and China to the northwest.


Philippines surge: Restrictions reimposed in Manila

The Philippines now has the highest number of active COVID-19 cases in Southeast Asia.
Credit: Al Jazeera STUDIO Duration: 02:26
Published
Explained: South China Sea's troubled waters

U.S. rhetoric is heating up on the South China Sea, a constant source of friction between China and five of its neighbours. Megan Revell unpicks the issue.
Credit: Reuters - Politics Duration: 02:52
Published
Filipino fishermen welcome US decision on South China Sea row

The US says it is ready to support countries that believe China's territorial claims in the South China Sea are illegal.
Credit: Al Jazeera STUDIO Duration: 02:44
Published
Philippines press freedom: Major broadcaster denied a new license

Journalists say the network is being punished because of President Rodrigo Duterte's grievances, and the decision will further damage an already troubled nation.
Credit: Al Jazeera STUDIO Duration: 02:40
Published
Philippines' largest TV network ABS-CBN forced to shut down

Shutdown deprives millions of Filipinos access to information while thousands of employees are expected to lose jobs.
Credit: Al Jazeera STUDIO Duration: 04:56
Published
Philippine lawmakers vote against renewal of top broadcaster ABS-CBN | #TheCube

"This move solidifies the tyranny of President Rodrigo Duterte," Phil Robertson, deputy Asia director of Human Rights Watch, said after the vote.View on euronews
Credit: euronews (in English) Duration: 01:56
Published
Philippines reopens its skies to incoming international flights

International flights have been allowed to resume flying into Manila with strict measures in light of the pandemic.
Credit: Al Jazeera STUDIO Duration: 02:09
Published
Tourist has been trapped in airport for 110 days

Roman Trofimov has spent 110 days trapped stuck in a Phillippines airport because of the coronavirus pandemic.
Credit: Bang Media World Duration: 01:09
Published
Philippines: Parts of Manila impose two-day 'hard lockdown'

The Philippines does a u-turn on easing its coronavirus lockdowns, after a surge in infections in the capital.
Credit: Al Jazeera STUDIO Duration: 02:35
Published
Philippine journalist's conviction 'a blow to press freedom'

Prominent journalist and her colleague have been found guilty of libel after article linked businessman to criminal activity.
Credit: Al Jazeera STUDIO Duration: 02:35
Published
Philippines promises 'thorough' probe of Wirecard

The Philippines' anti-money laundering agency on Monday said it would conduct a "swift and thorough" investigation into scandal-hit German payments firm Wirecard. Ciara Lee reports
Credit: Reuters Studio Duration: 01:54
Published
Philippines Investigating Wirecard, Missing $2 Billion

Peter Kneffel/picture alliance via Getty Images The Philippines is investigating local businesses that partnered the collapsed German payments company Wirecard, the Financial Times reported. Wirecard..
Credit: Wochit News Duration: 00:33
Published
Zoos under lockdown: Philippine animal activists plead for funds

Activists fear animals at one of Asia's oldest zoos are being forgotten during the pandemic.
Credit: Al Jazeera STUDIO Duration: 02:41
Published
CEO of embattled Wirecard quits

The chief executive of Wirecard resigned on Friday after the search for $2.1 billion of cash missing from the embattled electronic payments firm hit a dead end in the Philippines. Ciara Lee reports
Credit: Reuters Studio Duration: 01:26
Published
Filipino journalist Ressa found guilty of libel

The head of a Philippine news website known for its tough scrutiny of President Rodrigo Duterte faces up to six years in jail after being found guilty of libel by a Manila court, in what is being seen..
Credit: Reuters Studio Duration: 02:19
Published
Philippines police 'committing abuses' in imposing lockdown

Thousands of police were deployed to enforce strict quarantine rules, but activists accuse them of committing human rights violations in the process.
Credit: Al Jazeera STUDIO Duration: 02:45
Published
You Might Like



Philippine capital returning to lockdown as virus surges

MANILA, Philippines (AP) — The Philippine president has agreed to place the capital and outlying provinces back under a lockdown after medical groups warned that the country was waging "a losing..




WorldNews - Published





When Should the US Go to War?

The U.S. is the most militarized and warlike nation on earth. Most Americans don't think of their nation that way. Indeed, stating this fact often generates anger and outrage. However, what other..




WorldNews - Published





Philippines losing virus war, doctors warn Duterte

Dozens of doctors' groups on Saturday warned that the Philippines was losing the coronavirus fight, urging President Rodrigo Duterte to tighten a recently eased lockdown as cases surged and hospitals..




WorldNews - Published





PAL rolls out RT PCR swab testing one stop shop at NAIA T2

Flag carrier Philippine Airlines has rolled out a One Stop Shop (OSS) center at Terminal 2 of the Ninoy Aquino International Airport (NAIA) to perform the mandatory RT PCR swab testing for returning..




WorldNews - Published





PH world's second deadliest country for environmental defenders

The Philippines, next to Colombia, rose as the world's deadliest country for land and environment defenders and things are about to get worse amid the persistence of COVID-19 pandemic. This was..




WorldNews - Published





Philippines extends COVID-19 restrictions, makes vaccine pledge

Philippine President Rodrigo Duterte on Friday extended novel coronavirus restrictions in the capital, Manila, until mid-August and said the country would be given priority in supplies if China made a..




WorldNews - Published





Philippine President declares holiday on Eid al-Adha

JAKARTA, July 30 -- Philippine President Rodrigo Duterte on Thursday declared July 31 a national holiday to celebrate Eid al-Adha,...




WorldNews - Published





Philippines: deadliest country in Asia for land defenders

The Philippines was the deadliest country in Asia for land and environmental defenders again last year while slipping to second most dangerous in the world behind Colombia, a watchdog said Wednesday. A..




WorldNews - Published





Record 212 environmental activists murdered in 2019: NGO

Shares At least 212 environmental campaigners worldwide were murdered in 2019, making last year the deadliest on record for frontline activists battling the destruction of Nature, watchdog group Global..




WorldNews - Published





China appreciates Duterte's remarks on South China Sea

BEIJING - China appreciated the remarks of Philippine President Rodrigo Duterte on the South China Sea issue and stood ready to properly resolve maritime disputes with the Philippines through friendly..




WorldNews - Published





Hundreds rally in Manila ahead of Duterte's annual speech

MANILA, Philippines (AP) — Hundreds of protesters in the Philippine capital marched and staged motorcades Monday against a new anti-terror law and other issues despite police threats of arrests ahead..




WorldNews - Published





One Good Thing: Donated bikes help amid pandemic

In the wake of business closures and job losses in the Philippines, thousands of Filipinos have found themselves struggling to make ends meet. With a severely restricted public transportation system in..




USATODAY.com - Published





Philippines to ramp up coronavirus testing as Duterte warns of arrests

MANILA: The Philippines said on Tuesday it would ramp up testing for the novel coronavirus amid a sharp rise in infections and deaths since a lockdown was eased in June, while President Rodrigo Duterte..




WorldNews - Published





Philippine shares lag as vaccine view lifts Asia

The Philippines trailed gains for Asia's emerging stock and currency markets on Tuesday, as a surge in local coronavirus cases gnawed at investor sentiment while others cheered promising data for..




WorldNews - Published





Coronavirus: Stranded cruise ship worker home after being stuck in the Philippines

Eddy O'Brien spent 130 days in lockdown on a cruise ship in the Philippines.




BBC News - Published





What China's Asian Maritime Rivals Expect from an Emboldened, Supportive US

Asian countries who feel pinched by China over competing maritime claims expect the U.S. government to step up aid following Secretary of State Mike Pompeo's words of support this week, but only in..




WorldNews - Published





Philippines to let in foreigners with long-term visas from August

The Philippines will allow foreigners who hold long-term visas to enter the country from August, the government said Friday, as it continues to grapple with a rising number of coronavirus cases. Under..




WorldNews - Published





Newlyweds spend wedding money on healthcare heroes

Bride and groom in the Philippines spend wedding money on hospital workers and people in need.




USATODAY.com - Published





Philippine police deployed as COVID-19 cases forced into quarantine

Manila: Philippine police are being deployed to ensure people who test positive for the coronavirus and cannot self-isolate at home are taken to state-run quarantine centres, sparking warnings..




WorldNews - Published





Philippines' 3rd cabinet member tests positive for COVID-19

MANILA, July 15 (Xinhua) -- The Philippine Public Works and Highways Secretary Mark Villar on Wednesday said he had tested positive for COVID-19, becoming...




WorldNews - Published





DOT to reboot PH tourism via domestic leisure travel

AS the Department of Tourism (DOT) seeks to make domestic leisure travel as a huge driver to reboot the Philippine tourism, the House of Representatives wants to accelerate the expanded coronavirus..




WorldNews - Published





Philippines top broadcaster ABS-CBN denied new licence

Government critics say the ABS-CBN shutdown is an attack on media freedom by President Duterte.




BBC News - Published





Duterte's anti-terror law a dark new chapter for Philippines, experts warn

Legal challenges mount against new law, which allows warrantless arrests and could affect delivery of coronavirus aid An anti-terrorism law that grants sweeping powers to president Rodrigo Duterte's..




WorldNews - Published





Economic team sees signs of recovery

ECONOMIC and finance officials on Wednesday, July 8, 2020, said the Philippines is starting to recover from what they described as the "toughest economic crisis" to hit the nation. However, second..




WorldNews - Published





Philippines critics ask top court to suspend Rodrigo Duterte's antiterrorism law

Manila — Critics of a new antiterrorism law in the Philippines called on the country's highest court on Monday to suspend the legislation, arguing it threatens human rights and freedom of speech...




WorldNews - Published





China warned not to impinge on Philippines' territory

Foreign Secretary Teodoro Locsin Jr. on Friday warned China of the "severest response" – diplomatic and whatever else is appropriate – from Manila if it holds military exercises within..




WorldNews - Published





Hope dims for missing people in Philippine sea collision as search continues

MANILA, July 3 (Xinhua) -- The Philippine Coast Guard (PCG) said there is little chance of finding survivors after a Philippine fishing boat collided with a cargo vessel and sank off Occidental Mindoro..




WorldNews - Published





Japan extends $464 million loan for Philippines COVID-19 response

MANILA--Japan will extend a 50 billion yen ($464 million) loan to the Philippine government to help its emergency measures to fight its coronavirus outbreak, its embassy...




WorldNews - Published





Asia Today: Philippines extends lockdown in central city

MANILA, Philippines (AP) � The Philippine president has retained a strict lockdown in a central city he described as a new coronavirus hot spot, while the capital and the rest of the country were..




WorldNews - Published





14 missing from fishing boat after Philippine sea collision

MANILA, Philippines: The Philippine coast guard was searching on Monday for 14 people missing since a fishing boat and cargo vessel collided in choppy waters two nights earlier. The fishing...




WorldNews - Published





Maria Ressa: There is so much at stake for us now

The award-winning journalist reflects on the future for democracy in the Philippines.




BBC News - Published





Philippines gov't warns against Bitcoin Revolution scam using names of officials

Residents in the Philippines are likely to be flooded with digital currency investment scams. The government issued warnings to the residents about the Bitcoin Revolution scam, which is being touted..




WorldNews - Published





No more 'new normal'? Philippines to keep coronavirus quarantines for now

MANILA, Philippines --- Malacaang announced Tuesday that the government's task force on COVID-19 pandemic has...




WorldNews - Published





Philippines: Jollibee raises $600m from int'l market

Restaurant operator Jollibee Foods Corp. said Friday it raised $600 million from the issuance of dual tranche US dollar-denominated...




WorldNews - Published





U.S. concerned by libel verdicts against Philippine journalists

The U.S. State Department said on Tuesday it is concerned about court verdicts against two journalists in the Philippines and called for the case against them to be resolved in ways that reinforced a..




Reuters - Published





Democracy Dies by a Thousand Cuts

In a hushed courtroom, with only litigants, their lawyers, and three other journalists present, a judge convicted the Philippine journalist Maria Ressa for an article she did not write, edit, or..




WorldNews - Published





As economy slumps, Philippines lets eateries reopen to recoup job losses

The Philippines is getting back to business after one of the world's strictest coronavirus lockdowns spanning nearly three months, allowing restaurants to reopen this week for dine-in customers in an..




Reuters - Published





Partial restrictions to remain in capital as Philippines tackles virus

Philippine President Rodrigo Duterte said on Monday partial restrictions would remain in place in the capital Manila for another two weeks because the threat from the new coronavirus was still present.




Reuters - Published





America Should Stop Defending the Philippines Like It Was a Vital Interest

> After threatening to divorce America and rush into China's arms, the Philippines' President Rodrigo Duterte, as coarse, myopic, and impulsive as President Donald Trump, reconsidered. Predictably..




WorldNews - Published





Fears for Philippines press freedom as court finds Maria Ressa guilty of libel

The head of a Philippine news website known for its tough scrutiny of President Rodrigo Duterte was convicted of libel on Monday and faces a lengthy jail term in what is being seen as a blow to media..




Reuters India - Published

Also reported by •Reuters


Duterte-critic journalist Maria Ressa convicted in Philippine libel case

MANILA: High-profile Philippine journalist was convicted Monday in a that press freedom advocates have branded a ploy to silence critics of President . Ressa, 56, and her news site have been the target..




WorldNews - Published





Philippine court finds news site chief Maria Ressa guilty of libel

The head of a Philippine news website known for its tough scrutiny of President Rodrigo Duterte faces up to six years in jail after being found guilty of cyber libel by a Manila court on Monday in what..




Reuters India - Published

Also reported by •Reuters


Maria Ressa: The celebrated Philippine news boss enraging Duterte

The award-winning journalist and presidential critic faces jail after being found guilty of libel.




BBC News - Published





Maria Ressa: Philippine journalist found guilty of cyber libel

In a case seen as a test of the Philippines' media freedom, journalist Maria Ressa has been found guilty of libel.




BBC News - Published





UnionBank among 'Most Helpful Banks in Asia-Pacific'

UNION Bank of the Philippines (UnionBank) has been ranked as the second most helpful bank in Asia-Pacific during the coronavirus crisis — the only Philippine bank in the top 20 list. UnionBank was..




WorldNews - Published





Philippines must pass anti-terrorism bill to stay off "grey list": council

The Philippines risks being included in an international "grey list" of nations falling short of global money-laundering rules if it fails to enact and effectively implement a new anti-terrorism bill,..




Reuters - Published





Philippine protesters rally over controversial anti-terror bill

More than 1,000 Filipinos on Friday braved the threat of coronavirus infection to protest against a controversial new anti-terrorism bill, which is awaiting Philippine President Rodrigo Duterte's..




Reuters - Published





Philippines reports nine novel coronavirus deaths, 443 more infections

The Philippines' health ministry on Thursday confirmed nine more new coronavirus deaths and 443 additional infections.




Reuters - Published





Philippines emerges as global hub of online child pornography

By Sara Gómez Armas Manila, June 10 (efe-epa).- A Filipino boy of about 12 years of age wiggles to music as he suggestively lowers his pants in a Twitter video, which lasts justs 10 seconds and ends..




WorldNews - Published





Philippine officials visit disputed South China Sea island

The Philippines' defence minister and military officials have made a trip to a disputed South China Sea island just a few miles from a base built by China, a visit that could draw criticism from..




Reuters - Published