Pedro Sánchez (politician)
Spanish Prime Minister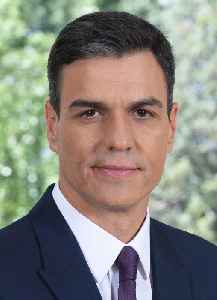 Pedro Sánchez Pérez-Castejón is a Spanish economist and politician serving as Prime Minister of Spain since 2 June 2018. He is also Secretary-General of the Spanish Socialist Workers' Party (PSOE), holding office for the second time after winning a leadership election in June 2017.


Catalan leader says Spanish PM might 'consider' referendum on independence
A jailed Catalan separatist leader standing in Spain's national election this month has said he expected Prime Minister Pedro Sánchez to consider a possible referendum on the region's independence to..
WorldNews - Published
Also reported by •Reuters
Spain's Socialists hold lead ahead of election, still short of majority: poll
Spain's Socialists broadened their lead in voting intentions ahead of the April 28 election, the latest GAD3 poll for ABC newspaper showed on Tuesday, although the party of the prime minister Pedro..
Reuters - Published
Tough battle ahead as Spanish General Election begins
Voters will go to the polls in a little over two weeks time to elect a new government. Prime Minister Pedro Sanchez's Socialist Party starts the campaign as favorite.
Credit: euronews (in English) Duration: 04:08Published
Spain's Sanchez hardens position on Catalonia ahead of election
Spanish Prime Minister Pedro Sanchez, who faces a national election in two weeks' time, has said he will act with "strength and proportion" against any attempt by Catalan separatists to repeat their..
Reuters - Published
Jailed Catalan leaders ease position on post-election coalition talks
BARCELONA (Reuters) - Four Catalan leaders on trial over a 2017 bid to split their region from Spain have said separatists should be more flexible about entering negotiations on forming the next Madrid..
WorldNews - Published
Search this site and the web:
You Might Like