Manila
Capital and chief port of the Philippines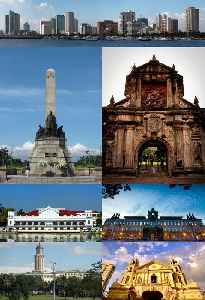 Manila, officially the City of Manila, is the capital of the Philippines and a highly urbanized city. It is the most densely populated city proper in the world as of 2019. It was the first chartered city by virtue of the Philippine Commission Act 183 on July 31, 1901 and gained autonomy with the passage of Republic Act No. 409 or the "Revised Charter of the City of Manila" on June 18, 1949. Manila, alongside Mexico City and Madrid, is considered the world's original set of Global Cities due to Manila's commercial networks being the first to traverse the Pacific Ocean, thus connecting Asia with the Spanish Americas, marking the first time in world history when an uninterrupted chain of trade routes circled the planet. Manila is also the second most natural disaster-afflicted capital city in the world next to Tokyo, yet it is simultaneously among the most populous and fastest growing cities in Southeast Asia.


The rickshaw classroom for indigenous kids

A group of Filipino teachers have found an creative way to help children of indigenous communities living in remote mountains north of Manila catch up on their studies under the new norms of pandemic..
Credit: Reuters Studio Duration: 01:44
Published
Need homework help? Try Manila's dial-a-teachers

A call center manned by teachers has opened in Manila, to make sure students don't fall behind in their online studies during the coronavirus pandemic.
Credit: Reuters Studio Duration: 01:17
Published
Drive-thru pet blessing in Manila on feast of St Francis

Pet lovers in Manila received blessings for their animals via a drive-throughceremony on Sunday to celebrate the feast of Saint Francis, the patron saintof animals, despite restrictions imposed to stem..
Credit: PA - Press Association STUDIO Duration: 00:27
Published
Philippine government efforts to preserve historic Manila

Decades ago, Manila was called the Pearl of the Orient, but the Battle for Manila destroyed much of its grandeur.
Credit: Al Jazeera STUDIO Duration: 02:29
Published
You Might Like



Philippines to allow foreign investors to enter country

Manila: The Philippines' coronavirus task force has approved the entry of foreign investors to the...




WorldNews - Published





Philippines President Duterte says he can be held responsible for drug killings

Manila, Philippines: The Philippine president has said he has no problem with being held responsible for the many killings under his anti-drugs crackdown, adding that he was ready to face charges that..




WorldNews - Published





Duterte suspected extrajudicial killings in drug crackdown

MANILA, Philippines (AP) — Philippine President Rodrigo Duterte said that like his fierce critics, he has also suspected that extrajudicial killings may have happened under his drug crackdown that..




WorldNews - Published





ShowBiz Minute: Kenzo, Cineworld, Pet Blessing

Fashion world pays tribute to designer Kenzo Takada who has died from COVID-19 complications aged 81; Hundreds of Regal, Cineworld movie theaters to close in U.S. and U.K.; Drive-thru pet blessing in..




USATODAY.com - Published





AP Top Stories October 4 P

Here are the top stories for Sunday, Oct. 4th: Trump could be discharged Monday; coronavirus restrictions lifted in Mecca; Pope Francis releases his third encyclical; pet lovers in Manila received..




USATODAY.com - Published





Manila and Beijing agreed to shelve dispute, ambassador says – despite Duterte's vow to uphold ruling

China and the Philippines have agreed to shelve their dispute over the...




WorldNews - Published





Philippine president to make UN General Assembly debut

MANILA: For the first time since he became president four years ago, the Philippines' tough-talking leader Rodrigo Duterte will take part in the UN General Assembly (UNGA) on Tuesday. The meeting..




WorldNews - Published





Suspected terror group gunmen kidnap businessman in southern Philippines

MANILA: Security forces have launched a hunt for suspected Abu Sayyaf terror group gunmen who on Wednesday kidnapped a Filipino American businessman in front of his wife in the southern Philippines...




WorldNews - Published





Philippines deports US soldier convicted of killing a woman

The Philippines has deported a US soldier convicted of killing a woman in the country six years ago, days after President Rodrigo Duterte granted him an absolute pardon, in a controversial move that..




WorldNews - Published





Alarm over drug-related killings in Manila during Covid-19

There's alarm in the Philippines over an escalation in shadowy killings during the pandemic in a suburb of the capital, Manila.




BBC News - Published





Philippine president pardons U.S. Marine in killing of transgender woman

MANILA — Philippine President Rodrigo Duterte pardoned a U.S. Marine in a surprise move Monday that will free him from imprisonment in the killing of a local transgender woman that sparked anger in..




WorldNews - Published





Philippine appeals block release of US Marine in killing

MANILA, Philippines (AP) — A U.S. Marine convicted in the 2014 killing of a transgender Filipino woman will remain behind bars while her family and the government appeal a Philippine court order..




WorldNews - Published





Manila not to stop projects with Chinese companies

Reuters, MANILA The Philippines would not halt infrastructure projects involving Chinese firms blacklisted by ally the US and would make its own decisions, not those of a foreign power, Philippine..




WorldNews - Published





Army chief: Suicide bombers behind deadly Philippine attacks

MANILA, Philippines (AP) — The Philippine army chief said Tuesday that two Islamic militants who blew themselves up were responsible for the bombings that killed at least 14 people and wounded 75..




WorldNews - Published





Philippines minister accuses China of fabricating sea claims

Shares China's "nine-dash line" used to claim most of the South China Sea is a fabrication, the Philippine defense minister said, as he accused Beijing of illegally occupying Filipino maritime..




WorldNews - Published





Philippines - 'What is ours is ours,' Locsin tells China

Foreign Affairs Secretary Teodoro Locsin Jr. on Thursday invoked the country's arbitral award against China in the disputed South China Sea, as it said Beijing was "reading too much" into..




WorldNews - Published





Local carriers suspend flights under MECQ

Local carriers – Philippine Airlines (PAL), Cebu Pacific Air (CEB) and Air Asia, on Tuesday (August 4, 2020) canceled domestic flights to and from Manila for the next 14 days (August 4 to 18, 2020)..




WorldNews - Published





Tricycles, e-trikes, pedicabs allowed in Manila streets during MECQ

Tricycles, e-trikes, and pedicabs will be allowed to ply the streets of Manila during the modified enhanced community quarantine (MECQ) from August 4 to 18, Manila Mayor Francisco "Isko Moreno"..




WorldNews - Published





Coronavirus: Millions return to lockdown in Philippines

A strict curb on movements has been re-imposed in the capital Manila after a surge in Covid infections.




BBC News - Published





Philippine capital returning to lockdown as virus surges

MANILA, Philippines (AP) — The Philippine president has agreed to place the capital and outlying provinces back under a lockdown after medical groups warned that the country was waging "a losing..




WorldNews - Published





Philippines extends COVID-19 restrictions, makes vaccine pledge

Philippine President Rodrigo Duterte on Friday extended novel coronavirus restrictions in the capital, Manila, until mid-August and said the country would be given priority in supplies if China made a..




WorldNews - Published





Hundreds rally in Manila ahead of Duterte's annual speech

MANILA, Philippines (AP) — Hundreds of protesters in the Philippine capital marched and staged motorcades Monday against a new anti-terror law and other issues despite police threats of arrests ahead..




WorldNews - Published





Philippines to ramp up coronavirus testing as Duterte warns of arrests

MANILA: The Philippines said on Tuesday it would ramp up testing for the novel coronavirus amid a sharp rise in infections and deaths since a lockdown was eased in June, while President Rodrigo Duterte..




WorldNews - Published





Philippine shares lag as vaccine view lifts Asia

The Philippines trailed gains for Asia's emerging stock and currency markets on Tuesday, as a surge in local coronavirus cases gnawed at investor sentiment while others cheered promising data for..




WorldNews - Published





Philippine police deployed as COVID-19 cases forced into quarantine

Manila: Philippine police are being deployed to ensure people who test positive for the coronavirus and cannot self-isolate at home are taken to state-run quarantine centres, sparking warnings..




WorldNews - Published





Philippines' 3rd cabinet member tests positive for COVID-19

MANILA, July 15 (Xinhua) -- The Philippine Public Works and Highways Secretary Mark Villar on Wednesday said he had tested positive for COVID-19, becoming...




WorldNews - Published





Lopez leads House plea to hike transport modes

Manila Rep. Manny Lopez SIX House leaders have urged the Duterte administration to increase by 30 percent all modes of public transportation, especially traditional jeepneys and proposed that at least..




WorldNews - Published





Philippines critics ask top court to suspend Rodrigo Duterte's antiterrorism law

Manila — Critics of a new antiterrorism law in the Philippines called on the country's highest court on Monday to suspend the legislation, arguing it threatens human rights and freedom of speech...




WorldNews - Published





China warned not to impinge on Philippines' territory

Foreign Secretary Teodoro Locsin Jr. on Friday warned China of the "severest response" – diplomatic and whatever else is appropriate – from Manila if it holds military exercises within..




WorldNews - Published





Hope dims for missing people in Philippine sea collision as search continues

MANILA, July 3 (Xinhua) -- The Philippine Coast Guard (PCG) said there is little chance of finding survivors after a Philippine fishing boat collided with a cargo vessel and sank off Occidental Mindoro..




WorldNews - Published





Japan extends $464 million loan for Philippines COVID-19 response

MANILA--Japan will extend a 50 billion yen ($464 million) loan to the Philippine government to help its emergency measures to fight its coronavirus outbreak, its embassy...




WorldNews - Published





Asia Today: Philippines extends lockdown in central city

MANILA, Philippines (AP) � The Philippine president has retained a strict lockdown in a central city he described as a new coronavirus hot spot, while the capital and the rest of the country were..




WorldNews - Published





14 missing from fishing boat after Philippine sea collision

MANILA, Philippines: The Philippine coast guard was searching on Monday for 14 people missing since a fishing boat and cargo vessel collided in choppy waters two nights earlier. The fishing...




WorldNews - Published





No more 'new normal'? Philippines to keep coronavirus quarantines for now

MANILA, Philippines --- Malacaang announced Tuesday that the government's task force on COVID-19 pandemic has...




WorldNews - Published





Partial restrictions to remain in capital as Philippines tackles virus

Philippine President Rodrigo Duterte said on Monday partial restrictions would remain in place in the capital Manila for another two weeks because the threat from the new coronavirus was still present.




Reuters - Published





America Should Stop Defending the Philippines Like It Was a Vital Interest

> After threatening to divorce America and rush into China's arms, the Philippines' President Rodrigo Duterte, as coarse, myopic, and impulsive as President Donald Trump, reconsidered. Predictably..




WorldNews - Published





Duterte-critic journalist Maria Ressa convicted in Philippine libel case

MANILA: High-profile Philippine journalist was convicted Monday in a that press freedom advocates have branded a ploy to silence critics of President . Ressa, 56, and her news site have been the target..




WorldNews - Published





Philippine court finds news site chief Maria Ressa guilty of libel

The head of a Philippine news website known for its tough scrutiny of President Rodrigo Duterte faces up to six years in jail after being found guilty of cyber libel by a Manila court on Monday in what..




Reuters India - Published

Also reported by •Reuters


Bob Arum: Manny Pacquiao could be next PH president

MANILA, Philippines --- Bob Arum won't be surprised if Manny Pacquiao goes for the presidency in 2022. In fact,...




WorldNews - Published





No students in school without virus vaccine, Philippines says

MANILA: Tens of millions of children in the Philippines will not be allowed back to school until a coronavirus vaccine is available, officials announced Monday, saying they may have to broadcast..




WorldNews - Published





Philippines' Duterte renews threat to kill drug dealers after big bust

MANILA (Reuters) - Philippine President...




WorldNews - Published





Philippines eases one of world's toughest curbs amid spike in coronavirus cases

Philippine President Rodrigo Duterte eased one of the toughest and longest lockdowns in the world for residents in the capital Manila from June 1, even as the country saw its biggest spike in..




Reuters - Published





Philippines' Duterte eases lockdown in capital from June 1

Philippines President Rodrigo Duterte on Thursday approved a recommendation to ease the lockdown in the capital Manila from June 1, resuming much-needed activity in an economy on the brink of..




Reuters - Published




Philippines' task force recommends easing of lockdown in capital

The Philippines' coronavirus task force has recommended to President Rodrigo Duterte easing lockdown measures in Manila from June 1, despite the country still reporting some of its highest daily..




Reuters - Published





Duterte orders local govt units to accept returning overseas workers

MANILA: Philippine President Rodrigo Duterte on Tuesday warned Local Government Units (LGUs) that they would face sanctions if they failed to accept Overseas Filipino Workers (OFWs) returning to their..




WorldNews - Published





Philippine leader answers call of workers begging to go home

MANILA (Reuters) - Philippine President Rodrigo Duterte has given his government a week to process some 24,000 repatriated Filipino workers stuck for weeks on cruise ships or in coronavirus quarantine,..




WorldNews - Published





Vande Bharat Mission: Two airports in AP receive 459 stranded Indians

An Air India flight carrying 145 people stranded in London, landed at Vijayawada Airport here on Wednesday, as part of the biggest ever off-shore evacuation drive of Indian citizens under the Vande..




IndiaTimes - Published





Powerful storm forces thousands from homes in coronavirus-hit Philippines

Tens of thousands of people were forced into cramped shelters by the powerful storm pounding the Philippines on Friday, making social distancing nearly impossible as the nation battles the coronavirus..




WorldNews - Published





'We feel like guests': Manila cruise flotilla offers crew confinement in comfort

In the past few weeks, Manila Bay in the Philippines has been transformed into the world's biggest parking lot for cruise ships, none of which have any guests.




Reuters - Published





Philippine economy contracts for first time since 1998

Manila, May 7 (efe-epa).- The Philippine economy contracted 0.2 percent in the first quarter of 2020 amid the strict lockdown measures, making it the first drop since 1998, according to data published..




WorldNews - Published