Andrew Cuomo
56th Governor of New York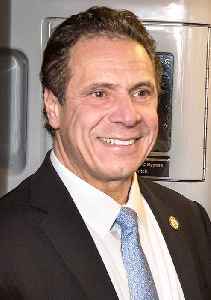 Andrew Mark Cuomo is an American politician, author, and lawyer serving as the 56th governor of New York since 2011. A member of the Democratic Party, he was elected to the same position his father, Mario Cuomo, held for three terms. He has served as Chair of the National Governors Association since August 2020.


California to review any COVID-19 vaccine

An independent panel of experts has been formed in California to review any federally approved Covid-19 vaccine. The move follows concerns that the White House could rush the process. Flora..
Credit: Reuters - Politics Duration: 01:25
Published
Cinemas outside NYC to reopen at 25% capacity: Cuomo

Movie theaters outside of New York City will be allowed to reopen on Oct. 23 after a months-long hiatus spurred by the coronavirus, New York Governor Andrew Cuomo said on Saturday.
Credit: Reuters Studio Duration: 00:37
Published
Cynthia Nixon rules out running against Andrew Cuomo for New York Governor again

Cynthia Nixon won't run for the New York Governor position again after losing her bid to take the role from Andrew Cuomo back in 2018.
Credit: Cover Video STUDIO Duration: 00:55
Published
How U.S. Theaters Are Dealing With the Worst-Case Scenario for 2020 | THR News

There's a new public enemy No. 1 among theater owners and some Hollywood studio executives: Andrew Cuomo. The New York governor, who generally has received praise for his handling of the pandemic, so..
Credit: The Hollywood Reporter Duration: 01:33
Published
'Be afraid of COVID. It can kill you' -Cuomo blasts Trump

New York Governor Andrew Cuomo told reporters on Tuesday that President Donald Trump's message to Americans "to get out there" and not fear COVID-19 was "just more denial." Cuomo said, "No. Be afraid..
Credit: Reuters Studio Duration: 02:01
Published
NY Gov. Cuomo closes schools in COVID-19 hot spots

New York Governor Andrew Cuomo ordered schools to close beginning on Tuesday in several coronavirus "hot spots" in New York City boroughs, and said the state would take over enforcement of social..
Credit: Reuters Studio Duration: 01:37
Published
NYC mayor seeks to lockdown coronavirus hotspots

New York City Mayor Bill de Blasio said on Sunday he is moving to shut non-essential businesses as well as schools in nine neighborhoods identified as coronavirus clusters, starting on Wednesday. This..
Credit: Reuters - Politics Duration: 01:40
Published
Indoor dining a step forward for NYC restaurants

Despite leading the way in controlling the coronavirus, New York City was among the slowest areas in the country to restart indoor dining - something it is now doing at just 25 percent capacity,..
Credit: Reuters - Politics Duration: 03:04
Published
NY setting up task force to review vaccine safety

New York Governor Andrew Cuomo on Thursday said he doesn't "trust the federal government's opinion" on a safe COVID-19 vaccine so New York State will set up a task force to conduct an independent..
Credit: Reuters Studio Duration: 01:13
Published
NY To Honor RBG With Statue

On Saturday, New York Gov. Andrew Cuomo his state will honor "the life and legacy of" late Supreme Court Justice Ruth Bader Ginsburg. Ginsburg will get a statue in her native Brooklyn. Ginsburg died..
Credit: Wochit News Duration: 00:32
Published
'Certified young person' Paul Rudd asks 'fellow millennials' to mask up

Actor Paul Rudd has poked fun at himself in a public service film in which heasks "fellow millennials" to wear a mask in the fight against Covid-19. Thevideo was tweeted by Governor of New York..
Credit: PA - Press Association STUDIO Duration: 02:11
Published
Leaders mark 9/11 amid several U.S. crises

Amid a deadly pandemic, devastating wildfires, racial unrest and a polarizing political divide, the U.S. honored those who died in a tragedy 19 years ago during the terrorist attacks of Sept. 11. Lisa..
Credit: Reuters - Politics Duration: 02:17
Published
You Might Like



Watch live: New York Governor Cuomo makes announcement

Cuomo is speaking after red zone COVID-19 infection rates have come down in parts of the state in the last week, but as as New Jersey sees a surge in cases.




CBS News - Published




Cuomo says New York ski resorts can reopen in November with restrictions

New York Governor Andrew Cuomo said Sunday that skiing can restart in the state with restrictions amid the coronavirus pandemic. "You have to socially distance when you ski," Cuomo said. Watch his..




CBS News - Published




Movie theaters in NY can open Friday, with limits

Movie theaters in New York state can reopen beginning next Friday with restrictions on audience size and other precautions in place, Gov. Andrew Cuomo said Saturday. (Oct. 17)  




USATODAY.com - Published





Chainsmokers Hamptons Concert Organizers to be Fined $20k

The State of New York just dropped the hammer on the folks who organized the now-infamous Chainsmokers concert in the Hamptons this summer ... fining them, and making it harder for them to do it again...




TMZ.com - Published





Cuomo warns of "more restrictions" if COVID hot spots flare up

With coronavirus cases rising across the country, New York's governor tells "CBS This Morning" how he's handling outbreaks in his state.




CBS News - Published





Gov. Andrew Cuomo's COVID book hits shelves amid growing virus cases. Here's what he writes.

Gov. Andrew Cuomo's new book on COVID hits bookshelves Tuesday as New York's infection rates rise.




USATODAY.com - Published





Governor Cuomo on a challenging fall season, possibility of statewide lockdown and new book

New York Governor Andrew Cuomo joins "CBS This Morning" to discuss what he previously called a "challenging period" as COVID-19 cases rise in parts of the state. Cuomo has a new book, "American..




CBS News - Published





A State Within (NY) State

Article By WN.com Guest Writer Gilad Atzmon Amid a new surge of COVID-19 in New York City's Orthodox Jewish communities, NY Governor Andrew Cuomo decided to temporarily close public and private..




WorldNews - Published





"Sunday Morning" Full Episode 10/11

Hosted by Jane Pauley. In our cover story, David Pogue examines the Right to Repair movement, fighting electronics manufacturers that make it more difficult for consumers to fix broken devices. Plus:..




CBS News - Published





Andrew Cuomo & daughters on life during the pandemic

Like so many other homes across America, the Governor's Mansion in Albany, N.Y. has been a haven for a family locked down during the COVID-19 outbreak




CBS News - Published




N.Y.'s COVID-19 hospitalizations are highest since July 15

Still, Governor Cuomo insisted the "numbers remain good news," noting that public health officials traced 18% of positive tests this week to a so-called "Red Zone" that's home to 2.8% of the state..




CBS News - Published





Andrew Cuomo on the pandemic: "The game isn't over; this is halftime"

In this preview of an interview to air on "CBS Sunday Morning" October 11, New York Governor Andrew Cuomo, who has authored a new book, "American Crisis: Leadership Lessons from the COVID-19..




CBS News - Published





New virus restrictions in New York spark anti-lockdown protests in Orthodox Jewish community

Gov. Andrew Cuomo announced new restrictions in hotspot clusters in New York. The decision has sparked backlash in the Orthodox Jewish community.




USATODAY.com - Published




Parents protest school closures in virus spike areas

New York City Public school parents held protests after Gov. Andrew Cuomo moved to shut down schools and businesses in areas where coronavirus cases are spiking. (Oct. 7)  




USATODAY.com - Published





Rabbi considering legal action against new shutdown

New York Gov. Andrew Cuomo is reinstating tighter restrictions on areas where coronavirus cases are spiking. Many neighborhoods affected are home to large enclaves of Orthodox Jews, and community..




USATODAY.com - Published





Protesters burn masks in Brooklyn hotspot over Cuomo's lockdown

Videos on social media show some Orthodox Jewish protesters chanting "Jewish lives matter!"




CBS News - Published





New York Gov. orders crackdown in COVID hotspots

New York Gov. Andrew Cuomo has ordered a new crackdown on COVID hotspots across New York City as virus cases spike. (Oct. 6)  




USATODAY.com - Published





NYC targets virus uptick areas with restrictions

New York Governor Andrew Cuomo is aiming new virus restrictions at neighborhoods home to the city's large Orthodox Jewish community. Cuomo says its an attempt to halt a flare-up of the coronavirus, but..




USATODAY.com - Published





New York governor orders schools in 9 neighborhoods to close

New York Governor Andrew Cuomo said the state will shut down schools in nine coronavirus hot spots​. The neighborhoods facing school closures have all seen a positive test rate well over 3% for the..




CBS News - Published





NYC to close some schools, but keep restaurants, gyms open in hot spots for now, Cuomo says

Some schools in New York City will close Tuesday, the first rollback in the city's reopening plan as cases are spiking in some hotspot neighborhoods.




USATODAY.com - Published




Restaurant workers carry coffin to Cuomo's office

Hundreds of New York City restaurant workers and owners marched to New York Gov. Andrew Cuomo's office in Manhattan Monday to demand that restaurants be allowed a 50% indoor dining capacity. (Sept...




USATODAY.com - Published





New York reports 1,000 daily new COVID-19 cases for first time since June

More than 1,000 people tested positive for the coronavirus in New York on Friday, marking the first time since early June the state has seen a daily number of cases rise above that mark. Gov. Andrew..




WorldNews - Published





Covid-19 Live News

Gov. Andrew M. Cuomo of New York said his state would conduct its own review of vaccines authorized by the federal government amid concern that the approval process has become politicized.




NYTimes.com - Published





New York to honor Ginsburg with a statue in Brooklyn, her birthplace

"This statue will serve as a physical reminder of her many contributions to the America we know today," said Governor Cuomo.




CBS News - Published





Johnson & Johnson faces $2 billion lawsuit over opioids

Governor Andrew Cuomo says the pharmaceutical giant downplayed the risks of addictive painkillers.




CBS News - Published





And now, a message from Paul Rudd about masks

Actor and comedian Paul Rudd is a certified young person. He wants to give you some extremely relevant, very timely, and completely appropriate words of advice. Just... just watch it. Trust..




The Verge - Published





In masks, Biden, Pence attend 9/11 memorial, Trump at Pennsylvania crash site

NEW YORK, Sept. 11 (Reuters) — Democratic presidential candidate Joe Biden and Vice President Mike Pence, both masked, joined New York's somber 19th anniversary of the Sept. 11 attacks, which..




WorldNews - Published





New York leaders push back after Trump threatens to cut funds

New York Governor Andrew Cuomo and Mayor Bill de Blasio are pushing back after President Trump threatened to cut federal funding for cities he deemed "anarchist jurisdictions." CBSN NY has details.




CBS News - Published





Cuomo says Trump "better have an army" to walk down streets of NYC

"From the point of view of New York City, this has been the worst president in history," Governor Andrew Cuomo said, after President Trump threatened to cut funding.




CBS News - Published





Gov. Andrew Cuomo: Donald Trump will 'need an army' if he returns to New York City

The governor of New York angrily responded to the president's threat to "defund" cities that have seen violent protests and property damage.




USATODAY.com - Published




JFK, LaGuardia to get COVID-19 testing sites for incoming travelers

Andrew Cuomo said LaGuardia and JFK will get testing sites as New York tries to prevent out-of-state visitors from bringing in new COVID-19 cases.




USATODAY.com - Published





Revealed: Jared Kushner's Private Channel With Putin's Money Man

On a late afternoon in March, a large military aircraft bearing the Russian Federation insignia descended into John F. Kennedy International Airport in New York City. Its mission: to deliver personal..




WorldNews - Published





New York governor signs new laws to expand mail-in voting

Cuomo has signed a bill into law that he said will make it easier for people to cast their vote and be counted in the upcoming election.




CBS News - Published





Gov. Andrew Cuomo writing a book on his leadership experiences amid COVID-19, due in October

New York Gov. Andrew Cuomo is writing a book that looks back on his experiences managing the coronavirus pandemic.




USATODAY.com - Published





At DNC, Cuomo calls COVID-19 'man-made threat'

New York Gov. Andrew Cuomo says the persistence of COVID-19 in the US is a "man-made threat by our own negligence," and blamed the Trump administration for its weak response. (Aug. 17)  




USATODAY.com - Published





"COVID is the symptom, not the illness," Cuomo says at DNC

New York Governor Andrew Cuomo, whose state was an early epicenter of the coronavirus pandemic, compared the effects of American political divisiveness to the spread of the virus during his remarks at..




CBS News - Published





What to expect on Day 1 of the Democratic National Convention

The Democrats' virtual convention kicks off Monday evening, with speeches from New York Governor Andrew Cuomo and former first lady Michelle Obama. CBS News political correspondent Ed O'Keefe, CBS News..




CBS News - Published





Gov. Cuomo previews upcoming convention speech

Gov. Cuomo previews upcoming convention speech  




USATODAY.com - Published





New York to allow museums, aquariums, more to open. What you need to know

Gov. Andrew Cuomo said bowling alleys, gyms, museums and other low-risk entertainment can open in the near future. What you need to know




USATODAY.com - Published





CBS Evening News, August 7, 2020

Cuomo will allow New York schools to reopen; 9-year-old Florida boy inspires community to adopt older pets




CBS News - Published





Cuomo will allow New York schools to reopen

New York Mayor Andrew Cuomo on Friday gave the green light to open schools in the state. Mola Lenghi reports.




CBS News - Published




New York schools OK'd for in-person classes. Here's where nation's big districts stand on reopening.

Cuomo says New York schools can open for in-person classes this fall. Here's a look at where the largest U.S. school districts stand on reopening.




USATODAY.com - Published





NYC sees zero COVID-19 deaths for three straight days

"We cannot go back to the hell we experienced just a few months ago," Governor Cuomo said.




CBS News - Published





ShowBiz Minute: Emmys, Chainsmokers, Dick

Stars react to Emmy nominations; "Appalled" Cuomo to investigate crowded Chainsmokers concert; No prosecution in alleged 2019 assault on comedian Andy Dick. (July 29)  




USATODAY.com - Published





Gov. Andrew Cuomo says MLB teams are welcome to play in New York during coronavirus pandemic

New York Gov. Andrew Cuomo says his state could host more MLB teams this season as the league tries to play during the coronavirus pandemic.




USATODAY.com - Published





New York Gov. Andrew Cuomo, defying history, hasn't thrown a first pitch. Is this the year?

New York governors have thrown out first pitches at baseball games dating back a century. When will Andrew Cuomo follow suit?




USATODAY.com - Published





Janice Dean: COVID-19 killed my in-laws after Cuomo's reckless New York nursing home policy

At first we didn't blame anyone for my in-laws' deaths. This is a pandemic, after all. Then we learned about a policy that put them in danger.




USATODAY.com - Published