Veneto
Region of Italy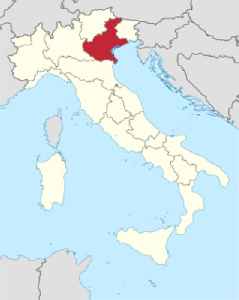 Veneto
(, Italian: 
[ˈvɛːneto]
; Venetian:
Vèneto
[ˈvɛneto]
or
Venetia
is one of the 20 regions of Italy. Its population is about five million, ranking fifth in Italy. The region's capital is Venice.
You Might Like
Italian regional chief sorry for saying Chinese eat 'live mice'
The governor of Veneto, one of the regions worst hit by an outbreak in Italy of coronavirus, apologized on Saturday for criticizing China over the contagion and saying Chinese people "eat live mice".
Reuters - Published
Eleventh death in coronavirus outbreak in northern Italy - Veneto region
A 76-year-old woman died on Tuesday in the northern Italian city of Treviso, the Veneto region said, the eleventh victim of the worst coronavirus outbreak in Europe.
Reuters - Published
Goldman steps up staff travel restrictions as coronavirus spreads
Goldman Sachs has restricted all business travel to, from and within South Korea and the Northern Italian regions of Lombardy and Veneto in the wake of the coronavirus spread, a staff memo seen by..
Reuters - Published
Italy's coronavirus outbreak spreads from its northern epicentre
Italy's coronavirus outbreak began spreading on Tuesday from its origins in the northern regions of Lombardy and Veneto, with new cases reported in central Tuscany, the coastal region of Liguria and..
Reuters - Published
Italy reports coronavirus case in Sicily, first south of Rome
Italian authorities on Tuesday reported a woman had tested positive for coronavirus in Sicily, the first case south of Rome, as the country battles to prevent the outbreak spreading from its origin in..
Reuters - Published
Venice Carnival to be halted due to coronavirus outbreak
The last two days of the Venice Carnival, which draws tourists from around the world, have been canceled because of an outbreak of coronavirus, the head of the Veneto region Luca Zaia said on Sunday.
Reuters - Published
Coronavirus outbreak grows in northern Italy, 16 cases reported in one day
An outbreak of coronavirus in northern Italy worsened on Friday, with officials announcing 14 confirmed cases in the wealthy region of Lombardy and two in the adjacent region of Veneto.
Reuters - Published
Italians await Salvini's comeback in his Veneto heartland
Nationalist leader Matteo Salvini dramatically lost power but his supporters are awaiting his comeback.
BBC News - Published