Elise Stefanik
U.S. House of Representatives Member from New York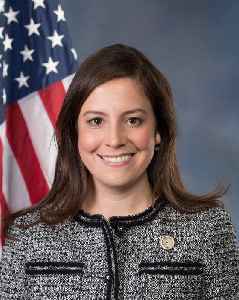 Elise Marie Stefanik is an American politician serving as the U.S. Representative for New York's 21st congressional district since 2015. Upon her first House election in 2014, Stefanik, then aged 30, became the youngest woman ever elected to Congress at the time. She is a Republican. She is the youngest Republican woman ever elected to Congress.


You Might Like
Stefanik's impeachment dive into Trump's MAGA nihilism reveals dark Republican future
Nihilism is neither a governing ethos nor a foundational ideology. When it's over, there's nothing to fall back on. This is 21st century Republicanism.
USATODAY.com - Published
Morrison and Volker deny having evidence of quid pro quo or bribery
Both Tim Morrison, the outgoing senior director of European and Russian affairs at the National Security Council, and Kurt Volker, the former special envoy to Ukraine, said they had not seen evidence..
CBS News - Published
Nikki Haley and George Conway spat on Twitter after he calls GOP Rep. Elise Stefanik 'lying trash'
After George Conway called GOP Rep. Elise Stefanik "lying trash," Nikki Haley said he is "the last person that can call someone 'trash.'"
USATODAY.com - Published
Trump defender's fame rockets; so does her opponent's fundraising
President Donald Trump declared "a star is born" after Republican Representative Elise Stefanik strongly defended him during last week's impeachment hearings in Congress. But someone else also got a..
Reuters - Published
Republican Elise Stefanik tangles with Schiff to defend Trump during hearings
Representative Elise Stefanik, once best known for becoming the youngest woman elected to Congress, stepped into center stage this week as a vocal defender of President Donald Trump during televised..
Reuters - Published
Open: This is Face the Nation, October 28
This week on "Face the Nation," guest-moderator John Dickerson interviews Sens. James Lankford and Chris Coons about the recent spate of political violence. Plus an interview with Speaker Paul Ryan..
CBS News - Published
Paul Ryan says Trump "sometimes" causes division
John Dickerson spoke with Speaker Paul Ryan and Rep. Elise Stefanik about the political divisions in the country.
CBS News - Published