New York (magazine)
American magazine on life, culture, politics, and style, focusing on New York City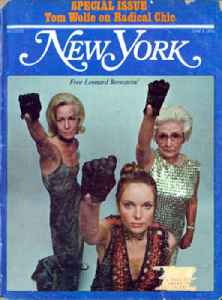 New York is an American biweekly magazine concerned with life, culture, politics, and style generally, and with a particular emphasis on New York City. Founded by Milton Glaser and Clay Felker in 1968 as a competitor to The New Yorker, it was brasher and less polite, and established itself as a cradle of New Journalism. Over time, it became more national in scope, publishing many noteworthy articles on American culture by writers such as Tom Wolfe, Jimmy Breslin, Nora Ephron, John Heilemann, Frank Rich, and Rebecca Traister.


Rudy Giuliani: 'I'm more of a Jew than (George) Soros is.'
WASHINGTON – President Donald Trump's personal lawyer Rudy Giuliani claimed that he is "more of a Jew" than George Soros, a Jewish billionaire and Holocaust survivor, in comments reported Monday...
WorldNews - Published
What impact did public impeachment testimony have?
New York Magazine correspondent Gabriel Debenedetti joined "CBS This Morning Saturday" to discuss former U.S. Ambassador to Ukraine Marie Yovanovitch's testimony in the Trump impeachment inquiry..
CBS News - Published
Why the anger of women is dismissed
This past week's Senate Judiciary Committee hearings, featuring Dr. Christine Blasey Ford and the man she has accused of sexually assaulting her many years ago, Supreme Court nominee Brett Kavanaugh,..
CBS News - Published
What do Democrats want in a 2020 nominee?
Massachusetts Sen. Elizabeth Warren made five stops in Iowa over the weekend as she explores a possible presidential run. CBSN political reporter Caitlin Huey-Burns and New York Magazine national..
CBS News - Published
Elizabeth Warren and Joe Biden to face off for first time in upcoming debate
Senator Elizabeth Warren and former Vice President Joe Biden will both be on the debate stage for the first time September 12 in Houston. Dave Weigel, a national political correspondent for the..
CBS News - Published
"Sunday Morning" Full Episode 9/15
This week "Sunday Morning," hosted by Jane Pauley, features Tony Dokoupil's cover story on the plight of public school teachers. Plus: Tracy Smith sits down with the Backstreet Boys; Turner Classic..
CBS News - Published
Inside the pages, and websites, of New York Magazine
The national magazine with the sensibility of its namesake city – energetic, and full of ambition and attitude – has outlasted dozens of rival publications, in part by embracing the internet
CBS News - Published
Trump's walk back on foreign dirt comment "wasn't much of a real clarification"
New York Magazine reporter Gabriel Debenedetti joins "CBS This Morning Saturday" to discuss the fallout surrounding Trump's claim that he wouldn't refuse dirt on a political opponent from a foreign..
CBS News - Published
Biden faces backlash over Hyde Amendment
Democratic presidential candidate Joe Biden is facing backlash from rivals in his party after voicing his support for the Hyde Amendment, which bars Medicaid funding for abortion. New York Magazine..
CBS News - Published
You Might Like