Nikki Haley
American politician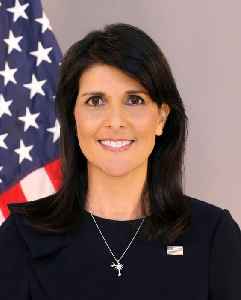 Nimrata Nikki Haley is an American politician, diplomat, businesswoman, and author who served as the 116th Governor of South Carolina from 2011 to 2017 and as the 29th United States Ambassador to the United Nations. A Republican, Haley was the first female governor of South Carolina and the first female Indian-American governor elected in the United States.


Nikki Haley: 'America is not a racist country'

The daughter of Indian immigrants, former U.S. Ambassador to the U.N. and former South Carolina Governor Nikki Haley said the topic of racism in America is "personal" for her, as she pledged her..
Credit: Reuters Studio Duration: 02:46
Published
You Might Like



Nikki Haley defends darker tone of Republican National Convention

Haley defended the opening day's bleak colors, saying it just reflected what Americans see when "they the turn on TV."




CBS News - Published





Ambassador Nikki Haley discusses RNC night one and Trump's agenda

Former U.N. Ambassador Nikki Haley spoke at the first night of the RNC, where she detailed working with President Trump on an "America First" strategy. Ambassador Haley joins "CBS This Morning" to..




CBS News - Published





US isn't racist: Nikki Haley urges Americans to re-elect Trump (Ld)

By Nikhila Natarajan and Arul Louis New York, Aug 25 : During the first night of the Republican National Convention (RNC), former US Ambassador to the UN and breakout Indian-American politician Nikki..




WorldNews - Published





Full Transcript: Nikki Haley's R.N.C. Speech

The former ambassador to the United Nations and former governor of South Carolina warned about socialism in America.




NYTimes.com - Published





Nikki Haley: 'America is not a racist country'

In her speech night one at the Republican National Convention Monday, former U.N. Ambassador Nikki Haley insisted the U.S. is "not a racist country," and said political correctness and cancel culture..




USATODAY.com - Published





Nikki Haley calls out Democrats' 'cancel culture', defends Pres. Trump

Nikki Haley, former U.S. ambassador to the UN, praises the efforts of President Trump while being critical of former Vice President Joe Biden.




USATODAY.com - Published





Nikki Haley says at RNC that the Trump administration "put America first"

Former United Nations ambassador Nikki Haley, one of the few members of the Trump administration to speak at the Republican National Convention, endorsed President Trump and repeatedly referenced..




CBS News - Published





How to Watch the Republican National Convention

Speakers on Night 1 include Nikki Haley, Senator Tim Scott and Donald Trump Jr., as well as President Trump, who is expected to appear four nights in a row.




NYTimes.com - Published





Early October Surprise: Former UN Ambassador Nikki Haley For Donald Trump's Vice President?

Article by WN.Com Correspondent Dallas Darling In "The Room Where It Happened: A White House Memoir," John Bolton who served as Donald Trump's National Security Advisor (2018-2019) described an..




WorldNews - Published





PM Modi to deliver keynote address at India Ideas Summit today

Other key speakers at the Summit include Minister of External Affairs S Jaishankar, US Secretary of State Mike Pompeo, Senator of Virginia and co-chair of Senate India Caucus Mark Warner, Former US..




DNA - Published





Nikki Haley positions herself to lead the post-Trump Republican party

The ex-US ambassador to the UN is one of the few Trump officials to leave on good terms and has diligently built up a national profile Nikki Haley has kept busy since leaving her post in the Trump..




WorldNews - Published





China Cares More About Its Reputation, COVID-19 Figures Inaccurate: Nikki Haley

Indian-American politician Nikki Haley has cast doubt on the accuracy of China's official coronavirus figures, terming them "clearly not accurate", amidst reports that the CIA has advised the White.....




WorldNews - Published





Former U.N. ambassador Nikki Haley leaves Boeing board, opposing federal aid

Former U.N. ambassador Nikki Haley has resigned from Boeing Co's board after opposing its bid for government financial assistance due to the crisis caused by the coronavirus outbreak.




Reuters - Published





Former UN ambassador Nikki Haley resigns from Boeing board over company's bailout request

Nikki Haley, formerly the governor of South Carolina and US ambassador to the UN, has resigned from Boeing's board over the company's bailout request




USATODAY.com - Published





Nikki Haley says Democrats are 'only ones that are mourning the loss of Soleimani'

"The only ones that are mourning the loss of Soleimani are our Democrat leadership, and our Democrat presidential candidates," Haley said on Fox News.




USATODAY.com - Published





Nikki Haley: Confederate flag could not be taken down in South Carolina in today's 'outrage culture'

After backlash for remarks about the Confederate flag, Nikki Haley wrote an op-ed arguing that today's culture wouldn't allow for its removal.




USATODAY.com - Published





Nikki Haley's Confederate Flag Comments Spark Backlash

She told the conservative radio host Glenn Beck that the Confederate flag symbolized "service, sacrifice and heritage" for some people in her state until Dylann S. Roof "hijacked" it.




NYTimes.com - Published





Nikki Haley: Confederate flag was 'hijacked' after Charleston church shooting

"People saw it as service, and sacrifice, and heritage, but once he did that there was no way to overcome it," Haley said of the Confederate flag.




USATODAY.com - Published





After Keeping a Careful Distance From Trump, Nikki Haley Is All In

Her pivot is seen as a recognition of the realities of today's Republican Party — there is little future after separating yourself from the president.




NYTimes.com - Published





Nikki Haley and George Conway spat on Twitter after he calls GOP Rep. Elise Stefanik 'lying trash'

After George Conway called GOP Rep. Elise Stefanik "lying trash," Nikki Haley said he is "the last person that can call someone 'trash.'"




USATODAY.com - Published





Nikki Haley: Rudy Giuliani should've been named special envoy to Ukraine

Haley stated that she thinks "you have to protect a whistleblower," acknowledging that "you could call it disagreeing" with Trump's wishes to oust the whistleblower.




USATODAY.com - Published





Nikki Haley says Trump is "truthful"

The former U.S. ambassador to the United Nations decried the impeachment inquiry into President Trump




CBS News - Published





Nikki Haley says John Kelly was going in his own "policy direction"

In an interview with "CBS Evening News" anchor Norah O'Donnell, Nikki Haley said John Kelly and Rex Tillerson tried to recruit her to resist the president. She said they were going in their own "policy..




CBS News - Published





USA TODAY interview: Nikki Haley isn't running for president. That is, not yet.

Interview: Nikki Haley just may be the only top Trump official who has maintained good relations with the president and yet defined some distance.




USATODAY.com - Published





Nikki Haley: Cabinet members asked me to help undermine Trump

Former U.N. Ambassador Nikki Haley says other Trump Cabinet members tried to recruit her in an effort to "resist" the president's actions. In an interview with Norah O'Donnell for "Sunday..




CBS News - Published





Eye Opener: Arctic cold front descends on U.S.

Temperatures plunge from Texas to New England with a historic arctic punch. Also, former U.N. Ambassador Nikki Haley says two senior White House colleagues wanted her to undermine President Trump. All..




CBS News - Published





Nikki Haley: 'Impeachment is like death penalty for public officials'

The US's former UN envoy criticises impeachment proceedings against Trump in an interview with CBS.




BBC News - Published





Nikki Haley: Two White House aides tried to undermine President Trump

President Trump's former U.N. ambassador Nikki Haley said two former top White House aides tried to recruit her to oppose Trump and "save the country," revelations made in her soon-to-be released..




WorldNews - Published





Nikki Haley: Top aides 'told ex-UN envoy to undermine Trump'

She makes the allegation in a new book about her time as the US ambassador to the UN.




BBC News - Published





Nikki Haley Describes Rebuffing Internal Scheme Against Trump

The former ambassador to the United Nations says in a new book that John Kelly and Rex Tillerson sought to enlist her in circumventing President Trump's policies.




NYTimes.com - Published





Nikki Haley says she rebuffed efforts by Tillerson, Kelly to thwart Trump: report

In her new book, Nikki Haley reportedly claims Rex Tillerson and John Kelly thought by resisting Trump, "they were trying to save the country."




USATODAY.com - Published





"Sunday Morning" Full Episode 11/10

This week "Sunday Morning," hosted by Jane Pauley, features Susan Spencer's cover story on addressing grief. Plus: Mark Phillips visits the set of "The Crown," the Netflix series returning with a new..




CBS News - Published





Nikki Haley on Trump, impeachment, and siding with the president

"CBS Evening News" anchor Norah O'Donnell interviews Nikki Haley, the former South Carolina governor and Trump administration Ambassador to the United Nations, who talks about the president's rhetoric..




CBS News - Published





Nikki Haley: I was asked by Cabinet members to take sides against the president

The former U.N. Ambassador - a Trump loyalist dismissive of the Ukraine scandal being investigated by Congress - also says she doesn't feel comfortable pursuing impeachment in an election year




CBS News - Published





Nikki Haley: Trump isn't the only one guilty of inflammatory rhetoric

In this web exclusive, the former U.S. Ambassador to the United Nations, Nikki Haley, addresses President Donald Trump's use of the term "invasion" when speaking of immigrants.




CBS News - Published





Nikki Haley: We should have the backs of the Kurds

In this web exclusive, the former U.S. Ambassador to the United Nations, Nikki Haley, addresses President Donald Trump's abandonment of the Kurds in Syria who have been key in America's fight against..




CBS News - Published





Nikki Haley says she doesn't think Trump will be impeached

In an interview with "CBS Evening News" anchor Norah O'Donnell, former U.N. Ambassador Nikki Haley said she doesn't think President Trump will be impeached and removed from office. She also called..




CBS News - Published




Amb. Nikki Haley weighs in on Russia sanctions

Ambassador Nikki Haley tells CBS' John Dickerson the United States continues to put pressure on Russia.




CBS News - Published





Ambassador Nikki Haley calls Russia investigation "D.C. chatter"

Ambassador Nikki Haley says while she does not want any country to interfere with U.S. elections, none of her fellow ambassadors from other countries "are talking about D.C. chatter."




CBS News - Published





UN Ambassador Nikki Haley on sanctioning allies doing business with Iran: "We're not giving them a pass"

U.S. Ambassador to the United Nations Nikki Haley joins John Dickerson to preview what is on the U.S. agenda for this week's United Nations General Assembly meeting.




CBS News - Published





Open: This is Face the Nation, September 23

This week on "Face the Nation," guest moderator John Dickerson interviews Ambassador Nikki Haley, Rep. Trey Gowdy and Rep. Anna Eshoo. Plus, we'll review brand new CBS News Battleground Tracker..




CBS News - Published





Ambassador Nikki Haley on Trump and diplomacy

The U.S. Ambassador to the United Nations, Nikki Haley, talks with correspondent Rita Braver about her relationship with President Donald Trump; growing up the child of Sikh immigrants in South..




CBS News - Published




Nikki Haley on growing up as "the other" in S.C.

The daughter of Indiana immigrants, Nikki Haley says that, growing up in South Carolina, she and her Sikh family were often faced with suspicion. But, she explained to correspondent Rita Braver, she..




CBS News - Published





Nikki Haley: Trump never surprises me with his tweets

In this web exclusive, the U.S. Ambassador to the United Nations Nikki Haley tells Rita Braver that, while President Trump's pronouncements via Twitter may catch some people off-guard, she has never..




CBS News - Published





Nikki Haley dismisses rumors of a Trump-Haley 2020 ticket

In a tweet, Haley decried the "false rumors" that she would replace Pence on the 2020 ticket and called the vice president a "dear friend"




CBS News - Published





'So unnecessary.' Nikki Haley eye rolls Donald Trump for touting burglary at Elijah Cummings' home

Nikki Haley offered an eye roll and an admonishment to President Trump after he appeared to taunt Rep. Elijah Cummings over a break in at his home.




USATODAY.com - Published





Trump says Mike Pence is his 2020 running mate '100%,' dismisses idea of running with Nikki Haley

"Nikki's future is great, but Mike Pence is the person, 100%," Trump said. "You can't break up a team like that."




USATODAY.com - Published





'Democrats for Trump' founder urges Trump to dump Pence or face defeat in 2020

On Monday, "Democrats for Trump" founder Andrew Stein wrote a column in the Wall Street Journal urging President Donald Trump to dismiss Vice President Mike Pence from his re-election ticket and..




WorldNews - Published





Nikki Haley: abortion advocates who 'demand conformity' on abortion are not real feminists

Haley said abortion advocates who "demand conformity" of women on the issue of abortion are not real feminists.




USATODAY.com - Published