Daniel Johnston
American singer-songwriter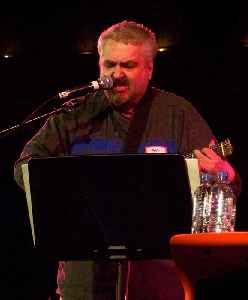 Daniel Dale Johnston was an American singer-songwriter and visual artist regarded as a significant figure in outsider, lo-fi, and alternative music scenes. Most of his work consisted of cassettes recorded alone in his home, and his music was frequently cited for its "pure" and "childlike" qualities.


Singer-songwriter Daniel Johnston dead at 58
Daniel Johnston's work inspired a generation of our most popular musicians yet he was unknown to most of the world. The influential singer-songwriter with a cult following died this week at the age..
CBS News - Published
Daniel Johnston, cult US singer-songwriter, dies at 58
Daniel Johnston, the beloved offbeat musician and visual artist whom Kurt Cobain once described as "the best songwriter on earth", has died aged 58.
France 24 - Published
Also reported by •WorldNews
Cult musician Daniel Johnston dies
An underground hero, his achingly personal songs inspired everyone from Kurt Cobain to Lana Del Rey.
BBC News - Published
Musician Daniel Johnston, whose fans included Kurt Cobain and The Flaming Lips, dies at 58
Tom Waits, Beck and The Flaming Lips are among the artists who have performed covers of the songs of Daniel Johnston, who died Wednesday at 58.
USATODAY.com - Published
Search this site and the web:
You Might Like