Taron Egerton
Welsh actor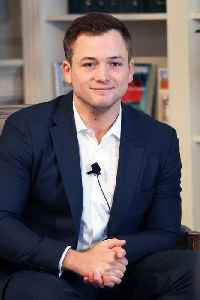 Taron David Egerton is a British actor and singer. He gained recognition for his roles in the British television series The Smoke, and the 2014 action comedy film Kingsman: The Secret Service and its 2017 sequel.


The highs and lows of Rocketman
Actor Taron Egerton is joined by the cast and director of musical biopic "Rocketman" in discussing the highs and lows of Elton John's life. (May 20)
USATODAY.com - Published
Elton and Taron duet in Cannes
Elton John and Bernie Taupin reflect on how emotional they felt watching biopic "Rocketman," as Elton and the film's star - Taron Egerton - duet on the title track. (May 17)
USATODAY.com - Published
Elton John's 'Rocketman' touches down in Cannes
The star power of Elton John brought the crowds to the Croisette on Thursday as "Rocketman" -- the film charting his first steps towards stardom -- opened at the Cannes Film Festival. Rough cut (no..
Credit: Reuters Studio Duration: 00:47Published
Elton John and 'Rocketman' touch down in Cannes
Elton John and his biopic "Rocketman" landed at the Cannes Film Festival, where the 72-year-old came dressed in a tuxedo with "Rocket Man" emblazoned on the back. The film stars Taron Egerton as the..
USATODAY.com - Published
Elton John, Taron Egerton release duet ahead of 'Rocketman' debut
Elton John and Taron Egerton have debuted an all new duet that will feature in the singer's biopic Rocketman. The track, penned by John and his songwriting partner of more than 50 years Bernie..
WorldNews - Published
'Rocketman' Taron Egerton says he's 'at peace' as Elton John film lifts off at Cannes
Taron Egerton prepares to show off his moves as Elton John in 'Rocketman,' which premieres Thursday at Cannes Film Festival in France.
USATODAY.com - Published
Taron Egerton of 'Rocketman' dishes on his music inspiration for the film
Taron Egerton plays Elton John in biopic 'Rocketman'. He describes his favorite outfit from the movie and his music inspiration.
USATODAY.com - Published
You Might Like