Revolutionary Armed Forces of Colombia
Irregular military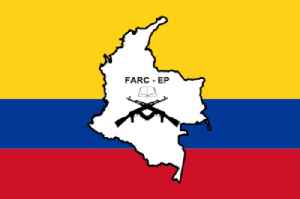 The Revolutionary Armed Forces of Colombia—People's Army was a guerrilla movement involved in the continuing Colombian armed conflict from 1964 to 2017. It was known to employ a variety of military tactics in addition to more unconventional methods, including terrorism. The FARC–EP was formed during the Cold War period as a Marxist–Leninist peasant force promoting a political line of agrarianism and anti-imperialism.


Colombian ex FARC rebel rearrested minutes after leaving jail
A former commander of the Marxist FARC rebel group was released from prison on Friday and immediately re-arrested after new evidence came to light, the attorney general's office said in a statement.
Reuters - Published
Colombia peace process: Ex-rebel Santrich to be freed
A court rules that former Farc leader Jesús Santrich will be freed and not face extradition to the US.
BBC News - Published
Violence continues to displace farmers in northern Colombia
Violence displaces thousands of farmers and indigenous people in northern Colombia three years after FARC peace deal.
Credit: Al Jazeera STUDIO Duration: 02:31Published
Colombia Congress votes against changes to peace deal
President Ivan Duque's proposed veto had sparked protests in a number of cities, with critics saying it aimed to alter the peace agreement signed with FARC rebels in 2016.
Credit: Al Jazeera STUDIO Duration: 02:17Published
Colombia's attorney general resigns over court refusal to extradite FARC leader
Colombia's attorney general said on Wednesday he resigned in protest after a special court charged with prosecuting war crimes denied a U.S. extradition request for a former FARC leader accused of drug..
Reuters - Published
Colombia's FARC political party accuses far right of attacks on members
The political party formed by Colombia's former Marxist FARC rebels on Wednesday accused the far right of assassinating its members, but pledged to continue the process of reintegration.
Reuters - Published
Search this site and the web:
You Might Like