Nikola Jokić
Serbian basketball player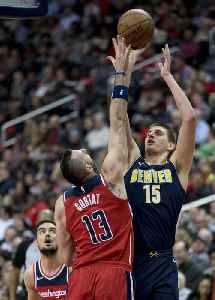 Nikola Jokić is a Serbian professional basketball player for the Denver Nuggets of the National Basketball Association (NBA). He also represents the Serbian national basketball team internationally. Standing at 7 ft 0 in (2.13 m), he plays in the center position.


You Might Like
Nuggets' Nikola Jokic and Jamal Murray bounce back to beat Clippers in Game 2 and even series 1-1
After losing a rout in the opener, Nikola Jokic and Jamal Murray combined for 53 points to lead the Nuggets over the Clippers 110-101 in Game 2.
USATODAY.com - Published
Nuggets edge Jazz to complete comeback from 3-1 down, will play Clippers
LAKE BUENA VISTA, Fla. (AP) — Nikola Jokic made the tiebreaking basket with 27 seconds left and the Denver Nuggets advanced to the second round of the playoffs by the slimmest of margins, beating the..
WorldNews - Published
NBA bubble breakdown: Gregg Popovich says Nikola Jokic is 'like a reincarnation of Larry Bird'
Everything you need to know about Wednesday's action in the NBA bubble, and what's on tap for Thursday.
USATODAY.com - Published
NBA, players association announce 16 positive coronavirus cases out of 302 tested
Teams started mandatory testing for players Tuesday, Nikola Jokic, Malcolm Brogdon and Jabari Parker are among the 16 who tested positive.
USATODAY.com - Published
Nuggets star has COVID-19
All-Star forward Nikola Jokic of the Denver Nuggets has tested positive for the coronavirus and is quarantining in his native Serbia, according to a person with knowledge of the situation. Jokic is..
WorldNews - Published
Denver Nuggets star Nikola Jokic among NBA players to test positive for COVID-19
Denver Nuggets' Nikola Jokic has tested positive for COVID-19, as have two Phoenix Suns players and four players from Western Conference playoff team.
USATODAY.com - Published