Jill Biden
American educator and academic; Second Lady of the United States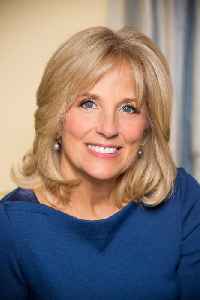 Jill Tracy Biden is an American educator. She is the wife of the 47th vice president of the United States, Joe Biden, and served as second lady of the United States from 2009 to 2017.


You Might Like
Biden left New Hampshire earlier than expected to go to South Carolina
Ahead of what could be a lower finish, the Biden campaign announced he and his wife Jill Biden would leave New Hampshire for South Carolina
USATODAY.com - Published
Why Jill Biden Is Taking Time Off to Help Her Husband Get a Job
She is a forceful surrogate for Joe Biden's campaign, in part because voters like that she has retained her own professional identity: "I admire how she's always worked."
NYTimes.com - Published
Preview: Vice President Biden
Vice President Joe Biden and his wife, Dr. Jill Biden, appear on television for the first time since the vice president announced he will not seek the Democratic presidential nomination. Norah..
CBS News - Published
Jill Biden: Joe is the most electable against Trump
Former Vice President Joe Biden's wife Jill has a simple pitch on the campaign trail: her husband has the best shot to beat President Trump. CBS News campaign reporters Bo Erickson, Nicole Sganga and..
CBS News - Published
Jill Biden says she doesn't worry about her husband's campaign gaffes
"I don't worry about the gaffes. And, you know what, the American people know who Joe Biden is," Jill Biden says about her husband's performance in primary debates
CBS News - Published
Impeachment issue spills over into swing district races
The issue of impeachment is now spilling over into smaller state races. Senator Joni Ernst and Representative Elaine Luria of Iowa both faced questions on the matter at town halls. Meanwhile, Jill..
CBS News - Published
Vice President Biden, Inside the Air War, The New Burma
Vice President Joe Biden and his wife, Dr. Jill Biden, speak with Norah O'Donnell; then, 60 Minutes goes inside the U.S. command center for the air war against ISIS; and, as Burma heads to historic..
CBS News - Published
Jill Biden makes her pitch to rural voters in South Carolina
It was the first time a presidential surrogate had ever come to Great Falls, a small town in Chester County
CBS News - Published
Jill Biden, Stressing Trump Matchup, Makes a Blunt Case for Her Husband
"You may like another candidate better, but you have to look at who is going to win," she said, while campaigning for Joe Biden in New Hampshire.
NYTimes.com - Published