Census
Acquiring and recording information about the members of a given population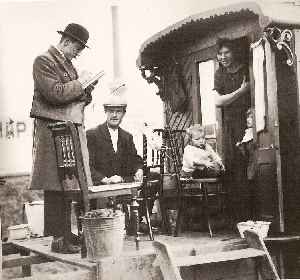 A census is the procedure of systematically acquiring and recording information about the members of a given population. The term is used mostly in connection with national population and housing censuses; other common censuses include agriculture, business, and traffic censuses. The United Nations defines the essential features of population and housing censuses as "individual enumeration, universality within a defined territory, simultaneity and defined periodicity", and recommends that population censuses be taken at least every 10 years. United Nations recommendations also cover census topics to be collected, official definitions, classifications and other useful information to co-ordinate international practice.


Trump's tax records, Census citizenship fight, Prince Louis: 5 things you need to know Tuesday
President Trump's showdown over his tax records with House Democrats continues, SCOTUS hears arguments over a census citizenship question, a royal prince has a birthday and more news you need to..
USATODAY.com - Published
Don't add Census citizenship question. It would damage all our daily lives for decades.
The Census affects jobs, traffic and class size as well as federal spending and political representation. Don't mess it up with bad information.
USATODAY.com - Published
Census Bureau: Puerto Rico metro areas lost population 2017-18; Florida, Texas metros gained
New Census data shows Puerto Rico metros lost the most population in 2017-2018; Florida and Texas had biggest gains.
USATODAY.com - Published
Companies warn Trump: Census citizenship question could be costly
An array of U.S. companies have told the Trump administration that a citizenship question on the 2020 Census would harm business if it leads to an undercount of immigrants, undermining the data they..
Reuters - Published
Search this site and the web:
You Might Like