Pulwama
Place in Jammu and Kashmir, India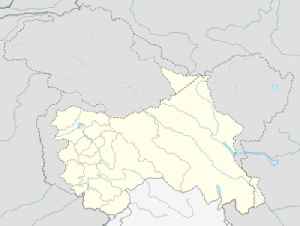 Pulwama is a city and a notified area council in Pulwama district, in India's northern state of Jammu and Kashmir. It is almost 25 km (16 mi) from the summer capital of Srinagar. Pulwama is often called the "Anand of Kashmir", but also the "Dudha-Kul of Kashmir" on account of its high milk production.


Restrictions on civilian traffic on Srinagar-Jammu highway partially relaxed
Earlier this month, the government had imposed the restrictions on the national highway (NH-44) connecting Jammu to Srinagar, days after the Pulwama attack in which 40 CRPF jawans were killed.
IndiaTimes - Published
Pak plans new ways to destroy India, says Intelligence agencies
Intelligence reports claim that Pakistani terrorists may launch a Pulwama-like attack in the Valley during Lok Sabha polls
DNA - Published
Called Pak N-bluff because we've mother of nuclear bombs: PM Modi
At a campaign rally at Surendranagar, Modi referred to the surgical strikes and air strikes by India inside Pakistan in response to terrorist attacks in Uri and Pulwama.
DNA - Published
Rahul performs rituals for late family members, Pulwama attack victims
Congress President Rahul Gandhi offered prayers and performed rituals for his late family members as well as victims of the Pulwama terror attack at Thirunelli temple here on Wednesday. Rahul, who is..
WorldNews - Published
Also reported by •DNA
Post Pulwama, Centre grants more financial powers to 3 services to buy weapons
IndiaTimes - Published
South Asia must rise above political differences to fight toxic air and climate change
What Africa did yesterday, can South Asia do tomorrow? Will South Asian countries be able to rise above their political differences and come together to fight the likes of toxic air and climate change?..
WorldNews - Published
Narendra Modi a better Indian PM for Pakistan: Kejriwal
Referring to Khan's statement that he sees a better chance of peace talks with India if the BJP under Prime Minister Narendra Modi wins the Lok Sabha elections, the Delhi chief minister went on to..
IndiaTimes - Published
You Might Like