Washington, D.C.
Capital of the United States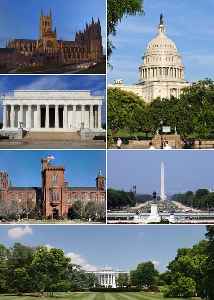 Washington, D.C., formally the District of Columbia and also known as D.C. or Washington, is the capital city of the United States of America. Founded after the American Revolution as the seat of government of the newly independent country, Washington was named after George Washington, the first president of the United States and a Founding Father. As the seat of the United States federal government and several international organizations, Washington is an important world political capital. Located on the Potomac River bordering Maryland and Virginia, the city is one of the most visited cities in the United States, with more than 20 million visitors annually.


Direct Descendant Of Thomas Jefferson Wants Harriet Tubman Statue To Replace DC's Jefferson Memorial

Thomas Jefferson's direct descendant is calling for changing regarding his family's legacy. He wants the Washington, DC memorial dedicated to the third president to be taken down. Lucian K. Truscott IV..
Credit: Wochit News Duration: 00:33
Published
Fireworks in DC as Trump vows to defeat 'radical left'

U.S. President Donald Trump doubled down on comments made at Mount Rushmore in an Independence Day address on Saturday, as protesters scuffled in the capital's streets. David Doyle reports.
Credit: Reuters Studio Duration: 02:02
Published
Trump claims progress in fight against COVID-19

President Donald Trump said during July 4th celebrations in Washington D.C. Saturday that the U.S. has made a "lot of progress" in its fight against the pandemic even as two large states posted record..
Credit: Reuters Studio Duration: 00:38
Published
Washington Redskins Under Pressure to Change Name

The football team is being blocked from relocating from FedEx Field in Maryland to RFK Stadium in DC unless it changes its name.
Credit: Cover Video STUDIO Duration: 00:55
Published
Mahatma Gandhi's statue in US inaugurated again after being vandalised during protest

The statue of Mahatma Gandhi in Washington DC in USA, where it was vandalised during 'Black Lives Matter' protest was restored to its old glory and inaugurated again in Washington DC. The inauguration..
Credit: ANI Duration: 01:14
Published
NASA Names Headquarters After 'Hidden Figure' Mary W. Jackson

NASA has named their headquarters after 'hidden figure' Mary W. Jackson NASA administrator Jim Bridenstine announced Wednesday (24 June) the agency's HQ building in Washington, D.C., will be named..
Credit: Cover Video STUDIO Duration: 01:01
Published
Appeals Court Orders Judge To Drop Flynn Case

On Wednesday, a US appeals court in Washington DC ordered the federal judge overseeing Michael Flynn case to dismiss the prosecution. The 2-1 ruling is a major victory for Flynn. Business Insider..
Credit: Wochit News Duration: 00:36
Published
Trump takes hard line on vandalizing monuments

[NFA] President Donald Trump on Tuesday pledged to take a hard line on anyone destroying or vandalizing U.S. historical monuments and threatened to use force on some protesters, as political activism..
Credit: Reuters Studio Duration: 02:20
Published
Spike Lee Wants NFL to Put Pressure on D.C. Team to Change Racist Name | THR News

Spike Lee wants the National Football League to put pressure on the owner of the Washington, D.C., team to change its controversial name.
Credit: The Hollywood Reporter Duration: 01:46
Published
Make Like A Tree? The Top Three US Cities Millennials Are Leaving

Even before the novel coronavirus COVID-19 pandemic swept across the globe, millennials were already abandoning large American cities. According to Business Insider, migration data from 2018 revealed..
Credit: Wochit News Duration: 00:34
Published
Washington Wizards and Mystics take part in Juneteenth march, marking the anniversary of the end of slavery in the U.S.

Washington Wizards stars Bradley Beal, John Wall, and Rui Hachimura join WNBA Mystics at Juneteenth march in D.C., marking the anniversary of the end of slavery in the U.S.
Credit: Reuters - Sports Duration: 00:48
Published
Americans mark Juneteenth from coast to coast

Thousands marched in U.S. cities to mark Juneteenth, a holiday commemorating the end of Black slavery that carries special resonance this year. Gavino Garay has more.
Credit: Reuters Studio Duration: 02:24
Published
'This is just the beginning' -Schumer celebrates DACA ruling

U.S. Senate Minority Leader Chuck Schumer on Thursday celebrated outside the Supreme Court in Washington D.C. with others following the court's decision to block President Donald Trump's bid to end a..
Credit: Reuters Studio Duration: 01:46
Published
Celebrating Juneteenth amid BLM protests

[NFA] Juneteenth, an annual U.S. holiday on June 19, has taken on greater significance this year following nationwide protests over racial injustice. Matthew Larotonda has more.
Credit: Reuters Studio Duration: 02:22
Published
Black Americans disproportionately die in police Taser confrontations

When police encounters involving Tasers have turned fatal, Reuters has found black people make up a disproportionate share of those who die. Linda So reports.
Credit: Reuters Studio Duration: 04:23
Published
Racial justice signs destined for Smithsonian exhibit

Following weeks of protests over the death of George Floyd while in police custody, curators from the Smithsonian in Washington have begun collecting artifacts for an eventual exhibit. Lisa Bernhard..
Credit: Reuters Studio Duration: 01:56
Published
You Might Like



Man charged for allegedly attempting to burn down DC Metropolitan Police station

Jerritt Jeremy Pace was arrested on May 29 after allegedly making social media posts about wanting to burn down D.C. Police's Fourth District Station.




USATODAY.com - Published




A 100% American

Washington — Many Americans, after they have been in Washington, D.C., for a few years, become less fervent about their beliefs. President Donald Trump has become more fervent about the things he..




WorldNews - Published





Mexican President faces politically risky US visit

US-Mexico relations expert says President Andrés Manuel López Obrador's upcoming visit to Washington, D.C., is controversial with Mexicans, who largely disapprove of U.S. President Donald Trump...




USATODAY.com - Published





Trudeau turned down visit to Washington to celebrate new trade agreement: report

Canadian Prime Minister Justin Trudeau declined a White House invitation to commemorate in Washington the trade agreement between the U.S., Mexico and Canada, citing scheduling conflicts. President...




WorldNews - Published





South Korea Denies U.S. Request to Extradite Operator of Child Pornography Site

The Justice Department had sought to try Son Jong-woo after he was indicted by a federal grand jury in the District of Columbia on money-laundering and other charges.




NYTimes.com - Published





Hogs? Lincolns? Best and worst potential new names for Washington's NFL franchise

If Washington's NFL team decides to change its longtime nickname, what are the best (and worst) options it might go with?




USATODAY.com - Published





Redskins sponsor, FedEx, urges team to rebrand

FedEx has told the Washington DC-based American football team to change its controversial name.




BBC News - Published





Gen. Milley: Some soldiers mobilized to DC amid Black Lives Matter protests were issued bayonets

Members of both the 82nd Airborne Division and the Old Guard were given bayonets, but were instructed to keep them in their "scabbards."




USATODAY.com - Published





Trump plans huge July 4 fireworks show despite DC's concerns

President Donald Trump's July Fourth celebration on the National Mall will feature one of the largest fireworks displays ever and as many as 300,000 face masks will be given away to those who want..




WorldNews - Published





White House is central to DC July 4th celebrations

For more than two centuries the White House has always played a central role in the Independence Day celebrations for the nation's capital. (July 2)  




USATODAY.com - Published





DC cautious amid virus as feds ready July 4th

The District of Columbia is preaching caution and urging area residents to practice social distancing as the federal government readies the Fourth of July celebrations, which include a military flyover..




USATODAY.com - Published





Facebook bans, removes hundreds of far-right 'boogaloo' groups

WASHINGTON (Tribune Content Agency) — Facebook said Tuesday it was banning and removing 220 accounts from its platform as well as dozens of accounts from Instagram that are part of a loose,..




WorldNews - Published





Former Intelligence officials scoff at White House denials that Trump wasn't briefed on Russia bounty

Washington (CNN)In response to reports that Russia offered bounties to Taliban fighters to kill US troops in Afghanistan, the White House has denied that President Donald Trump was "personally briefed"..




WorldNews - Published





Vande Bharat flight with 195 Indians departs from Washington DC




IndiaTimes - Published

Also reported by •DNA


Trump won't follow N.J. quarantine order, White House says

From yesterday but first time I have seen this. I also saw a tweet a bit ago that said Trump is staying in DC this weekend to maintain "LAW AND ORDER". what a big brat! Link to tweet ?s=20 Trump won't..




WorldNews - Published





Could DC become the 51st state? Here's why is might not happen

The House bill, aptly named "H.R. 51," would allow for the admission of a new state, called Washington, Douglass Commonwealth after Fredrick Douglass.




USATODAY.com - Published





AP Top Stories June 26 P

Here's the latest for Friday June 26th: A federal appeals court ruled Trump wrongly diverted $2.5B for border wall; Texas and Florida clamped down on bars; House adopts bill to make DC 51st state;..




USATODAY.com - Published





House approves DC statehood, Senate opposed

The Democratic-controlled House approved a bill Friday to make the District of Columbia the 51st state, but the bill faces insurmountable opposition in the Republican-controlled Senate. (June 26)  




USATODAY.com - Published





DC protesters criticize Emancipation Memorial

Calls are intensifying for the removal of the Emancipation Memorial in Washington, D.C. It depicts a freed slave kneeling at Abraham Lincoln's feet - optics that jar and offend many in a nation..




USATODAY.com - Published





House nears passing historic DC statehood legislation

The Democratic-controlled House of Representatives will vote Friday to pass a bill on District of Columbia statehood, the first time such a bill will pass either house of Congress. (June 25)  




USATODAY.com - Published





Trump called for toppled Albert Pike statue to be restored in DC: reports

President Trump personally requested that a toppled statue in Washington, D.C., be restored after it was toppled late last week, according to multiple reports, as he digs in in his fight to protect..




WorldNews - Published





House Democrats push toward policing vote

After the collapse of a policing overhaul in the Senate, House Democrats returned to Washington to vote on their sweeping proposal to address the global outcry over the death of George Floyd and other..




USATODAY.com - Published





Bolton's Book Reveals Alarming News About Trump — Including in the Middle East

Opinion US President Donald Trump holds a Bible during a photo opportunity in front of St. John's Episcopal Church, outside the White House in Washington, DC, June 1, 2020. Photo: Reuters / Tom..




WorldNews - Published





National Guard soldiers deployed to guard DC monuments amid protests

Some protesters in Washington, D.C., tried to pull down a statue of President Andrew Jackson earlier this week.




USATODAY.com - Published





Protesters try to pull down Jackson statue in DC

Protesters tried to pull down a statue of former US President Andrew Jackson near the White House on Monday night before being dispersed by police. (June 23)  




USATODAY.com - Published





Elizabeth Warren Is Top Choice For Joe Biden's VP Pick, According To Poll Of College Students

WASHINGTON (CBS) — Who should presumptive Democratic presidential nominee Joe Biden choose for a running mate? The favorite VP pick among college students is Massachusetts Sen. Elizabeth Warren,..




WorldNews - Published





Trump threatens to imprison protesters after group tried to pull down statue of Andrew Jackson ...

WASHINGTON -- Anti-racism protesters tried to pull down a monument of Andrew Jackson, the seventh president of the United States, in a park near the White House on Monday night before police..




WorldNews - Published





Study explains how brain maps our interpersonal ties

WASHINGTON DC: The closer you feel to people emotionally, the more similarly you represent them in your brain, while, people who feel social disconnection tend to have a lonelier, neural..




WorldNews - Published





DC protesters topple statue of Confederate general

Protesters toppled the only statue of a Confederate general in the nation's capital and set it on fire on Juneteenth, the day marking the end of slavery in the United States. (June 20)  




USATODAY.com - Published

Also reported by •WorldNews


Live updates: DC protesters topple Confederate statue; Trump rallies in Tulsa a day after Juneteenth

Demonstrators set fire to a Confederate statue in DC. Meanwhile, President Trump's rally in Tulsa is tonight. The latest news Saturday.




USATODAY.com - Published




The 1865 Handwritten Order Marking Juneteenth Has Been Found

The order to inform Texans that "all slaves are free" was found in a Union Army records book in the National Archives in Washington on Thursday.




NYTimes.com - Published





Is it safer to fly or drive? 5 health experts weigh in

Despite the number of confirmed coronavirus cases continuing to rise, many countries are easing their travel restrictions. Rene Knott, a morning anchor for the news outlet 5 On Your Side in St. Louis,..




WorldNews - Published





Mother's Day sales uptick doesn't cover coronavirus downturn, Washington D.C. florist says

Mother's Day during the coronavirus pandemic meant an uptick in sales for Lee's Flower and Card Shop in Washington, D.C.




Reuters - Published





Powerful photos show 'Black Lives Matter' painted across streets nationwide

"Black Lives Matter" has been painted on streets across the nation after a street mural in Washington D.C. gained national attention.  




USATODAY.com - Published





Majority of Minneapolis City Council Pledges to Dismantle Police Department

Some cities are starting to to heed calls to "defund the police," as lawmakers push proposals for greater police accountability. National Guard troops are being sent home from Washington, D.C.




NYTimes.com - Published





Polish president may visit U.S. after Trump troop announcement: media

Discussions are under way for a possible visit by Polish President Andrzej Duda to Washington, Polish media reported, as Warsaw looks to boost the U.S. military's presence in the former communist..




Reuters - Published




After Federal Crackdown on Protests, House Will Vote on Making D.C. a State

Democratic leaders announced a vote on June 26 on granting statehood to the District of Columbia, the first such action in more than 25 years.




NYTimes.com - Published





House will vote to make Washington DC 51st state

Democrats controlling the House have slated a vote next week to make the District of Columbia the 51st state, an issue that they say has become far more important in the aftermath of protests for..




USATODAY.com - Published





Washington, D.C. residents latest in U.S. to call for slashing police funds

Dozens of Washington residents testified on Monday in a sometimes emotional and profanity-laced public hearing about stripping the federal district's police department of funding, after days of..




Reuters - Published





What was the cost for the National Guard to deploy in D.C.? Up to $2.6 million a day

The deployment of thousands of National Guard troops in response to protests on the streets of Washington, endorsed by President Donald Trump and much criticized by the city's mayor, cost the federal..




Reuters - Published




White Americans turn out for Floyd protests, but will they work for change?

Leslie Batson, a white office administrator from Maryland, joined the thousands of marchers protesting the killing of George Floyd in Washington, D.C., last weekend after her children asked why the..




Reuters - Published




Stay out of inter-Korean matters: North Korea to US

SEOUL: North Korea rebuked Washington on Thursday for criticising its decision to cut communication links with Seoul, warning it to stay out of inter-Korean affairs if it wanted to ensure a smooth..




WorldNews - Published





DC protesters preserve art ahead of fence removal

Black Lives Matter protesters in Washington DC worked through the night to preserve a collage of signs and artwork, and rehang them across the street from the fence blocking Lafayette Square which..




USATODAY.com - Published





Washington, D.C. urges anti-racism protesters to get tested for coronavirus

Washington, D.C. on Wednesday urged people who had participated in protests against police brutality and systematic racism to get tested for the coronavirus.




Reuters - Published





Cities across nation paint 'Black Lives Matter,' words of support on streets

Cities across the country followed Washington D.C.'s lead by painting "Black Lives Matter" and other words of support on city streets.




USATODAY.com - Published