Tokyo
Capital and prefecture of Japan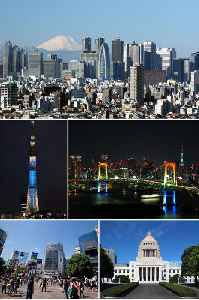 Tokyo
, officially
Tokyo Metropolis
, is the capital and most populous prefecture of Japan. Located at the head of Tokyo Bay, the prefecture forms part of the Kantō region on the central Pacific coast of Japan's main island of Honshu. Tokyo is the political and economic center of the country, as well as the seat of the Emperor of Japan and the national government. In 2019, the prefecture had an estimated population of 13,929,280. The Greater Tokyo Area is the most populous metropolitan area in the world, with more than 37.393 million residents as of 2020.
Sprint 100m World Champion banned for two years

The U.S. sprinter and 100 meter world champion Christian Coleman has been banned from competition for two years for breaching anti-doping whereabouts rules. The decision means he will miss next years..
Credit: Reuters Studio Duration: 01:06
Published
Libyan weightlifter fights for Olympic dream

Weightlifter Ahmed Abu Zeriba has spent years braving Libya's raging war, harsh economic conditions, and now a global pandemic - all with one goal - to represent his country in Tokyo's 2021 Olympics...
Credit: Reuters Studio Duration: 01:42
Published
Brexit: Liz Truss signs free trade deal in Japan

Liz Truss signs free trade deal with Japan's foreign minister ToshimitsuMotegi in Tokyo.
Credit: PA - Press Association STUDIO Duration: 00:42
Published
DOJ calls out Russian hacking spree

[NFA] The U.S. Justice Department said on Monday it has indicted six Russian intelligence agency hackers for a four-year long hacking spree that included attacks against the 2018 PyeongChang Winter..
Credit: Reuters - Politics Duration: 01:35
Published
Amid tension with China, Jaishankar meets counterparts from Japan & Australia

External Affairs Minister S Jaishankar held separate bilateral meetings with foreign ministers of Japan and Australia on the sidelines of the Quad meeting in Tokyo. During the 13th India-Japan Foreign..
Credit: HT Digital Content Duration: 02:05
Published
EAM Jaishankar attends Quad ministerial meeting in Tokyo

External Affairs Minister (EAM) of India Dr S Jaishankar participated in the meeting of Foreign Ministers of Quad group countries-Japan, the United States, Australia and India in Japan's Tokyo on..
Credit: ANI Duration: 01:20
Published
Pompeo seeks to shore up support among Asian allies

U.S. Secretary of State Mike Pompeo on Tuesday visited Tokyo to meet with some of Washington's closest allies in Asia, Japan, Australia and India, to shore up support against what the United States..
Credit: Reuters - Politics Duration: 01:23
Published
Robot Begins Work At Convenience Store; Hopes To Replace Humans By 2022

A robot has begun work at a Japanese convenience store. The Telexistence (TX) MODEL-T is seen stacking shelves in a Familymart shop in the Toshima area of Tokyo. Developers hope the units will replace..
Credit: Cover Video STUDIO Duration: 01:15
Published
You Might Like



S. Korea adds 103 new virus cases, total now at 26,146

(MENAFN - Kuwait News Agency (KUNA)) TOKYO, Oct 28 (KUNA) -- South Korea added 103 new coronavirus cases on Wednesday, bringing the country's total ca... ......




WorldNews - Published





Japan confirms 613 new COVID-19 cases, Tokyo infections decline

TOKYO, Oct. 16 (Xinhua) -- Japan on Friday confirmed 613 new COVID-19 infections, bringing the nation's cumulative total to 92,138...




WorldNews - Published





Round trip to Tokyo for $173? Pandemic spawns once-in-a-lifetime airfare deals – if you're ready to travel

It's a cruel irony. Airfares have never been lower between many cities, but many will be too afraid of traveling amid the COVID-19 pandemic.




USATODAY.com - Published





China has deployed 60K soldiers on India's northern border: Pompeo

China has amassed more than 60,000 troops on India's northern border, US Secretary of State Mike Pompeo has said as he hit out at Beijing for its "bad behaviour" and the threats it poses to the Quad..




IndiaTimes - Published





Japan's Super Nintendo World will open in spring 2021

Nintendo has announced that its first theme park area will belatedly open at Universal Studios Japan in Osaka next spring. Super Nintendo World was originally planned to open before the 2020 Summer..




The Verge - Published





Quad: US corners China; India and others more discreet

The second meeting of the Quad (Australia-India-Japan-US) foreign ministers in Tokyo saw them reaffirming their "collective vision" of maintaining a free, open and inclusive Indo-Pacific in the face of..




IndiaTimes - Published





Quad foreign ministers discuss 'special partnership' in meeting with Japanese PM

Tokyo [Japan], October 6 (ANI): External Affairs Minister S Jaishankar, along with his counterparts from the United States, Japan, and Australia, met Prime Minister Yoshihide Suga here on Tuesday to..




WorldNews - Published





QUAD FM meet: Foreign ministers of India, Japan, US, Australia set to meet in Tokyo today

Quad -- India, Japan, US and Australia foreign ministers will meet on Tuesday (October 6) in Tokyo at 5 pm local time or 1.30 pm IST.




DNA - Published





Technical glitch halts trading on Japan's exchanges

Stock markets in Tokyo and other cities suffered suspended trading on Thursday.




BBC News - Published





EAM S Jaishankar to visit Japan during Oct 6-7 for Quad FMs meet

India's External Affairs Minister S Jaishankar will visit Tokyo next week from October 6 to 7 for Quad FMs meet. Quad is a grouping of four countries -- India, Japan, Australia, and the United States.




DNA - Published





Japanese actress Yuko Takeuchi dies in apparent suicide

Japanese actress Yuko Takeuchi, 40, has died in apparent suicide. She was found hanging by the neck at her apartment in Tokyo's Shibuya Ward on Sunday,...




WorldNews - Published





Pour one out for the iconic Sega building in Akihabara

Photo by Cameron Faulkner / The Verge Sega Akihabara 2nd, the multifloor haven filled with arcade cabinets and gacha games, closed in late August after being open for 17 years. The building served..




The Verge - Published





The Game Awards return December 10th

The Game Awards, an annual award show hosted by Geoff Keighley, is returning December 10th. This year's festivities are taking a "multi-city approach," offering streams from studios in Los..




The Verge - Published





Tokyo Olympics: Japan to require COVID-19 tests for athletes, draft shows

TOKYO: Organisers of next year's delayed Olympic Games will require coronavirus tests of foreign athletes upon their arrival in Japan, draft measures released on Wednesday show. Japanese athletes and..




WorldNews - Published





Japan's Suga holds 1st phone talks with Trump as leader

TOKYO (AP) — Japan's Prime Minister Yoshihide Suga held his first talks with U.S. President Donald Trump since he took office, a diplomatic phone call that was one of his first as the country's..




WorldNews - Published





Japan's ex-PM Abe visits controversial Tokyo shrine

Former Japanese Prime Minister Shinzo Abe says he has visited a shrine viewed by China and both Koreas as a symbol of wartime aggression. Abe's visit Saturday, which he announced in a tweet, comes..




WorldNews - Published





Tokyo stocks close slightly higher after halt in yen's appreciation

TOKYO, Sept. 18 (Xinhua) -- Tokyo stocks closed slightly higher Friday as investors were heartened by a halt in the yen's appreciation. However, gains were capped by investors unloading holdings ahead..




WorldNews - Published





New Japanese PM gets word out: He supports Tokyo Olympics

TOKYO : Japan's new prime minister has gotten the word out to the president of the International Olympic Committee that he is behind next year's delayed Tokyo Games. Yoshiro Mori, the head of the local..




WorldNews - Published





Former Nissan executive Kelly's trial begins in Tokyo without Ghosn

By Tim Kelly TOKYO (Reuters) - Former Nissan Motor Co Ltd executive Greg Kelly denied charges he helped ex-boss, Carlos Ghosn, hide income as the American lawyer's trial opened in Tokyo on Tuesday..




WorldNews - Published





Abe plan for land-attack counterpunch could mark major military shift for Japan

TOKYO — Months before he announced his resignation, Prime Minister Shinzo Abe set in motion a policy change that could for the first time allow Japan's military to plan for strikes on land targets..




WorldNews - Published





Japan space agency delays H3 rocket flight due to technical issues

TOKYO (Reuters) - The Japan Aerospace Exploration Agency (JAXA) said on Friday that it was...




WorldNews - Published





Coronavirus raises concerns at Tokyo Olympics; clashes in Afghanistan amid U.S. peace talks

Some of the athletes and coaches participating in the Summer Olympics in Tokyo are concerned what will happen if the coronavirus keeps spreading. Also, there have been clashes between the Taliban and..




CBS News - Published





Ikea turned a virtual influencer into a physical installation

This past weekend, the Ikea Harajuku location in Tokyo was home to something unique: an installation starring a virtual person. The retail giant partnered with Imma, a virtual influencer, in order to..




The Verge - Published





Race for new Japan PM starts after resignation

AFP, TOKYO The race to succeed Japanese Prime Minister Shinzo Abe started informally yesterday, with several contenders announcing their plans to stand, a day after Japan's longest-serving leader..




WorldNews - Published





Japanese PM Shinzo Abe resigns over worsening health

TOKYO: Prime Minister Shinzo Abe, Japan's longest-serving premier, said on Friday he was resigning because of poor health, ending a stint at the helm of the world's third-biggest economy during which..




WorldNews - Published





Japan's Prime Minister Shinzo Abe has decided to resign, source says

TOKYO (Reuters) - Japanese Prime Minister Shinzo Abe has decided to...




WorldNews - Published





Japanese firm to start human clinical tests for COVID-19 medicine in 2021

TOKYO, Aug. 25 (Xinhua) -- A biotechnology company in southwestern Japan said Tuesday it will start human clinical trials for a drug of treating COVID-19 in 2021. Bonac Corp., a startup based in..




WorldNews - Published





This gaming mouse has a built-in fan to cool sweaty palms

I'll just come right out and say that I don't really think I've ever had a problem with sweaty palms in the 25 years or so that I've been regularly using a mouse. But my weather app is telling..




The Verge - Published





High-end, transparent public toilets come to Tokyo

Visitors and residents in Tokyo are "flipping their lids" over the city's latest attraction: high-tech public toilets that feature see-through walls when they're unoccupied. Lucy Craft has the story.




CBS News - Published





Tokyo stocks drop in morning on concerns over outlook for U.S. economy

TOKYO, Aug. 18 (Xinhua) -- Tokyo stocks lost ground on Tuesday morning. Despite a solid performance by...




WorldNews - Published





Japan Prime Minister Shinzo Abe enters hospital for check-up, source says

Abe, Japan's longest-serving prime minister, plans to return home later on Monday after the examination at Tokyo's Keio University Hospital, the source familiar with the situation told Reuters. ......




WorldNews - Published





Japan marks 75th anniversary of war end with no Abe apology

TOKYO: Japan on Saturday marked the 75th anniversary of its surrender in World War II, with Emperor Naruhito expressing "deep remorse" over his country's wartime actions at a somber annual..




WorldNews - Published





Japan says concerns over Hong Kong growing, after activist Agnes Chow arrested

TOKYO (Reuters) - Japan's foreign minister said on Thursday the arrests of Hong Kong pro-democracy activist Agnes Chow and media tycoon Jimmy Lai raised questions over freedom of speech and the press..




WorldNews - Published





Roundup: Tokyo stocks close higher on hopes for much-needed U.S. stimulus

TOKYO, Aug. 11 (Xinhua) -- Tokyo stocks closed higher Tuesday as a comparatively soft yen encouraged buying with sentiment also helped by U.S. President Donald Trump's executive orders to assist those..




WorldNews - Published





Olympic athletes get creative to stay in top form for 2021 games

If not for the coronavirus pandemic, August 2020 would be seeing the closing ceremony of the Olympic games in Tokyo, Japan. The games have been postponed until summer 2021. Nancy Chen speaks to Olympic..




CBS News - Published





Tokyo Olympics: Rings temporarily shelved

The giant Olympic rings exit the spotlight temporarily for maintenance, after the Tokyo games are postponed.




BBC News - Published





Extreme heat in Japan leaves 6 killed, 3500 injured in a week

Tokyo [Japan]: Six people died and almost 3,500 others suffered health complications linked to extreme temperatures that blanketed Japan over the past week, the Japanese Fire and Disaster...




WorldNews - Published





Existing Sony PS4 controller not to work with PS5 games

Tokyo: The Japanese consumer electronics giant Sony has confirmed that its existing PS4 controller will not work with PS5 games. "We believe that PS5 games should take advantage of the new..




WorldNews - Published





Proponent of Abenomics blasts Japan's tourism campaign as pandemic rages on

TOKYO — Japan's multibillion-dollar campaign aimed at reviving domestic tourism is ill-timed and not the best use of taxpayer money, said Yutaka Harada, a former central bank board member and vocal..




WorldNews - Published





Coronavirus: Tokyo's famous Kabuki-za Theatre reopens after five months

Capacity has been halved at the venue, with performers now wearing masks and sitting further apart.




BBC News - Published





Tokyo asks restaurants, bars to shut early as virus spikes

TOKYO: Tokyo's governor called Thursday for restaurants, bars and karaoke parlours to shut earlier to help contain the coronavirus as the Japanese capital reported a record new number of infections...




WorldNews - Published





Japan braces for coronavirus spike amid domestic travel campaign

TOKYO — Japan is bracing for a surge in the number of coronavirus infections after new daily cases exceeded 1,000 for the first time, a week after the start of a national travel campaign to revive..




WorldNews - Published





Japan unhappy after WTO panel set up to rule on curbs of exports to S.Korea

TOKYO/SEOUL — Japan said on Thursday it was disappointed South Korea was proceeding with a complaint to the World Trade Organization, a day after the body set up a panel to rule on curbs imposed by..




WorldNews - Published





Japan gov't sees economy shrinking this year on COVID-19 hit-sources

TOKYO — Japan's government expects the economy will contract this year as activity slowly recovers from the coronavirus crisis, with a return to growth seen next year, four government sources told..




WorldNews - Published





Tokyo's daily COVID-19 cases rebound to 266 amid concerns over pace of spread

TOKYO, July 28 (Xinhua) -- The Tokyo metropolitan government reported 266 new cases of coronavirus on Tuesday, amid rising concerns over the pace of the spread of the infections this month. The latest..




WorldNews - Published





Toyko, Sydney aim to lure edgy Hong Kong financial firms, but Singapore a top draw

Sign up for our COVID-19 newsletter to stay up-to-date on the latest coronavirus news throughout New York City HONG KONG/SINGAPORE (Reuters) – Japan, Australia and some other nations are readying..




WorldNews - Published





Japan's daily COVID-19 cases hit new record as Tokyoites urged to stay home

TOKYO, July 22 (Xinhua) -- Tokyo Governor Yuriko Koike on Wednesday urged residents of the capital to refrain from going out unnecessarily during the upcoming four-day weekend amid a spike in COVID-19..




WorldNews - Published





Japan kicks off domestic tourism campaign as critics point to virus surge

TOKYO — Japan launched a national travel campaign on Wednesday that aims to revive a battered tourism industry, but the effort has drawn heavy criticism as major cities have racked up a jump in new..




WorldNews - Published





Tokyo Urges Stay-Home Weekend as Tokyo, Osaka Cases Grow

Tokyo Governor Yuriko Koike told residents to avoid unnecessary trips outdoors as much as possible during a forthcoming four-day weekend as the total number of coronavirus cases in the city topped..




WorldNews - Published





Japan's core consumer prices flat in June after 2-month slump

TOKYO, July 21 (Xinhua) -- Japan's leading gauge of inflation was flat in June from a year earlier owing to the continued adverse effects of the coronavirus pandemic, although improved after dropping..




WorldNews - Published