Caspian Sea
Lake in Asia and Europe, largest enclosed inland body of water on Earth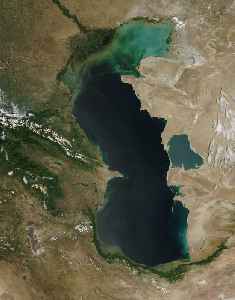 The Caspian Sea is the world's largest inland body of water, variously classed as the world's largest lake or a full-fledged sea. It is an endorheic basin located between Europe and Asia, to the east of the Caucasus Mountains and to the west of the broad steppe of Central Asia. The sea has a surface area of 371,000 km2 and a volume of 78,200 km3. It has a salinity of approximately 1.2%, about a third of the salinity of most seawater. It is bounded by Kazakhstan to the northeast, Russia to the northwest, Azerbaijan to the west, Iran to the south, and Turkmenistan to the southeast. The Caspian Sea is home to a wide range of species and may be best known for its caviar and oil industries. Pollution from the oil industry and dams on rivers draining into the Caspian Sea have had negative effects on the organisms living in the sea.


One dies after Saipem vessel blast in the Caspian Sea
One of the 14 people injured after an explosion on a pipe-laying vessel in the Caspian Sea operated by Italian oil service group Saipem has died, a Saipem spokeswoman said on Monday.
Reuters - Published
Search this site and the web:
You Might Like