San Jose Sharks
Hockey team of the National Hockey League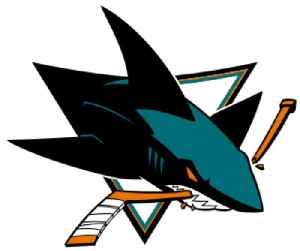 The San Jose Sharks are a professional ice hockey team based in San Jose, California. They are members of the Pacific Division of the Western Conference of the National Hockey League (NHL). The franchise is owned by San Jose Sports & Entertainment Enterprises. Beginning play in the 1991–92 season, the Sharks initially played their home games at the Cow Palace, before they moved to their present home, the SAP Center at San Jose in 1993. The SAP Center is known locally as the Shark Tank.


Sharks rally after Pavelski's scary injury to make 2nd round
The San Jose Sharks put together a most memorable comeback to ease the pain from so many postseason failures
USATODAY.com - Published
California Today: D-Day Veteran to Return to Normandy for First Time in 75 Years
Wednesday: A 96-year-old veteran prepares for a trip decades in the making; a measles outbreak in L.A.; and a big win for the San Jose Sharks.
NYTimes.com - Published
Disputed call sparks Sharks comeback and leaves Vegas angry
The decision by the referees to hand out a major penalty to Vegas' Cody Eakin after his cross-check sent San Jose captain Joe Pavelski crashing to the ice where he was knocked out and bleeding changed..
USATODAY.com - Published
Golden Knights' Cody Eakin gets major penalty; Sharks stage furious rally for Game 7 win
Golden Knights' Cody Eakin gets five-minute major for cross-checking Joe Pavelski; Sharks turn 3-0 deficit into lead on power play, win in overtime.
USATODAY.com - Published
Goodrow's OT goal caps Sharks 5-4 Game 7 win vs. Vegas
Barclay Goodrow scored 18:19 into overtime to send San Jose into the second round of the playoffs with a wild 5-4 win in Game 7.
USATODAY.com - Published
Vegas Golden Knights coach Gerard Gallant calls San Jose Sharks coach Pete DeBoer a 'clown'
Vegas coach Gerard Gallant added another layer of tension to Tuesday's Game 7 against the Sharks by calling San Jose coach Pete DeBoer a "clown."
USATODAY.com - Published
Steady Eddie: Healthy Vlasic helps Sharks reach Game 7
Shutdown defenseman Marc-Edouard Vlasic's return after missing two-plus games with an injury has been a major factor in helping the San Jose Sharks get back into their first-round series against..
USATODAY.com - Published
Hertl scores in 20T, Sharks beat Vegas 2-1 to force Game 7
NHL Playoff Capsules
USATODAY.com - Published
After guarantee, Sharks' Tomas Hertl forces Game 7 vs. Golden Knights with double-OT goal
Tomas Hertl said the Sharks would return to San Jose for Game 7, and he assured that Sunday by scoring the winner in double-overtime.
USATODAY.com - Published
Sharks start fast to stay alive, beat Golden Knights 5-2
Tomas Hertl got San Jose off to the fast start that had been missing the past three games, Martin Jones came up with the big saves and the Sharks staved off elimination by beating the Vegas Golden..
USATODAY.com - Published
Sharks D Marc-Edouard Vlasic returns for Game 5
San Jose Sharks defenseman Marc-Edouard Vlasic will return to the lineup after missing two playoff games with an undisclosed injury
USATODAY.com - Published
Fleury gets 15th playoff shutout, Vegas beats Sharks 5-0
Max Pacioretty had two goals and two assists, Marc-Andre Fleury earned his 15th playoff shutout and the Vegas Golden Knights defeated the San Jose Sharks 5-0 for a 3-1 lead in their best-of-seven..
USATODAY.com - Published
LA Kings hire former Sharks, Oilers coach Todd McLellan
Todd McLellan has been hired as the new head coach of the Los Angeles Kings
USATODAY.com - Published
You Might Like