Long Island
Island in New York, United States of America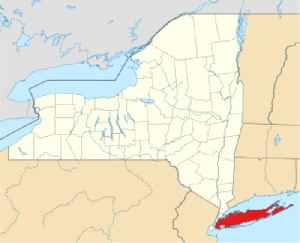 Long Island is a densely populated island off the East Coast of the United States, beginning at New York Harbor approximately 0.35 miles (0.56 km) from Manhattan Island and extending eastward into the Atlantic Ocean. The island comprises four counties in the U.S. state of New York. Kings and Queens Counties and Nassau County share the western third of the island, while Suffolk County occupies the eastern two-thirds. More than half of New York City's residents now live on Long Island, in Brooklyn and Queens. However, many people in the New York metropolitan area colloquially use the term Long Island to refer exclusively to Nassau and Suffolk Counties, which are mainly suburban in character, conversely employing the term the City to mean Manhattan alone.


PGA Championship: Brooks Koepka maintains comfortable lead heading into Sunday
SportsPulse: Golfweek's Geoff Shackelford is in Long Island at the PGA Championship and discusses the potential history that Brooks Koepka could make on the final day of the PGA Championship.
USATODAY.com - Published
WWII British shipwreck leaking oil off New York
The U.S. Coast Guard says a World War II-era shipwreck off Long Island is leaking oil through two pinpoint leaks. It is conducting an assessment of the remaining oil aboard the British tanker Coimbra,..
USATODAY.com - Published
Tommy Fleetwood shoots 67, among early leaders at PGA
US Open runner-up Tommy Fleetwood back on Long Island for another major, once again looking up at Brooks Koepka on leaderboard
USATODAY.com - Published
The Pour: In Texas, Winemakers Find Room to Roam
Forced to leave the North Fork of Long Island after a zoning dispute, Southold Farm and Cellar, a groundbreaking producer, has started anew in Hill Country.
NYTimes.com - Published
PGA Championship: Tiger Woods discusses soggy conditions
What I'm Hearing: Golfweek's Steve DiMeglio spoke with Tiger Woods and the four-time PGA Championship winner discussed the harsh conditions currently plaguing Bethpage Black in Long Island.
USATODAY.com - Published
Search this site and the web:
You Might Like