Autumn
One of the Earth's four temperate seasons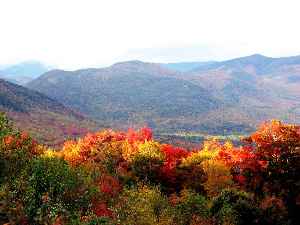 Autumn, also known as fall in North American English, is one of the four temperate seasons. Outside the tropics, autumn marks the transition from summer to winter, in September or March, when the duration of daylight becomes noticeably shorter and the temperature cools considerably. Day length decreases and night length increases as the season progresses, until the Winter Solstice in December and June. One of its main features in temperate climates is the shedding of leaves from deciduous trees.


You Might Like
Martha Stewart on making your own jam
Autumn is the time for preserving the fruits of the year's harvest. Cookbook author Martha Stewart offers a lesson in preparing delicious blueberry preserves.
CBS News - Published
The New Season: Fall fiction titles
Washington Post book reviewer Ron Charles previews a few of the most hotly-anticipated novels and short story collections coming to bookstores this fall
CBS News - Published
Fall's Almost Here. Can We Still Go Apple Picking?
Wandering through corn mazes, picking pumpkins and visits to wineries and haunted houses are still on the calendar, but social distancing and face masks are part of the plan.
NYTimes.com - Published
Autumn unveils Irish forester's Celtic cross
The mysterious Emery Cross appears in woods near the Irish border village of Killea in Donegal.
BBC News - Published
How To Save Money On Utility Bills This Winter
The crispness of Fall is in the air once again. The leaves are changing colors, the kids are talking about Halloween and Christmas, and utility bills are about to skyrocket with the impending cold..
WorldNews - Published
UK weather: Britain to bask in sunshine during Indian summer starting this weekend
Autumn could begin in earnest after final burst of summer heat, meteorologists say
Independent - Published
Fall reading guide: Autumn's must-read books
Elton John, Prince and Demi Moore bare all in autobiographies; while Ann Patchett, Steph Cha and Jami Attenberg stun with powerful literary fiction.
USATODAY.com - Published
What to watch in theaters this Fall with Fadango
Hollywood hopes some of the big Fall movie releases will boost box office sales after a slow summer. Adriana Diaz is in the Toyota Green Room with Erik Davis, managing editor of Fandango, to discuss..
CBS News - Published
UK weather forecast: Scorching temperatures cool down ahead of windy and rainy weekend
'It isn't necessarily a gradual decline towards Autumn and winter, but we have seen a return to cooler and fresher patterns,' says Met Office spokesman Grahame Madge
Independent - Published
Things to Know Before Everest Base Camp Trek
Everest Base Camp Trek is a magnificent venture to the world highest base camp, Mt. Everest Base Camp. The adventure enthusiasts find Everest Base Camp Trek an adventure of the lifetime and World's..
WorldNews - Published