Joint Chiefs of Staff
Body of senior uniformed leaders in the U. S. Department of Defense which advises the President on military matters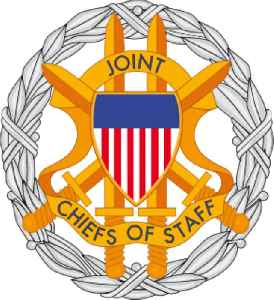 The Joint Chiefs of Staff (JCS) is a body of senior uniformed leaders in the United States Department of Defense which advises the President of the United States, the Secretary of Defense, the Homeland Security Council and the National Security Council on military matters. The composition of the Joint Chiefs of Staff is defined by statute and consists of the Chairman of the Joint Chiefs of Staff (CJCS), Vice Chairman of the Joint Chiefs of Staff (VCJCS), the Military Service Chiefs from the Army, Marine Corps, Navy, and Air Force, and the Chief of the National Guard Bureau, all appointed by the President following Senate confirmation. Each of the individual Military Service Chiefs, outside their Joint Chiefs of Staff obligations, works directly for the Secretary of the Military Department concerned, i.e., Secretary of the Army, Secretary of the Navy, and the Secretary of the Air Force.


White House confirms progress made in Afghan peace talks
WASHINGTON: The White House signalled progress on Friday in preparations for a peace deal with the Taliban in Afghanistan, saying that discussions between President Donald Trump and his top advisers..
WorldNews - Published
North Korea fires projectiles, rejects South Korea's dialogue pledge
SEOUL: North Korea launched at least two projectiles into the sea on Friday, South Korea's military said, shortly after Pyongyang described South Korea's president as "impudent" and vowed that..
WorldNews - Published
'Gen. Hyten is innocent': Sen. McSally
Senator Martha McSally, a female combat pilot in the U.S. Air Force who has said she was raped by a superior officer, on Tuesday defended President Trump's pick, Air Force General John Hyten, to be the..
Credit: Reuters Studio Duration: 01:43Published
North Korea fires suspected missiles into ocean
North Korea fired at least two projectiles early on Thursday from an area near Wonsan, on North Korea's eastern coast, South Korea's Joint Chiefs of Staff said. Jillian Kitchener reports.
Credit: Reuters Studio Duration: 01:05Published
Trump accuses Iran of secret nuclear enrichment
U.S. President Donald Trump accused Iran on Wednesday of secretly enriching uranium for a long time and said U.S. sanctions would be increased "substantially" soon, as the U.N. nuclear watchdog held an..
Credit: Reuters Studio Duration: 01:18Published
US wants military coalition to protect waters off Iran
Marine General Joseph Dunford, chairman of the Joint Chiefs of Staff, said on Tuesday the U.S. had hammered out a plan under which an international military coalition would safeguard strategic waters..
Credit: Reuters Studio Duration: 01:14Published
North Korea fires two projectiles into sea off eastern coast: South Korean military
North Korea fired two unidentified projectiles into the sea off its eastern coast on Friday morning, South Korea's Joint Chiefs of Staff said in a statement.
Reuters - Published
Search this site and the web:
You Might Like