Matteo Salvini
Italian politician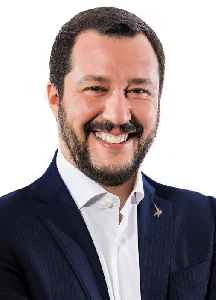 Matteo Salvini is an Italian politician serving as Deputy Prime Minister of Italy and Minister of the Interior since 1 June 2018. He has also been Federal Secretary of Northern League since December 2013 and the leader of Us with Salvini since December 2014. He has been a Senator in the Italian Senate since March 2018. He previously served as a Member of the European Parliament (MEP) for the constituency of North-West Italy from 2004 to 2018.


Italy's League does not want to bring down coalition: Salvini
Italy's League does not want to bring down the ruling coalition, party chief Matteo Salvini said on Friday, responding to accusations from his government ally that he was threatening to quit the..
Reuters - Published
Salvini advisor under investigation for alleged corruption: judicial sources
ROME (Reuters) - Italian prosecutors have opened an investigation into corruption allegations against a junior transport minister who serves as economic adviser to Deputy Prime Minister Matteo Salvini,..
WorldNews - Published
Also reported by •Reuters
Raw Politics in full: Salvini flop, 'Great Debate' results and violence in Libya
Watch Monday night's full episode of Raw Politics
Credit: euronews (in English) Duration: 49:26Published
Raw Politics: MEPs debate Matteo Salvini's attempt to unite the right
Italy's Deputy Prime Minister Matteo Salvini launched a movement on Monday to unite populist leaders in Europe.
Credit: euronews (in English) Duration: 11:09Published
Le Pen "dreams" of nationalist supergroup - Exclusive Interview
French nationalist leader Marine Le Pen is hoping she and Italian deputy prime minister Matteo Salvini can form a new supergroup of MEPs after European Parliamentary elections in May.
Credit: euronews (in English) Duration: 20:26Published
Populists are attacking Europe from inside and out, claims Bernard-Henri Levy
French philosopher Bernard-Henri Levy said Trump and Putin were fuelling internal critics like Italy's Matteo Salvini or France's Marine Le Pen.
Credit: euronews (in English) Duration: 03:20Published
Malta's army takes control of small tanker hijacked by migrants
Maltese soldiers have taken control of a small tanker that was hijacked by migrants it had rescued off Libya, with the ship arriving at a dock in Malta afterwards, the Armed Forces of Malta (AFM) said..
Credit: Reuters Studio Duration: 00:32Published
'The ports remain closed,' Italy's Matteo Salvini warns migrant rescue NGO
Matteo Salvini has reiterated Italy's ports are closed to migrant rescue boats after an NGO ship asked to dock.
Credit: euronews (in English) Duration: 00:52Published
Tunnel vision divides Italy's governing coaltion
Italy's governing coalition is deeply divided over whether money for a new, multi-billion euro rail link with France would be better spent elsewhere. David Pollard reports.
Credit: Reuters Studio Duration: 01:31Published
Salvini 'crossed red line' in pushing refugee boat policy, says military
Italian military officials have accused Matteo Salvini of "unprecedented interference" as tension mounts over the far-right interior minister's policy of closing ports to rescued migrants...
WorldNews - Published
Italy says terrorists have infiltrated migrant boats from Libya
Italy's interior minister said on Wednesday terrorists have used recent upheaval in Libya to infiltrate migrant boats heading for the country's ports. Matteo Salvini, leader of the far-right League..
WorldNews - Published
Terrorist presence on migrants boats from Libya now a certainty: Italy's Salvini
Chaos in Libya following General Khalifa Haftar's offensive has increased the risk of terrorist presence on migrant boats headed for Italy, Interior Minister Matteo Salvini said, adding the country's..
Reuters - Published
Search this site and the web:
You Might Like