Hunter Biden
Son of former Vice President of the United States Joe Biden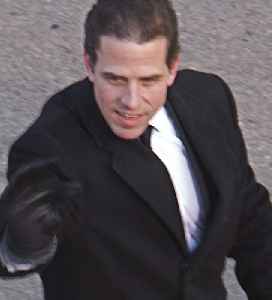 Robert Hunter Biden is an American lawyer and investment advisor who is the second son of former U.S. Vice President Joe Biden. He is a founding partner of Rosemont Seneca Partners, an investment and advisory firm.


Ex-Hunter Biden associate claims evidence against Biden family

A former business associate of Democratic presidential nominee Joe Biden's son Hunter said on Thursday (October 22) that he was turning devices over to the FBI with evidence to support allegations..
Credit: Reuters Studio Duration: 01:49
Published
Who Is Hunter Biden?

Hunter Biden is the son of Democratic presidential nominee Joe Biden. Hunter is currently at the center of a New York post article based on purported juicy emails and photos. The photos were found on a..
Credit: Wochit News Duration: 00:37
Published
Twitter briefly restricts Trump campaign account

U.S. President Donald Trump's re-election campaign's Twitter account was briefly restricted on Thursday, causing an outcry from Republican lawmakers who accused social media companies of acting like..
Credit: Reuters - Politics Duration: 01:54
Published
US Presidential Debate: Trump goes after Hunter Biden for alleged China links, Joe defends his son

US President Donald Trump went after former Vice President Joe Biden over his son Hunter's business dealings and alleged he had earned billions from work related to China and Ukraine. During the..
Credit: ANI Duration: 02:07
Published
You Might Like



Mark Zuckerberg and Jack Dorsey to testify before the Senate Judiciary Committee

Photo by Mandel Ngan-Pool/Getty Images Facebook CEO Mark Zuckerberg and Twitter CEO Jack Dorsey will testify before the Senate Judiciary Committee on November 17th. "The hearing will focus on the..




The Verge - Published





'Nothing was unethical': Joe Biden defends Hunter Biden under pressure from Trump in debate

Joe Biden sought to fend off questions about his son, Hunter Biden, and potential conflicts of interest overseas during the last presidential debate.




USATODAY.com - Published





Hunter Biden: What was he doing in Ukraine and China?

What is the background to the claims made by President Trump about Ukraine and the Bidens?




BBC News - Published





What We Know and Don't About Hunter Biden and a Laptop

President Trump's allies have promoted claims of corruption aimed at the former vice president's son in an effort to damage the Biden campaign.




NYTimes.com - Published

Also reported by •CBS News


Trump invites Tony Bobulinski, Hunter Biden's former business partner, as debate guest

President Donald Trump is again taking a page from his 2016 playbook by inviting a guest to highlight his latest attack on Joe Biden and his son's business dealings.




USATODAY.com - Published





Real men embrace their sons and fathers, just like Joe and Hunter Biden in that photo

A father holding and kissing his adult son after standing by him during many struggles is somehow inappropriate? That's a child's view of masculinity.




USATODAY.com - Published





Senate committee approves subpoenas for Mark Zuckerberg and Jack Dorsey

Photo by Drew Angerer/Getty Images The Senate Judiciary Committee approved subpoenas on Thursday to force Facebook CEO Mark Zuckerberg and Twitter CEO Jack Dorsey to testify before the body..




The Verge - Published





Senate Judiciary Committee authorizes subpoenas for Twitter's Jack Dorsey and Facebook's Mark Zuckerberg over Hunter Biden stories

Judiciary Committee Chairman Lindsey Graham said he hoped it would give the panel "leverage" to secure testimony from the CEOs.




USATODAY.com - Published





Rudy Giuliani turns over alleged Hunter Biden laptop to authorities in Delaware

Rudy Giuliani shared files from what he said was Hunter Biden's laptop, which were then turned over to the FBI, a Delaware attorney general spokesman said.




USATODAY.com - Published





DNI Ratcliffe: Russia disinformation not behind published emails targeting Biden; FBI reviewing

Director of National Intelligence John Ratcliffe said Monday that recently published emails purporting to document the business dealings of Hunter Biden are not connected to a Russian disinformation..




WorldNews - Published

Also reported by •USATODAY.com


Trump demands Barr investigate Hunter Biden

President Trump early Tuesday pressured Attorney General William Barr to investigate the son of Democratic presidential nominee Joe Biden and demanded that information be released before Election Day...




WorldNews - Published





The New York Post published its Hunter Biden report amid newsroom doubts.

The New York Post published its Hunter Biden report amid newsroom doubts.




NYTimes.com - Published




US President Donald Trump row with Facebook escalates over Hunter Biden story

Facebook's Sir Nick Clegg was involved in the controversial decision to reduce the social media distribution of a New York Post story which was based on the alleged emails of Joe Biden's son.The..




New Zealand Herald - Published

Also reported by •WorldNews


A tabloid got a trove of data on Hunter Biden from Rudy Giuliani. Now, the FBI is probing a possible disinformation campaign

The FBI is examining whether Russia is tied to the purported documents on Hunter Biden that were provided to the New York Post by Rudy Giuliani.




USATODAY.com - Published





Rudy: Only '50/50' Chance I Worked With a 'Russian Spy' to Dig Dirt on Bidens

Rudy Giuliani thinks it's hilarious. He says the questions mounting around him—including those about whether his efforts to dump Hunter Biden's documents and photos are part of some foreign..




WorldNews - Published





FBI probing whether emails in New York Post story about Hunter Biden are tied to Russian disinformation

The FBI is investigating whether emails published by the New York Post about Hunter Biden are linked to a Russian effort to spread disinformation.




USATODAY.com - Published





Twitter eases hacked materials policy after blocking Hunter Biden story

Twitter initially blocked a New York Post story based on alleged emails taken from his personal laptop.




CBS News - Published





Twitter will stop removing 'hacked content' unless it's shared by hackers

Illustration by Alex Castro Twitter is changing its policy against posting hacked materials following criticism for how it handled a New York Post story about former Vice President Joe Biden and his..




The Verge - Published





Hunter Biden tabloid story raises disinformation campaign fears

The Trump campaign is accusing Twitter and Facebook of censorship after the social media companies blocked the spread of an unverified story about former Vice President Joe Biden's son, Hunter, and a..




CBS News - Published





Jack Dorsey faces Senate subpoena after blocking NY Post articles

Photo by Amal KS/Hindustan Times via Getty Images The Senate Judiciary Committee plans to subpoena Twitter CEO Jack Dorsey today, after a controversial decision to block links to two New York Post..




The Verge - Published





Fifteen important things to say about Facebook, Twitter, and the New York Post's Hunter Biden story

Photo by Michele Doying / The Verge Nobody looks good here




The Verge - Published





Experts dismiss 'garbage' Hunter Biden exposé in NY Post: 'Seems like a complete fabrication'

The Rupert Murdoch-owned New York Post published a series of stories on Tuesday surrounding alleged emails between Hunter Biden and officials connected with the Ukrainian energy company Burisma, which..




WorldNews - Published





Hunter Biden emails: Why is Trump accusing Biden of lying about role in son's Ukraine ...

Looking to undermine rival Joe Biden 20 days before the election, President Donald Trump's campaign has seized on a tabloid story offering bizarre twists to a familiar line of attack: Biden's..




WorldNews - Published





Twitter locks account of Kayleigh McEnany for sharing Hunter Biden story, White House claims

Donald Trump's press secretary Kayleigh McEnany had her Twitter account locked for sharing a news story that reflected negatively on Joe Biden, according to the White House. It came as Donald Trump..




WorldNews - Published





Facebook is reducing the reach of a disputed New York Post story about Joe Biden's son

Illustration by Alex Castro / The Verge Facebook has reduced the reach of a New York Post story that makes disputed claims about Vice President Joe Biden's son, Hunter, pending a fact-check..




The Verge - Published





Fact check: Claims that Hunter Biden received $3.5M from Russia are unproven, lack context

The allegation was recently laid out in a GOP Senate committee report, then it found its way to social media and into the first Trump-Biden debate.




USATODAY.com - Published





Trump says "I don't know Beau" Biden while taking aim at Hunter

Mr. Trump attacked Joe Biden's son, Hunter Biden, in one of the most contentious exchanges of the first presidential debate.




CBS News - Published





Trump on Biden's late son: "I don't know Beau"

At the first presidential debate on Tuesday night, Joe Biden criticized President Trump's alleged comments calling fallen soldiers "losers," saying his late son Beau Biden, who served in Iraq, was "not..




CBS News - Published





Hunter Biden: Republicans release report on Joe Biden's son

His work in Ukraine was "awkward" while his father was vice-president but no wrongdoing was found.




BBC News - Published





A Republican inquiry into Hunter Biden and Ukraine finds no evidence of wrongdoing by his father.




NYTimes.com - Published





Senate Republicans release controversial report on Hunter Biden and Ukraine

Democrats dismissed the investigation as "faulty" and rooted in Russian disinformation.




CBS News - Published





GOP senators' anti-Biden report repackages old claims

congress GOP senators' anti-Biden report repackages old claims Ron Johnson and Chuck Grassley's interim report largely relies on previously known information. Senate Homeland Security and Governmental..




WorldNews - Published





Warning of Russian disinformation, Senate Democrats tried to squelch Republicans' report on Hunter Biden.




NYTimes.com - Published





What Pam Bondi's attacks on Hunter Biden got right — and wrong

Pam Bondi, the former Florida attorney general, made assertions about Joe Biden's son Hunter, Ukraine and China at the Republican National Convention.




USATODAY.com - Published





Ukraine alleges $5 million bribe over Burisma, no Biden link

Ukrainian officials on Saturday said they were offered $5 million in bribes to end a probe into energy company Burisma's founder, but said there was no connection to former board member Hunter Biden..




Reuters - Published




Ukraine found no evidence against Hunter Biden in case audit: former top prosecutor

An audit of thousands of old case files by Ukrainian prosecutors found no evidence of wrongdoing on the part of Hunter Biden, the former prosecutor general, who had launched the audit, told Reuters.




Reuters - Published




Sen. panel approves subpoena in Hunter Biden probe

A Senate committee voted to issue a subpoena as part of its investigation into former Vice President Joe Biden's son, a move that met immediate opposition from Democrats who said the panel should be..




USATODAY.com - Published





Senate Panel Delays Subpoena Vote Over Concerns About Ukraine Witness

The Homeland Security Committee, which is looking into Hunter Biden and Ukraine's role in the 2016 election, was told a former Ukrainian official could be spreading Russian disinformation.




NYTimes.com - Published





Romney to support subpoena in Senate probe of Hunter Biden

U.S. Senator Mitt Romney will vote to allow a subpoena in a Senate Republican investigation of Democratic presidential candidate Joe Biden's businessman son, Hunter Biden, his office said on Friday.




Reuters - Published





Republicans, Egged On by Trump, Scrutinize Hunter Biden as His Father Surges

The escalation of a Senate inquiry into Joseph R. Biden Jr.'s son has coincided with the former vice president's overwhelming electoral turnaround.




NYTimes.com - Published





There's a New Artist in Town. The Name Is Biden.

Hunter Biden, his name forever linked to President Trump's impeachment, says painting "is literally keeping me sane" after years of addiction and poor choices.




NYTimes.com - Published





Justice Department receiving information on Bidens from Giuliani: Senator

The U.S. Justice Department is receiving information on former Vice President Joe Biden and his businessman son, Hunter Biden, from President Donald Trump's personal lawyer Rudy Giuliani, a top Trump..




Reuters - Published




Republicans in Senate Press On With Investigation Into Hunter Biden

The Treasury Department complied with a request from Senate Republicans for documents related to Hunter Biden's ties to a Ukrainian energy company, according to a Senate Democrat.




NYTimes.com - Published




Just after Trump acquittal, Republican senators requested Hunter Biden's travel records

Trump was just acquitted in the Senate impeachment trial, but two Republican senators are still looking into Hunter Biden's Ukraine business dealings.




USATODAY.com - Published





Joe Manchin, a Democrat, is open to calling Hunter Biden.

Democratic senators had been holding together during the impeachment trial, but a crack appeared.




NYTimes.com - Published