Bill Clinton
42nd president of the United States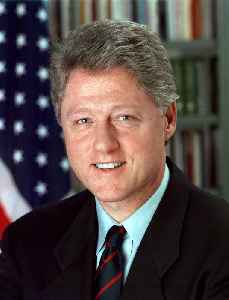 William Jefferson Clinton is an American lawyer and politician who served as the 42nd president of the United States from 1993 to 2001. Prior to his presidency, he served as governor of Arkansas and as attorney general of Arkansas (1977–1979). A member of the Democratic Party, Clinton was known as a New Democrat, and many of his policies reflected a centrist "Third Way" political philosophy. He is the husband of former secretary of state, former U.S. senator, and two-time candidate for president Hillary Clinton.


N. Ireland peacemaker Hume is laid to rest

Northern Ireland peacemaker John Hume was remembered for his unshakable commitment to non-violence at a small funeral on Wednesday. Joe Davies reports.
Credit: Reuters - Politics Duration: 01:19
Published
John Hume 'made peace visible during darkest moments'

Messages from former US president Bill Clinton, The Pope and the Dalai Llamawere read out at the funeral of John Hume.
Credit: PA - Press Association STUDIO Duration: 01:29
Published
Rep. Lewis praised by 3 presidents at funeral

[NFA] Former U.S. Presidents Barack Obama, George W. Bush and Bill Clinton were among those who spoke passionately about late civil rights icon and U.S. Congressman John Lewis at his funeral in a..
Credit: Reuters - Politics Duration: 02:23
Published
Obama To Eulogize John Lewis, Clinton and Bush To Attend, Trump Refused

Former President Barack Obama will give the eulogy at US Rep. John Lewis' funeral. The funeral will take place on Thursday, according to reports at CNN. Former Presidents Bill Clinton and George W...
Credit: Wochit News Duration: 00:36
Published
Trump Replaces Portraits Of Clinton And George W. Bush

The official portraits of former Presidents Bill Clinton and George W. Bush have been moved. Both portraits were removed from the Grand Foyer of the White House within the last week. They were replaced..
Credit: Wochit News Duration: 00:36
Published
Last 4 US Presidents agreed on importance of relationship with India: EAM Jaishankar

Union Minister for External Affairs, S Jaishankar attended 'India Global Week 2020' through video conferencing where he spoke on India-US relationship. He said, "Think back at last 4 US presidents-..
Credit: ANI Duration: 01:37
Published
Famous People Connected To Jeffrey Epstein

Billionaire Jeffrey Epstein was very well connected. Epstein was arrested in 2019 for suspicions of child sex trafficking. Because of his vast wealth Epstein traveled in some very powerful circles...
Credit: Wochit News Duration: 00:41
Published
Jean Kennedy Smith, last surviving sibling of JFK, dies at 92

Jean Kennedy Smith, the last surviving sibling of slain President John F. Kennedy, who as U.S. ambassador to Ireland in the 1990s played a pivotal role in the Northern Irish peace process, died on..
Credit: Reuters Studio Duration: 01:43
Published
You Might Like



Department of Homeland Security should be dismantled, former national security official says

There have been growing calls to dismantle the Department of Homeland Security, as the Trump administration deploys federal agents to crack down on crime. Richard A. Clarke — a former national..




CBS News - Published





These are the people who must stop Trump's assault on voting

(CNN)The contrast could not have been more jarring. In Atlanta, three of America's four living ex-presidents -- two Democrats and one Republican -- joined in honoring John Lewis, a true American hero..




WorldNews - Published





Unsealed docs say Bill Clinton was on 'pedophile island' w/ 'young girls' & cite Epstein saying former president 'owed him favor'

Newly unsealed files tied to the Jeffrey Epstein sex-trafficking case imply that former US President Bill Clinton visited the investor's private island along with "young girls," and that the FBI..




WorldNews - Published





Former president Bill Clinton remembers John Lewis as working for his 'beloved community'

Former President Bill Clinton remembered John Lewis as a man who worked for his community.  




USATODAY.com - Published





Rep. John Lewis funeral honors civil rights icon

Former President Barack Obama will give the eulogy for Rep. John Lewis. Former presidents George W. Bush and Bill Clinton will attend the service.  




USATODAY.com - Published





Bill Clinton pushed 'appeasement' of Serbs after Srebrenica massacre

When Srebrenica fell to a Serb separatist attack 25 years ago, Bosnia's Muslim-led government was reeling from the mass killings under way in the small enclave. So Bosnian officials were stunned when..




WorldNews - Published





Program passes 500,000 meals, gets Clinton nod

The Pulaski County covid-19 Meals Program hit a milestone Wednesday -- 500,000 meals prepared, packaged and delivered. Former President Bill Clinton spoke via Zoom to about 40 people Wednesday in the..




WorldNews - Published





Desecration of Gandhi statue 'crime against humanity': Indian Ambassador to US

"Gandhi's statue is an iconic monument here. This is a federal piece of land, and this particular Park is controlled by the National Park Police. This was in fact, inaugurated in September 2000 by the..




IndiaTimes - Published





Retired judge to examine if Michael Flynn should be held in contempt, challenge DOJ's bid to drop case

Former federal judge John Gleeson was appointed by President Bill Clinton and served 22 years on the bench in New York.




USATODAY.com - Published





Momentous Choices for Supreme Court as It Hears Trump Financial Records Cases

The court ruled unanimously against Presidents Richard Nixon and Bill Clinton when they sought to withhold evidence. But the current court is unlikely to achieve consensus.




NYTimes.com - Published





Get ready for the Warring Twenties

The world's China delusion is over. For three decades, the global elite has assured us that China's rise to great-power status was "peaceful." But great powers rarely rise peacefully, and..




WorldNews - Published





Linda Tripp, whose tapes exposed Clinton affair, dies at 70

WASHINGTON (AP) — Linda Tripp, whose secretly taped conversations with former White House intern Monica Lewinsky provided evidence of an affair with President Bill Clinton that led to his..




WorldNews - Published

Also reported by •USATODAY.com


Woman who revealed Clinton-Lewinsky scandal dies

Linda Tripp, who disclosed Bill Clinton's White House affair with Monica Lewinsky dies, aged 70.




BBC News - Published





Richard Reeves, Columnist and Author on Presidents, Dies at 83

His books on Kennedy, Nixon, Clinton and others could be as unsparing as his syndicated column. He was also a familiar face on PBS public-affairs programs.




NYTimes.com - Published





Trump talks himself up as 'wartime president' to lead America through a crisis

Bill Clinton used to lament that his time as US president was broadly peaceful, and lacked a historic test of his mettle. Donald Trump believes that his moment has arrived: a crisis on a par with..




WorldNews - Published





Biden has vastly outperformed Clinton in some primaries. Is that bad news for Trump come November?

As Joe Biden takes command in the Democratic primary, some of the same groups that didn't back Clinton in 2016 are delivering for the former vice president as he takes on the same opponent.




USATODAY.com - Published





Bill Clinton claims Monica Lewinsky affair was to 'help anxieities'

Former President Bill Clinton says his affair with Monica Lewinsky was a way of managing his...




WorldNews - Published

Also reported by •BBC News •NYTimes.com


No shutdown in Kashmir on US President's India visit

In a first, the entire local leaders, both separatists and the regional mainstream parties, completely refrained from issuing any statements during the US President's visit that began on Monday, unlike..




IndiaTimes - Published





Concluding first day of his visit, Trump reaches luxurious ITC Maurya

The presidential suites in one of the poshest hotels in Delhi has earlier hosted several heads of states including former US presidents Jimmy Carter, Bill Clinton and George W Bush. Former US president..




IndiaTimes - Published





From Bill Clinton to Barack Obama, here are all the US Presidents who visited India

Donald Trump will be the seventh US president to visit India in the last 72 years. India and the US embarked on their trade partnership in 1949 when India's first prime minister Jawaharlal Nehru..




WorldNews - Published





New documentary featuring Bill Clinton examines antisemitism in US, Europe

A new documentary featuring experts on antisemitism, as well as former President Bill Clinton, examines antisemitism in the United States and several countries in Europe. "Viral: Antisemitism in Four..




WorldNews - Published





Today in History for February 12th

Highlights of this day in history: President Abraham Lincoln and naturalist Charles Darwin born; The U.S. Senate acquits President Bill Clinton in his impeachment trial; Founding of the NAACP;..




USATODAY.com - Published




Trump. Starr. Ee i ee i o

Donald Trump has been duly acquitted in his US Senate impeachment trial and since then he has been on a rampage firing senior officials who testified against him. But wait, this is not about Trump and..




WorldNews - Published





In 1999, Bill Clinton was 'humbled' by impeachment. Today, Donald Trump unloaded on a 'phony, rotten deal'

Bill Clinton apologized for his behavior that led to impeachment. In contrast, Donald Trump railed against "scum" and "evil" foes who put him through "hell."




USATODAY.com - Published





Three Ex-Presidents Faced Impeachment. We Visited Their Historic Sites.

We visited the presidential museums, libraries and sites dedicated to Andrew Johnson, Richard Nixon and Bill Clinton to talk to visitors about the impeachment facing President Trump.




NYTimes.com - Published





Starr, lawyer who pursued Clinton and now defends Trump, rails against impeachment

Kenneth Starr, the lawyer whose investigation led to the impeachment of former U.S. President Bill Clinton in 1998, told the Senate on Monday that the process was happening all too often in what he..




Reuters - Published




Sanders, Biden, Clinton? This Week in the 2020 Race

Paying attention to the impeachment trial this week? Us too. But here are 7 things that happened on the campaign trail you may have missed.




NYTimes.com - Published





LeBron James, Lakers meet Bill Clinton after game in Brooklyn

LeBron James said it was "just surreal" to speak briefly with the former president on the floor after the Lakers defeated the Nets at Barclays Center.




USATODAY.com - Published





Senator Lindsey Graham misses a clip of a speech he made during Clinton's trial in 1999.

In the clip, Mr. Graham gave a broad definition of a "high crime."




NYTimes.com - Published





Harvey Weinstein trial begins with scathing opening statements, photo of him with Bill Clinton

Harvey Weinstein's trial began with opening statements that included a scathing description labeling him a rapist and a photo of him with Bill Clinton




USATODAY.com - Published





McConnell's changes to the trial rules come after concerns from Republican senators.

Mr. McConnell's initial plans had deviated in several ways from those carried out in President Bill Clinton's Senate trial.




NYTimes.com - Published





Senate leaders from President Bill Clinton's impeachment trial: Two sides must work together

Former Senate Republican leader Trent Lott and Democratic leader Tom Daschle navigated through the 1999 Clinton impeachment trial and emerged friends.




USATODAY.com - Published





Schumer calls Republican rules for the trial 'a national disgrace.'

He said he would move to mirror the rules used for President Bill Clinton as soon as the trial begins at 1 p.m.




NYTimes.com - Published





A brief history of impeachment: From Johnson to Trump

Donald Trump, whose trial in the Senate begins this week, is just the third US president to be impeached, while another came famously close. From Andrew Johnson in 1868, to Richard Nixon and Bill..




France 24 - Published





The Trial That Would Be a Template

Twenty-one years ago, President Bill Clinton was brought up on charges of high crimes and misdemeanors. But there were some big differences from what President Trump now faces.




NYTimes.com - Published





Impeachment Trial Puts Susan Collins, Stung by Kavanaugh Backlash, Under Scrutiny

The four-term Maine senator, who crossed party lines to vote against President Clinton's impeachment, must now decide whether to break with President Trump.




NYTimes.com - Published





Who is Ken Starr? Trump once called his impeachment lawyer a 'lunatic' and 'disaster'

Ken Starr, the independent counsel in Bill Clinton's impeachment, has been hired by Trump to join his defense team in the Senate impeachment trial.




USATODAY.com - Published





Ken Starr Returns to the Impeachment Fray, This Time for the Defense

The independent counsel whose investigation resulted in a Senate trial for President Bill Clinton has joined the team defending President Trump in his own Senate trial.




NYTimes.com - Published





Trump adds legal heavyweights Starr, Dershowitz to impeachment team

President Donald Trump turned to some legal heavyweights to help defend him in his Senate impeachment trial with the addition on Friday of former independent counsel Ken Starr, who paved the way for..




Reuters - Published




Trump adds Jeffrey Epstein's old attorney to impeachment team

President Donald Trump announced his team of lawyers to defend him during the upcoming Senate trial over his impeachment on Friday, according to CNN. Leading the pack is Ken Starr, who conducted the..




WorldNews - Published





Clinton prosecutor Ken Starr to defend Trump

Former special prosecutors from Bill Clinton's impeachment trial are expected to be on the team.




BBC News - Published





Prominent lawyers Starr, Dershowitz join Trump impeachment team

President Donald Trump is bringing in high-profile legal firepower to help defend him in the Senate impeachment trial, with the addition on Friday of former independent counsel Ken Starr, who paved the..




Reuters - Published




Trump Legal Team to Add Starr and Dershowitz for Senate Trial

Ken Starr and a third lawyer named to the team, Robert Wray, were independent counsels who investigated President Bill Clinton.




NYTimes.com - Published





Pelosi Taps Diverse Team of Impeachment Managers With Legal Credentials

The group of Democratic lawmakers preparing to press the case against President Trump is about half as large as and far more diverse than the team that prosecuted Bill Clinton.




NYTimes.com - Published





The impeachment managers were revealed.

The group of Democratic lawmakers is smaller but more diverse than the House members who prosecuted President Bill Clinton.




NYTimes.com - Published




Trump impeachment trial fight for Bolton testimony echoes Monica Lewinsky

Twenty-one years ago former White House intern Lewinsky was at the center of a tug-of-war over whether she would testify in the U.S. Senate impeachment trial of President Bill Clinton, a Democrat.




Reuters - Published