Chris Paul
American basketball player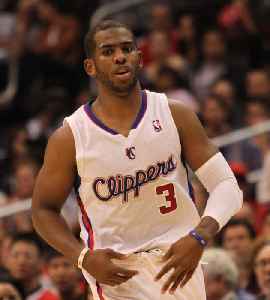 Christopher Emmanuel Paul is an American professional basketball player for the Oklahoma City Thunder of the National Basketball Association (NBA). He has won the NBA Rookie of the Year Award, an NBA All-Star Game Most Valuable Player Award, two Olympic gold medals, and led the NBA in assists four times and steals six times. He has also been selected to ten NBA All-Star teams, eight All-NBA teams, and nine NBA All-Defensive teams.


You Might Like
Thunder's Chris Paul shows support for Spike Lee on shoes at Madison Square Garden
Chris Paul was disappointed to miss Spike Lee at MSG amid the director's feud with the Knicks, so he showed his support with a message on his shoes.
USATODAY.com - Published
Oklahoma Thunder success no surprise to Chris Paul
Many experts expected the Oklahoma City Thunder to struggle this season, but with Chris Paul's leadership and All-Star level play, the team has a 33-22 record. (Feb, 20)  
USATODAY.com - Published
NBA names All-Star Game reserves, including Ben Simmons, Russell Westbrook and Chris Paul
Fourteen players are named, including six who will be first-time All-Stars in Chicago on Feb. 16.
USATODAY.com - Published
Russell Westbrook gets one last ovation in OKC, Chris Paul and Thunder get last laugh
Russell Westbrook got a deafening ovation and touching tribute video in his return to Oklahoma City, but Chris Paul and the Thunder got a 113-92 win.
USATODAY.com - Published
Gallinari, Schroder score 20 each as Thunder beat Dallas
Danilo Gallinari and Dennis Schroder each scored 20 points, Chris Paul hit the go-ahead basket with 40.9 seconds left and the Oklahoma City Thunder rallied from a seven-point deficit in the final three..
WorldNews - Published
Chris Paul jokingly asks new Rockets star Russell Westbrook to leave Thunder locker room
The Rockets' Russell Westbrook and the Thunder's Chris Paul faced each other for the first time since their offseason trade. CP3 even brought jokes!
USATODAY.com - Published
Christian Yelich, Chris Paul, Kelley O'Hara will be featured in ESPN's 'Body Issue'
Reigning National League MVP Christian Yelich, nine-time NBA All-Star Chris Paul and World Cup-winning soccer player Kelley O'Hara will be in issue.
USATODAY.com - Published
AP source: Russell Westbrook going to Rockets for Chris Paul
Person familiar with situation says Thunder trading Russell Westbrook to Rockets for Chris Paul
USATODAY.com - Published
Thunder trade Russell Westbrook to Rockets for Chris Paul in blockbuster
In the latest blockbuster deal of the NBA offseason, Oklahoma City is sending Russell Westbrook to Houston for Chris Paul and two first-round picks.
USATODAY.com - Published