Coachella Valley
Valley in Southern California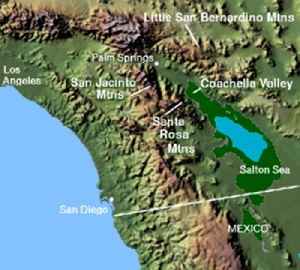 The Coachella Valley is an arid rift valley in the Colorado Desert of Southern California's Riverside County. The valley extends approximately 45 mi (72 km) southeast from the San Gorgonio Pass to the northern shore of the Salton Sea, and is approximately 15 mi (24 km) wide along most of its length. It is bounded on the northeast by the San Bernardino and Little San Bernardino Mountains, and on the southwest by the San Jacinto and Santa Rosa Mountains.


You Might Like
In California: Getting real about recycling plastics, and the weather looks bad for fires
Plus: The Golden State takes the lead in COVID cases, jobs are scarce in San Francisco, earthquakes jostle the Coachella Valley, and don't wash your neighbor's car in L.A.  
USATODAY.com - Published
In California's Coachella Valley, making sure rural residents of color are included in decision making
Rebecca Zaragoza and Lesly Figueroa advocate on issues of land use, transportation, climate change, safe drinking water, housing, environmental justice and government accountability.  
USATODAY.com - Published
Coachella woman sentenced for dumping puppies in the trash
In April, Culwell was caught on surveillance video tossing seven newborn puppies into a dumpster in Coachella Valley
CBS News - Published
Search this site and the web: