Sihanoukville (city)
City in Sihanoukville, Cambodia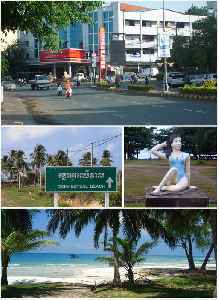 Sihanoukville, also known as "Kampong Som", is a coastal city in Cambodia and the capital of Sihanoukville Province, at the tip of an elevated peninsula in the country's south-west on the Gulf of Thailand. The city is flanked by an almost uninterrupted string of beaches along its entire coastline and coastal marshlands bordering the Ream National Park in the east. The city has one navigable river, the mangrove lined Ou Trojak Jet running from Otres Pagoda to the sea at Otres. A number of thinly inhabited islands – under Sihanoukville's administration – are near the city, where in recent years moderate development has helped to attract a sizable portion of Asia's individual travelers, students, and backpackers.


Cruiseliner passengers set foot in Cambodia

Passengers onboard the MS Westerdam cruiseliner were able to finally disembark to the Cambodian port town of Sihanoukville on Friday (February 14) , after two weeks at sea.
Credit: Reuters Studio Duration: 01:30
Published
You Might Like
Virus deals new blow to Cambodian city bound to China
An influx of Chinese that some Cambodians resented for bringing noise, dust and chaos to the port of Sihanoukville, is the cause of more pain now that it has gone into reverse.
Reuters - Published
'It is taking time': Holland America cruisers wait to get off docked ship in Cambodia after being in limbo
Guests aboard Holland America's MS Westerdam breathed a sigh of relief Thursday as they were finally allowed to disembark in Sihanoukville, Cambodia.
USATODAY.com - Published
Cambodia says no passengers on castaway cruise ship have coronavirus
None of the 20 passengers on board a cruise ship which docked in the Cambodian port town of Sihanoukville on Thursday have the coronavirus, a spokesman for the Southeast Asian country's health ministry..
Reuters - Published
Coronavirus and cruises: Holland America ship to disembark in Cambodia after three denials
Cambodia came to the rescue of Holland America's MS Westerdam on Wednesday, granting the ship permission to disembark at Sihanoukville on Thursday.
USATODAY.com - Published
Cambodia Charges 7, Including Chinese, in Building Collapse
A court in Cambodia said Tuesday that seven people, including four Chinese nationals, have been charged with crimes related to a building collapse that killed 28 construction workers who were sleeping..
WorldNews - Published
Cambodia resort building collapse toll rises to 17
Rescue workers search for victims in the debris a day after an under-construction building collapsed in Sihanoukville on June 23, 2019. Cambodian rescue workers picked through the rubble of a..
WorldNews - Published
Three dead, more feared buried in Cambodia building collapse
At least three people died when an under-construction building collapsed at a Cambodian beach resort today, officials said, with fears that an unknown number of others may still be buried in the..
WorldNews - Published
Seven-storey building collapses in Cambodia
Three people are confirmed dead and others are missing in the coastal city of Sihanoukville.
BBC News - Published