Scott Morrison
30th Prime Minister of Australia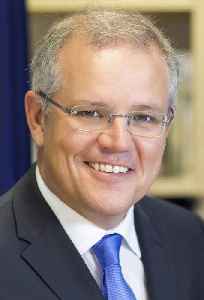 Scott John Morrison is an Australian politician serving as the 30th and current prime minister of Australia having become the leader of the Liberal Party in August 2018. He has held senior ministerial office since 2013, including as Treasurer in the Turnbull Government (2015–2018).


Australia to receive COVID-19 vaccine within months

Australia expects to receive its first batches of a potential COVID-19 vaccine in January, Prime Minister Scott Morrison said on Monday, as the number of new daily infections in the country's virus..
Credit: Reuters Studio Duration: 02:06
Published
You Might Like



States back Scott Morrison's plan to raise Australia's cap on international arrivals

More Australians stranded overseas are set to return after states and territories agreed to gradually increase their hotel quarantine caps. But it will happen slower than the prime minister 'would have..




SBS - Published





Watch: National cabinet update

The Prime Minister Scott Morrison is speaking live shortly after a national cabinet meeting to discuss increasing the number of international arrivals. Scott Morrison has been accused of seeking to..




SBS - Published





Greg Hunt talks of 'massive hotel capacity around the country' as national cabinet meets to consider flight boost

Prime Minister Scott Morrison and state and territory leaders will meet on Friday to discuss ways to get more Australians back home from overseas.




SBS - Published





National cabinet to consider flight boost

Prime Minister Scott Morrison and state and territory leaders will meet on Friday to discuss ways to get more Australians back home from overseas.




SBS - Published





Does Scott Morrison's 'go-with-gas' recovery plan promise more than it can deliver?

Prime Minister Scott Morrison this week announced his plan for a "gas-fired" recovery from COVID-19, but not everyone - including members of the Coalition - is on board.




SBS - Published





Covid 19 coronavirus hotel quarantine inquiry: Scott Morrison offered Daniel Andrews help three times

As Daniel Andrews faces mounting pressure in Australia over his now-debunked claim that military support was never on the table for the state of Victoria's failed hotel quarantine programme, it has..




New Zealand Herald - Published





'Plenty of commercial planes': Scott Morrison rejects calls to charter evacuation flights for stranded Australians

Prime Minister Scott Morrison has rejected calls to charter government flights to bring Australians home from overseas in time for Christmas.




SBS - Published




No need to charter evacuation flights: PM

Prime Minister Scott Morrison has rejected calls to charter government flights to bring Australians home from overseas in time for Christmas.




SBS - Published





Covid 19 coronavirus: Scott Morrison can't enter Queensland for election campaign unless he quarantines

Australian Prime Minister Scott Morrison will be banned from entering Queensland for the duration of the state election campaign unless he is prepared to pay A$2800 ($3046) to quarantine for 14 days in..




New Zealand Herald - Published





Scott Morrison's new power plan criticised as 'part of the problem, not the solution' to climate crisis

Critics have blasted Scott Morrison's plan for a gas-led economic recovery, saying it will only hinder our journey towards a safe planet.




SBS - Published





Critics say Scott Morrison's new power plan is a recipe for 'gas-fuelled climate collapse'

Mr Morrison declared gas and coal must remain critical parts of the nation's energy mix and promised Australia would meet its climate change targets in a "canter".




SBS - Published





Scott Morrison blamed for marring Queensland father's funeral to advance 'political agenda'

Prime Minister Scott Morrison created "a media circus" at a Queensland father's funeral to advance his "political agenda", one of the man's daughters says.




SBS - Published





Scott Morrison calls the QLD premier to allow woman to attend father's funeral

Prime Minister Scott Morrison has said he called the Queensland Premier Annastacia Palaszczuk asking her to reverse her decision to prevent a woman from attending her father's funeral today...




SBS - Published





'We need every dollar': Comment exposes Queensland's 'double standards'

Despite cries of double standards, Queensland authorities have revealed why celebrities like Tom Hanks are allowed into the state while grieving families aren't.Prime Minister Scott Morrison and other..




New Zealand Herald - Published





Bitter war of words after Scott Morrison's emotional interview

Australia's PM Scott Morrison has made a heartbreaking plea for the Queensland Premier to allow a 26-year-old daughter to attend her father's funeral today during an emotional radio interview.But his..




New Zealand Herald - Published





Annastacia Palaszczuk slams Scott Morrison and Queensland opposition over 'disgusting' border bullying

It comes as Home Affairs Minister Peter Dutton called Ms Palaszczuk "pig-headed" for not relaxing coronavirus restrictions.




SBS - Published





Scott Morrison demands 'horrifying' video circulating on TikTok is taken down

Prime Minister Scott Morrison has condemned a graphic video being shared on the video-sharing platform TikTok and called on the company to do more to take it down.




SBS - Published




Covid 19 coronavirus: Gloves off as Scott Morrison slams Victorian Premier Daniel Andrews on road map

Australian Prime Minister Scott Morrison has issued his toughest criticism of the Victorian lockdown to date urging the state to re-open the economy faster by improving Covid-19 contact tracing just as..




New Zealand Herald - Published





Scott Morrison hopes Victoria's roadmap out of coronavirus restrictions is a 'worst-case scenario'

Prime Minister Scott Morrison has put pressure on Victoria to fast-track its way out of coronavirus restrictions.




SBS - Published





Covid 19 coronavirus: Scott Morrison locks in deal for free vaccines in Australia

Australians could be some of the first in the world to receive a coronavirus vaccine if an Oxford University trial proves successful. Prime Minister Scott Morrison is expected to announce a deal in..




New Zealand Herald - Published




Scott Morrison says a free coronavirus vaccine could be available early next year if trials are successful

The Morrison government has announced two deals worth $1.7 billion will deliver coronavirus vaccines, should trials prove successful.




SBS - Published





Scott Morrison flags lifting the cap on international arrivals into Australia

State and territory leaders agreed at Friday's national cabinet meeting the 4,000-per week cap on international arrivals should be lifted.




SBS - Published





Scott Morrison makes plea for interstate borders to be reopened by Christmas

Mr Morrison said states and territories must work together to reopen their borders by the end of the year, warning Australia cannot resign itself to being a "dislocated nation under COVID-19".




SBS - Published





Scott Morrison 'open' to having the Christchurch mosque terrorist serve life sentence in Australia

Scott Morrison says he is open to the gunman serving his life sentence in Australia, with Peter Dutton currently seeking legal advice on a potential transfer.




SBS - Published




Morrison open to taking back NZ terrorist

Prime Minister Scott Morrison is open to the Christchurch mosque terrorist serving his life sentence in an Australian prison.




SBS - Published





New Zealand deputy PM Winston Peters says Christchurch terrorist should be jailed in Australia

Australian Prime Minister Scott Morrison had earlier downplayed the prospect of the gunman being put into the Australian prison system.




SBS - Published





Tony Abbott has reportedly been hired as trade envoy to the United Kingdom

Prime Minister Scott Morrison has brushed questions about Tony Abbott possibly having to register as an agent of foreign influence through a new UK trade job.




SBS - Published




Scott Morrison doubles down on criticism of Victoria's handling of coronavirus crisis

Continued pressure over aged care coronavirus outbreaks has sparked another blistering attack of Victoria's handling of the crises from the prime minister.




SBS - Published





Cap on international arrivals to remain as Victoria and NSW respond to coronavirus outbreaks

Prime Minister Scott Morrison says the government won't be lifting a cap on international arrivals as its focus remains on managing risks in hotel quarantine.




SBS - Published





Scott Morrison indicates 2021 superannuation rise may not go ahead

The legislated rise in the superannuation guarantee may not go ahead if the economy continues to struggle into 2021, the prime minister has signalled.




SBS - Published





Australian prime minister: Coronavirus vaccines should be mandatory

Australian Prime Minister Scott Morrison on Wednesday said that COVID-19 vaccines should be mandatory for all citizens. He told radio station 3AW in Melbourne that getting the vaccine should be "as..




WorldNews - Published





Covid 19 coronavirus: Australia's Scott Morrison plans to make vaccine 'as mandatory as possible' once it proves safe

Australian Prime Minister Scott Morrison says he intends to make a Covid-19 vaccine as "mandatory as you can possibly make it" for all Australians once it becomes available.It emerged today that the..




New Zealand Herald - Published





Scott Morrison says a coronavirus vaccine would be 'as mandatory as you can possibly make it'

Scott Morrison says a coronavirus vaccine will be "as mandatory as you can possibly make it" for Australians if a trial is successful.




SBS - Published





Watch: COVID-19 vaccine update

The Prime Minister is speaking live shortly from the AstraZeneca Australian office. Prime Minister Scott Morrison said an agreement had been reached between Australia and UK-based drug company..




SBS - Published





Australian PM Scott Morrison extends Independence Day greetings to Indian PM

"Warm wishes to PM Narendra Modi and the people of India on their #IndependenceDay. The deep friendship and partnership between Australia and India is founded on bharosa (trust), samman (respect) and..




IndiaTimes - Published





Scott Morrison 'deeply sorry' for aged care shortcomings during coronavirus pandemic

The prime minister also addressed ongoing tensions between health officials and the aged care royal commission.




SBS - Published




'There was a plan': Scott Morrison rejects attack on government's handling of aged care during pandemic

Prime Minister Scott Morrison joined health officials in rejecting evidence to a royal commission criticising the federal government on aged care, but apologised for the days where 'the system falls..




SBS - Published





Watch: Prime Minister live

Prime Minister Scott Morrison is speaking live from Canberra.




SBS - Published




Scott Morrison warns more elderly will die from coronavirus and urges 'dignity and respect'

Scott Morrison has reached out to the families of elderly people who've died during the coronavirus pandemic to reassure them they have not been forgotten.




SBS - Published





PM warns more elderly will die from virus

Scott Morrison has reached out to the families of elderly people who've died during the coronavirus pandemic to reassure them they have not been forgotten.




SBS - Published





Australian PM wants Afghan soldier who killed Australians kept behind bars

CANBERRA, Aug. 11 (Xinhua) -- Australia's Prime Minister Scott Morrison has urged U.S. President Donald Trump to prevent the release of an Afghan man who killed three Australian soldiers. Morrison..




WorldNews - Published





Medical experts urge Scott Morrison to act on climate change as part of the COVID-19 recovery

Australian medical groups have written to Prime Minister Scott Morrison urging him to act on climate change as part of the COVID-19 pandemic economic response.




SBS - Published





Medical experts call for a climate-focused COVID-19 recovery

Australian medical groups have written to Prime Minister Scott Morrison urging him to act on climate change as part of the COVID-19 pandemic economic response.




SBS - Published




Australia borders to stay shut as COVID-19 daily deaths reach record

Shares Australian Prime Minister Scott Morrison said internal border closures were unlikely to lift before Christmas, as the country on Monday reported a record single day rise in COVID-19 deaths...




WorldNews - Published





Scott Morrison wants Afghan killer of three Australian soldiers kept behind bars

Prime Minister Scott Morrison wants a rogue Afghan soldier who murdered three Australians in 2012 to remain behind bars.




SBS - Published





Scott Morrison says nation supports Lebanese Australians' push for systemic reform in Beirut

Prime Minister Scott Morrison has downplayed Australia's power to influence political and economic reform in Lebanon following the devastating explosion that has reignited political anger in Beirut.




SBS - Published





PM wants Afghan killer kept behind bars

Prime Minister Scott Morrison wants a rogue Afghan soldier who murdered three Australians in 2012 to remain behind bars.




SBS - Published