Soviet Union
1922–1991 country in Europe and Asia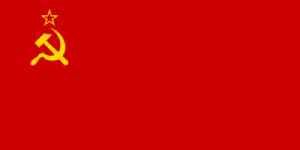 The Soviet Union, officially the Union of Soviet Socialist Republics (USSR), was a socialist state in Eurasia that existed from 1922 to 1991. Nominally a union of multiple national Soviet republics, its government and economy were highly centralized. The country was a one-party state, governed by the Communist Party with Moscow as its capital in its largest republic, the Russian Soviet Federative Socialist Republic. Other major urban centres were Leningrad, Kiev, Minsk, Alma-Ata, and Novosibirsk. It spanned over 10,000 kilometres east to west across 11 time zones, and over 7,200 kilometres north to south. It had five climate zones: tundra, taiga, steppes, desert and mountains.


Pakistan: A chance to show leadership on refugee rights
Forty years ago, Afghan refugees began streaming into Pakistan, driven there by the abuses of the Communist-led regime. More than 400,000 had arrived by the time of the Soviet invasion on Christmas Eve..
WorldNews - Published
Historian Says Putin's Russia Is No Longer An Empire
Historian Martin Aust sat down with Germany's Deutsche Welle news service to discuss Russia's imperial heritage and the annexation of Crimea. Aust also offered predictions about life in the country..
WorldNews - Published
HBO's 'Chernobyl' gets mixed reviews from survivors
Critics and viewers on both sides of the Atlantic have lined up to acclaim 'Chernobyl', a dramatisation of events surrounding the world's worst nuclear accident - but the reactions of some of the..
Credit: Reuters Studio Duration: 02:05Published
Kazakhstan votes for a new President in snap election
Power in the oil and mineral rich former Soviet republic is jealously guarded by the ruling Nur Otan party
Credit: euronews (in English) Duration: 00:58Published
108-year-old pianist doesn't let age stop her playing
As Wanda Zarzycka's fingers move over the keys, the lines on her hands are the only thing betraying her age. Roselle Chen reports.
Credit: Reuters Studio Duration: 01:39Published
Zelenskiy's first act as Ukraine's new president
Ukraine's new President Volodymyr Zelenskiy took the oath of office on Monday and immediately announced he was dissolving parliament and calling a snap election, aiming to win seats in a legislature..
Credit: Reuters Studio Duration: 01:30Published
Russia shows off military might at Victory Day parade
Russian troops celebrated the 74th anniversary of the Soviet Union's victory over Nazi Germany.
Credit: euronews (in English) Duration: 01:50Published
During Trump Campaign, Kushner Sought Counsel Of Pro-Russia Adviser
For nearly twenty years, Russian émigré Dmitri Simes had been president and CEO of the Center for the National Interest, a Washington foreign policy think tank. A Washington fixture since he left the..
Credit: Wochit News Duration: 01:00Published
When Pepsi was swapped for Soviet warships
For some countries bartering has long been a vital part of how they trade overseas.
BBC News - Published
Tetris puzzle video game going strong at 35
The electric puzzle video game "Tetris" turns 35 this year. It was created by Russian game designer Alexey Pajitnov while he was working as a Soviet computer programmer. Pajitnov says that for fans of..
USATODAY.com - Published
Six killed in fire at Ukraine psychiatric hospital
Six people died when fire swept through a psychiatric hospital for war veterans in the Ukrainian city of Odessa, authorities said on Tuesday.The fire erupted late on Monday evening in the single-floor..
WorldNews - Published
Search this site and the web:
You Might Like