Lincoln Memorial
20th century American national monument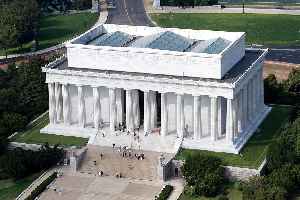 The Lincoln Memorial is an American national memorial built to honor the 16th President of the United States, Abraham Lincoln. It is located on the western end of the National Mall in Washington, D.C., across from the Washington Monument. Taking the form of a neoclassical temple, the memorial's architect was Henry Bacon. The designer of the memorial interior's large central statue – Abraham Lincoln, 1920 – was Daniel Chester French; the Lincoln statue was carved by the Piccirilli Brothers. The painter of the interior murals was Jules Guerin. Dedicated in May 1922, it is one of several memorials built to honor an American president. It has always been a major tourist attraction and since the 1930s has been a symbolic center focused on race relations.


All four ex-cops charged in George Floyd death

A fired Minneapolis police officer will face a more serious murder charge and three other sacked officers will be charged with aiding and abetting in the death of an unarmed black man that triggered..
Credit: Reuters Studio Duration: 02:08
Published
Protesters march to Lincoln Memorial

Crowds marched to the Lincoln Memorial in Washington D.C. on Tuesday (June 2) under the watchful eyes of the National Guard stationed on the steps leading up to the memorial.
Credit: Reuters Studio Duration: 00:45
Published



The US is more alone than ever, just at the moment the world needs its leadership

London (CNN)The United States is in uncharted territory, on an exponential path to becoming a Covid-19 pariah and an unreliable ally to its friends. America's fall in global esteem is turning into an..




WorldNews - Published





Sporadic violence flares in latest U.S. protests over Floyd death

Tens of thousands of people defied curfews to take to the streets of U.S. cities on Tuesday for an eighth night of protests over the death of a black man in police custody, as National Guard troops..




Reuters India - Published

Also reported by •Reuters


Man Pleads Guilty to Plotting to Attack White House With Anti-Tank Missile

Hasher Jallal Taheb, 23, also targeted the Statue of Liberty, the Washington Monument, the Lincoln Memorial and a synagogue, prosecutors said.




NYTimes.com - Published





CNN settles defamation lawsuit with Kentucky teen in Lincoln Memorial case

(This Jan. 7 story corrects headline and paragraph 1 to say Lincoln Memorial, not Washington Memorial)




Reuters - Published





On Politics: Trump's Fourth of July

President Trump on Thursday used the Lincoln Memorial as the backdrop for a tribute to the country's armed forces.




NYTimes.com - Published





Trump calls bluff of critics in July 4th speech

(CNN)President Donald Trump was as good as his word Thursday: He saluted America. In one of the least polarizing speeches of his presidency, Trump paid tribute to America's armed forces at a July..




WorldNews - Published





Donald Trump urges Americans to 'stay true to the cause' in 4 July speech; protesters accuse US president of co-opting occasion

President Donald Trump celebrated "the greatest political journey in human history" in a Fourth of July commemoration before a soggy but cheering crowd of spectators, many of them invited, on..




Firstpost - Published





Trump praises military: 'The future belongs to us'

President Donald Trump celebrated America as "the most exceptional nation in the history of the world" in a Fourth of July commemoration before a soggy, cheering crowd of spectators. He spoke on the..




USATODAY.com - Published




Trump's Independence Day speech celebrates US might, amid protests

A soggy crowd assembled at the Lincoln Memorial grounds for President Donald Trump's "Salute to America" on Thursday as supporters praised his celebration of U.S. military clout and protesters assailed..




France 24 - Published





Trump protesters, supporters mark July 4 in DC

Trump supporters and protesters took to the National Mall Thursday, where they had plenty to say about the president's plans to command the stage at the Lincoln Memorial against the backdrop of a show..




USATODAY.com - Published




'Nothing America can't do': Donald Trump touts U.S. military strength in 4th of July speech

Trump stages unusual 'Salute to America' event at Lincoln Memorial




USATODAY.com - Published





As Trump plans July 4 speech, his challengers march to a different drummer

U.S. presidential contender Joe Biden and two Democratic rivals marched on Thursday in the same 4th of July parade in Iowa, a small-town scene in sharp contrast with Republican President Donald Trump's..




Reuters - Published




What to Expect Ahead of Trump's Fourth of July Celebration

President Trump added flyovers, a display of tanks and a program in front of the Lincoln Memorial to the traditional lineup of festivities.




NYTimes.com - Published





Trump officials 'fear embarrassingly tiny crowd' for his Fourth of July speech

Donald Trump's aides fear an embarrassingly small crowd may turn out for his tradition-shattering Fourth of July address in Washington DC, according to a report. The White House has been trying to..




WorldNews - Published





Trump set to put on 'show of a lifetime' 4th of July celebration

Tanks in the heart of Washington, fighter jets screaming overhead, and a speech from the Lincoln Memorial: President Donald Trump is promising the "show of a lifetime" as he prepares to turn the Fourth..




France 24 - Published





Trump casts himself, military, Republican VIPs as stars of July 4th pageant

U.S. military armored vehicles stood near Washington's majestic Lincoln Memorial on Wednesday as President Donald Trump pushed ahead with an elaborate Fourth of July production with him at the center,..




Reuters - Published





National Park Service diverts $2.5 million for July 4th parade

President Trump promises a Fourth of July display "like no other," including a huge military showing and a speech in front of the Lincoln Memorial. The National Park Service says it diverted $2.5..




CBS News - Published





Castro calls July 4th parade a "waste of money" meant to boost Trump's ego

President Trump is holding a speech in front of the Lincoln Memorial on Independence Day




CBS News - Published





Military vehicles near Lincoln Memorial in DC

At least two of the military vehicles brought to Washington, D.C. ahead of a Fourth of July celebration have been parked close to the Lincoln Memorial. An AP Photographer shot video of two Bradley..




USATODAY.com - Published





Trump Promises Tank Parade, Flyovers For July 4th

President Donald Trump on Tuesday promised military tanks along with "Incredible Flyovers & biggest ever Fireworks!" for the Fourth of July in Washington, TruthDig reports. But the District of..




WorldNews - Published





Donald Trump's Fourth of July bash to include speech at Lincoln Memorial, parade, flyovers

President Donald Trump will deliver a speech from the Lincoln Memorial as part of a series of events that includes a parade and military flyovers.




USATODAY.com - Published





Trump's big show on July 4: patriotic speech or campaign rally?

President Donald Trump plans a speech at the Lincoln Memorial and a possible Air Force One flyover for an amped-up Independence Day celebration in Washington, drawing criticism that he wants to..




Reuters - Published





Trump administration owes D.C. government $7 million for inauguration: Washington Post

The Trump administration and Congress still owe the District of Columbia government $7 million for expenses related to the 2017 presidential inauguration, the Washington Post reported on Friday,..




Reuters - Published




Democrats ask Trump to rethink Independence Day speech as his plans proceed apace

Democrats in the U.S. Congress have asked President Donald Trump to reconsider plans for a speech at the Lincoln Memorial during annual Independence Day celebrations, saying it could turn a..




Reuters - Published




Trump Sets Off Fireworks of a Different Sort With Fourth of July Speech Plan

The mayor's office confirmed that the president intends to speak from the Lincoln Memorial, prompting criticism that he is politicizing a nonpartisan celebration.




NYTimes.com - Published