San Francisco Giants
Baseball team and Major League Baseball franchise in San Francisco, California, United States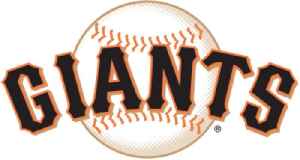 The San Francisco Giants are an American professional baseball team based in San Francisco, California. Founded in 1883 as the New York Gothams, and renamed three years later the New York Giants, the team eventually moved to San Francisco in 1958. The Giants compete in Major League Baseball (MLB) as a member club of the National League (NL) West division.


Tucker homers in debut, Pirates top Giants 3-1 in 5 innings
Cole Tucker homered in his big league debut to lead the Pittsburgh Pirates past the San Francisco Giants 3-1 in a game called after five innings due to rain
USATODAY.com - Published
Lyles, Marte, González injured in Pirates' win over Giants
Jordan Lyles cruised through six innings before taking a line drive off his pitching hand, Starling Marte and Erik González were also pulled following a collision in the field, and the short-handed..
USATODAY.com - Published
San Francisco Giants CEO Larry Baer Has Public Confrontation With His Wife Pam
According to a report by Deadspin, a video published on Friday, shows San Francisco Giants CEO Larry Baer in a public confrontation with his wife Pan, which ends with Baer pulling her to the ground. In..
Credit: Wochit News Duration: 00:39Published
Corbin takes 1-hitter into 8th, Nationals beat Giants 4-2
Baseball Capsules
USATODAY.com - Published
Nationals hit 4 HRs in 9-6 victory over Giants
Juan Soto and Howie Kendrick hit first-inning home runs, Matt Adams and Kurt Suzuki connected in the seventh, and the Washington Nationals beat the San Francisco Giants 9-6
USATODAY.com - Published
Giants break out with 3 HRs off Strasburg in 7-3 win at Nats
Evan Longoria, Brandon Belt and Steven Duggar homered off fastballs from Stephen Strasburg, and the light-hitting San Francisco Giants powered their way to a 7-3 victory over the Washington Nationals
USATODAY.com - Published
Marquez throws 1-hitter, Rockies top SF 4-0, end 8-game skid
German Marquez pitched a one-hitter, nicked only by Evan Longoria's single with one out in the eighth inning, and the Colorado Rockies ended an eight-game losing streak by beating the San Francisco..
USATODAY.com - Published
Rockies' German Marquez pitching no-hitter thru 6 vs Giants
German Marquez of the Colorado Rockies is pitching a no-hitter through six innings against the San Francisco Giants
USATODAY.com - Published
Belt scores in 18th inning as Giants beat Rockies 3-2
Brandon Belt doubled to lead off the 18th inning and scored on Erik Kratz's one-out, fielder's choice grounder, as the San Francisco Giants beat the Colorado Rockies 3-2 Friday night
USATODAY.com - Published
Samardzija goes 7, Pillar homers as Giants edge Rockies 1-0
Jeff Samardzija and two relievers combined on a three-hitter, Kevin Pillar homered and the San Francisco Giants squeezed past the slumping Colorado Rockies 1-0
USATODAY.com - Published
You Might Like