West Germany
Federal Republic of Germany from 1949 to 1990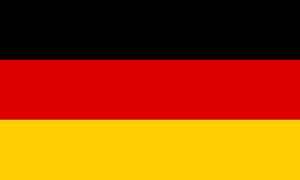 West Germany is the common English name for the Federal Republic of Germany, retrospectively designated the Bonn Republic, in the period between its formation on 23 May 1949 and German reunification on 3 October 1990. During this Cold War period, the western portion of Germany was part of the Western Bloc. The FRG was created during the Allied occupation of Germany after World War II, established from eleven states formed in the three Allied zones of occupation held by the United States, the United Kingdom and France. Its capital was the city of Bonn.


You Might Like
Journalist accuses ex-French president Giscard d'Estaing of groping her
A German journalist is suing ex-French president Valéry Giscard d'Estaing, claiming the 94-year-old groped her during an interview in December 2018. Ann Kathrin Stracke (37), a journalist with..
WorldNews - Published
Quarantine a headache for Polish healthcare commuters in east Germany
If Tomasz Jamro, an emergency ward nurse in eastern Germany, returns home to see his wife and three children over the border in Poland, he will be stuck: authorities there will quarantine him for two..
Reuters - Published
'Intel coup of the century': CIA used Swiss encryption firm to spy on dozens of nations
The CIA and German intelligence spied on the secret communications of governments around the world for decades in a covert partnership, controlling a top encryption company and installing backdoor..
WorldNews - Published
Swiss investigate report that firm helped CIA break codes
Switzerland is probing news reports that the U.S. Central Intelligence Agency and West Germany's spy service used a Swiss company's encryption technology to covertly crack other nations' top-secret..
Reuters - Published
Germany marks 30th anniversary of the Berlin Wall's fall
Germany celebrated on Saturday the 30th anniversary of the fall of the Berlin Wall that divided East and West Germany, with President Frank-Walter Steinmeier thanking Eastern European neighbors for..
Reuters - Published
'Like the fall of Berlin Wall': PM Modi says Nov 9 historic day for India; hails Kartarpur corridor, Ayodhya verdict
Berlin wall that divided East and West Germany was demolished 30 years ago on November 9, 1989.
DNA - Published
The treehouse that taunted the Berlin Wall
The "Baumhaus an der Mauer", or the Treehouse on the Wall, was erected by a Turkish migrant worker in the 1980s along the Berlin Wall and continues to be an important memento, 30 years after..
France 24 - Published
30th anniversary of the fall of the Berlin Wall
On November 9, 1989, East Germany opened its borders, allowing East and West German citizens to travel freely between the two countries. Jane Curry, a political science professor at Santa Clara..
CBS News - Published
The spy who loved me? West German recalls Stasi manipulation, imprisonment
When Hans Schulze was imprisoned in Communist East Germany back in the 1980s, he never thought he'd ever return once he got out. But now he regularly unlocks his old cell door to show tourists what..
Reuters - Published
Gary Lineker's World Cup semi-final shirt sold for £2.5k
A shirt worn by the striker during England's Italia 90 match against West Germany sells for £2,500.
BBC News - Published
Today in History for September 10th
Highlights of this day in history: Hungary lets East German refugees leave for West Germany; Louisiana U.S. Senator Huey Long fatally shot; Elias Howe gets sewing machine patent; 'Gunsmoke' premieres;..
USATODAY.com - Published