West Germany
Federal Republic of Germany in the years 1949–1990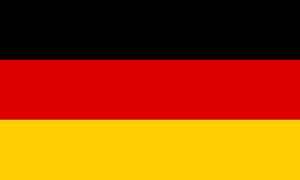 West Germany was the informal name for the Federal Republic of Germany, a country in Central Europe, in the period between its formation on 23 May 1949 and German reunification on 3 October 1990. During this Cold War period, the western portion of Germany was part of the Western Bloc. The Federal Republic was created during the Allied occupation of Germany after World War II, established from eleven states formed in the three Allied zones of occupation held by the United States, the United Kingdom and France. Its (provisional) capital was the city of Bonn. The Cold War era West Germany is unofficially historically designated the Bonn Republic.


Germany marks 30th anniversary of the Berlin Wall's fall
Germany celebrated on Saturday the 30th anniversary of the fall of the Berlin Wall that divided East and West Germany, with President Frank-Walter Steinmeier thanking Eastern European neighbors for..
Reuters - Published
'Like the fall of Berlin Wall': PM Modi says Nov 9 historic day for India; hails Kartarpur corridor, Ayodhya verdict
Berlin wall that divided East and West Germany was demolished 30 years ago on November 9, 1989.
DNA - Published
Merkel marks anniversary of Berlin Wall
Germany on Saturday marked the 30th anniversary of the fall of the Berlin Wall that separated East and West Germany. Emer McCarthy reports.
Credit: Reuters - Politics Duration: 01:22Published
Berlin Wall 30 years on: Former diplomats recount memories of the day
On the 30th anniversary of the fall of the Berlin Wall, the Foreign Office interviewed Sir Christopher Mallaby, former ambassador to West Germany, and Colin Munro, former deputy head of mission at the..
Credit: PA - Press Association STUDIO Duration: 01:39Published
The treehouse that taunted the Berlin Wall
The "Baumhaus an der Mauer", or the Treehouse on the Wall, was erected by a Turkish migrant worker in the 1980s along the Berlin Wall and continues to be an important memento, 30 years after..
France 24 - Published
30th anniversary of the fall of the Berlin Wall
On November 9, 1989, East Germany opened its borders, allowing East and West German citizens to travel freely between the two countries. Jane Curry, a political science professor at Santa Clara..
CBS News - Published
The spy who loved me? West German recalls Stasi manipulation, imprisonment
When Hans Schulze was imprisoned in Communist East Germany back in the 1980s, he never thought he'd ever return once he got out. But now he regularly unlocks his old cell door to show tourists what..
Reuters - Published
Gary Lineker's World Cup semi-final shirt sold for £2.5k
A shirt worn by the striker during England's Italia 90 match against West Germany sells for £2,500.
BBC News - Published
Today in History for September 10th
Highlights of this day in history: Hungary lets East German refugees leave for West Germany; Louisiana U.S. Senator Huey Long fatally shot; Elias Howe gets sewing machine patent; 'Gunsmoke' premieres;..
USATODAY.com - Published
You Might Like