Anthony Weiner
American politician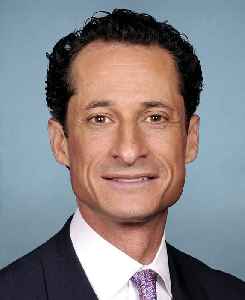 Anthony David Weiner is an American former Democratic congressman who represented New York's 9th congressional district from January 1999 until June 2011. He won seven terms as a Democrat, never receiving less than 60% of the vote. Weiner resigned from Congress in June 2011 after an incident in which a sexually suggestive photo that he sent to a woman via Twitter was captured and publicized.


Weiner visits his probation officer
Disgraced ex-Congressman Anthony Weiner has visited his probation officer a day after leaving a halfway house following his prison sentence for illegal contact with a 15-year-old girl. (May 15)
USATODAY.com - Published
AP Top Stories May 14 P
Here are the top stories for Tuesday, May 14th: Pompeo warns Russia about interference; Coach pleads guilty in admissions bribery scheme; Anthony Weiner finishes sentence; Olive oil counterfeit ring..
USATODAY.com - Published
Anthony Weiner Is Out Of The House-Way House
Disgraced former Congressman Anthony Weiner is back on the streets. Weiner is out of the post-prison half-way house he stayed in after his from jail for three months. Weiner stayed in a halfway house..
Credit: Wochit News Duration: 00:37Published
Ex-Congressman Anthony Weiner leaves halfway house in NYC
Former Rep. Anthony Weiner left a New York City halfway house on Tuesday after completing his prison sentence for illicit online contact with a 15-year-old girl. Weiner, a once-rising star in the..
CBS News - Published
Also reported by •USATODAY.com
Search this site and the web:
You Might Like