Turin
Comune in Piedmont, Italy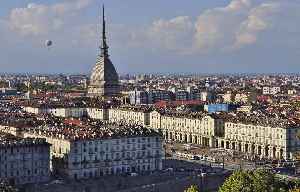 Turin is a city and an important business and cultural centre in northern Italy. It is the capital city of the Metropolitan City of Turin and of the Piedmont region, and was the first capital city of Italy from 1861 to 1865. The city is located mainly on the western bank of the Po River, in front of Susa Valley, and is surrounded by the western Alpine arch and Superga Hill. The population of the city proper is 878,074 while the population of the urban area is estimated by Eurostat to be 1.7 million inhabitants. The Turin metropolitan area is estimated by the OECD to have a population of 2.2 million.


Cristiano Ronaldo Considering Cutting Juventus Ties Two Years Early After Champions League Exit
​Cristiano Ronaldo has been a Juventus player for less than a year, but reports in Italy claim he already has one eye on the exit door, and is considering moving on if the club don't build on their..
WorldNews - Published
Torino's European push halted by 1-1 draw against Cagliari
Torino's chances of sneaking into the Champions League were hampered by a 1-1 draw against Cagliari on Sunday, in a match which saw three players sent off
USATODAY.com - Published
Ajax eliminate Ronaldo's Juve with scintillating display
Ajax Amsterdam send Cristiano Ronaldo and Juventus packing with a 2-1 Champions League quarter-final win.
Credit: Reuters - Sports Duration: 01:29Published
Allegri demands intensity Juve had against Atletico ahead of Ajax showdown
Allegri says Juventus will need the same intensity they had against Atletico to get past Ajax in Champions quarter-final
Credit: Reuters - Sports Duration: 01:18Published
Ajax hopeful De Jong will be fit to face Juventus
Ajax's Erik ten Hag hopes Frenkie de Jong will be well enough to play in Champions League quarter-final second leg clash with Juventus.
Credit: Reuters - Sports Duration: 01:21Published
Juve's Allegri says Ronaldo will miss potential title decider
Juventus manager Massimiliano Allegri says he will rest forward Cristiano Ronaldo for this weekend's Serie A fixture ahead of Ajax Champions League match.
Credit: Reuters - Sports Duration: 00:35Published
Ronaldo fit for Juventus clash with Ajax - Allegri
Juventus manager Massimiliano Allegri confirms Cristiano Ronaldo is fit to face Ajax in the Champions League quarter finals.
Credit: Reuters - Sports Duration: 00:45Published
Italy: Hundreds march in favour of high-speed train between France and Italy
It's the fourth time a rally has happened to say 'YES' to the proposed trans-Alpine train line between Turin and Lyon but the Italian coalition government is divided over the TAV plans.
Credit: euronews (in English) Duration: 01:00Published
"Bonucci expressed himself badly" - Juve coach Allegri
Juventus coach Massimiliano Allegri said on Friday that racism must be fought against and says his defender Leo Bonucci 'expressed himself badly' in a post-match interview about team mate Moise Kean.
Credit: Reuters - Sports Duration: 00:34Published
Juve coach supports Kean over rascism row, says uncivilised fans should not be allowed in stadium
Allegri calls for stadium bans for people caught racially abusing players
Credit: Reuters - Sports Duration: 01:08Published
What is happening with the Lyon-Turin high speed line? Euronews traces the route to find out
Euronews' Lillo Montalto talks to people in the towns and villages affected by plans to build the high speed rail route connection France and Italy.
Credit: euronews (in English) Duration: 03:27Published
Ronaldo to face disciplinary action over celebration gesture
Cristiano Ronaldo faces disciplinary action from UEFA on Thursday for his celebration in last week's Champions League win over Atletico Madrid
Credit: Reuters - Sports Duration: 00:32Published
Juve better than us, admits Atletico's Simeone
SHOWS: TURIN, ITALY (MARCH 12, 2019) (REUTERS - ACCESS ALL) 1. (SOUNDBITE) (Spanish) ATLETICO MADRID COACH, DIEGO SIMEONE, SAYING: "Honestly, I feel calm because the guys in the field have tried to do
Credit: Reuters - Sports Duration: 01:37Published
Allegri delighted with Ronaldo and Juve's performance
Juventus coach Massimiliano Allegri praises three-goal Cristiano Ronaldo after his side knock Atletico Madrid out of the Champions League.
Credit: Reuters - Sports Duration: 01:17Published
Tunnel vision divides Italy's governing coaltion
Italy's governing coalition is deeply divided over whether money for a new, multi-billion euro rail link with France would be better spent elsewhere. David Pollard reports.
Credit: Reuters Studio Duration: 01:31Published
Hamilton says consistency is key to successful season
Reigning Formula One world champion Lewis Hamilton says his pursuit of a sixth title will require complete focus throughout every crucial moment of the season.
Credit: Reuters - Sports Duration: 00:43Published
Search this site and the web:
You Might Like