Communist Party of Cuba
Ruling party of Cuba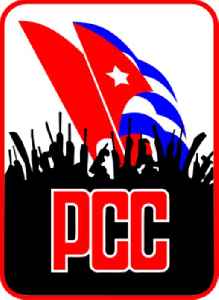 The Communist Party of Cuba is the ruling political party in the Republic of Cuba. It is a communist party of the Marxist–Leninist model. The Cuban constitution ascribes the role of the party to be the "leading force of society and of the state". Since April 2011, the First Secretary of the Central Committee has been Raúl Castro, younger brother of the previous First Secretary Fidel Castro, who died on 25 November 2016. The Second Secretary has been José Ramón Machado Ventura.


Castro Says Cuba Will Stand By Venezuela Despite 'Blackmail'
Cuban Communist Party leader Raul Castro said Wednesday Cuba would never abandon its leftist ally Venezuela despite U.S. "blackmail," even as the Trump administration threatened more sanctions over..
WorldNews - Published
Also reported by •Reuters
Raul Castro denounces renewed U.S. attempts to destroy Cuban revolution
Cuban Communist Party leader Raul Castro denounced on Wednesday what he called the United States' renewed attempts to destroy Cuba's leftist revolution and pressure its ally Venezuela, as the national..
Reuters - Published
Prince Charles and Camilla visit Cuba despite U.S. crackdown
The couple are the first British royals to visit the the Communist-run nation. Rough cut (no reporter narration)
Credit: Reuters Studio Duration: 00:56Published
Raul Castro says Cuba will never abandon Venezuela
Cuban Communist Party Leader Raul Castro said on Wednesday Cuba would never abandon its solidarity with its leftist ally Venezuela or give into U.S. blackmail over its support.
Reuters - Published
Search this site and the web:
You Might Like