Ursula von der Leyen
President of the European Commission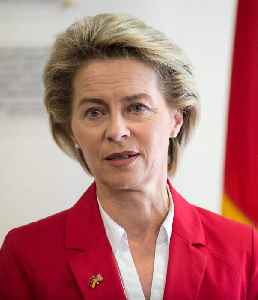 Ursula Gertrud von der Leyen is a German politician and the president of the European Commission since 1 December 2019. She served in the federal government of Germany from 2005 to 2019 as the longest-serving member of Angela Merkel's cabinet. She is a member of the centre-right Christian Democratic Union (CDU) and its EU counterpart, the European People's Party (EPP).


It's four years since the Brexit vote. Now what?

[NFA] British Prime Minister Boris Johnson said a deal could be sealed in July with "a bit of oomph," but European officials see no way through the Brexit deadlock. On the 4th anniversary of..
Credit: Reuters Studio Duration: 03:03
Published
Black EU lawmaker reports Belgian police violence

Pierrette Herzberger-Fofana, a German Green party deputy who was born in Mali, told the European Parliament on Wednesday that she was a victim of "extremely traumatic" police violence outside a..
Credit: Reuters Studio Duration: 01:34
Published
EU pushes for global alliance to buy COVID-19 vaccines up front

The European Union is urging global leaders to agree on joint advance purchases of potential vaccines against the new coronavirus. Joe Davies reports.
Credit: Reuters Studio Duration: 01:18
Published
EU unveils 750 bln euro plan for coronavirus recovery

The European Commission on Wednesday unveiled a plan to borrow on the market and then disburse to EU countries 750 billion euros in grants and loans to help them recover from their coronavirus slump...
Credit: Reuters Studio Duration: 02:00
Published
You Might Like



EU, China to hold video summit to discuss coronavirus outbreak

Photo: AFP Leaders from China and European Union will hold a video summit today to discuss the coronavirus pandemic and tensions rising over new tariffs targeting Chinese firms. The heads of the EU's..




WorldNews - Published





No progress among EU leaders on virus recovery deal

European Union leaders found that a quick deal on the bloc's future long-term budget and a multibillion-euro post-pandemic recovery plan remained beyond their reach Friday as the coronavirus ravages..




WorldNews - Published





EU: Make China Rights Crisis a Summit Priority

(Brussels) – European Union leaders should use the forthcoming EU-China summit to press for an end to Beijing's grave and systemic human rights violations, Human Rights Watch said today. The 22nd..




WorldNews - Published





EU chief executive: no post-Brexit deal without 'level playing field'

BRUSSELS — The European Union's chief executive, Ursula von der Leyen, said on Wednesday that the bloc will do its best to seal an agreement on new ties with Britain by the end of the year but will..




WorldNews - Published

Also reported by •Reuters


EU chief executive sets conditions for Brexit deal this year

The European Union will do its best to seal an agreement on new ties with Britain by the end of the year but will not compromise its core values to achieve that, the bloc's chief executive, Ursula von..




Reuters - Published





British PM, top EU officials to hold talks on June 15

British Prime Minister Boris Johnson, the chairman of European Union leaders Charles Michel and the head of the European Commission Ursula von der Leyen will hold talks on June 15 to revive stalled..




Reuters - Published





UK PM plans Brexit talks with EU's von der Leyen, warned to reach deal pre-autumn: FT

British Prime Minister Boris Johnson is planning to hold Brexit talks with European Commission President Ursula von der Leyen in June, with UK officials warning Johnson that an agreement was needed..




Reuters - Published





Rocky path ahead as EU tries to temper coronavirus shock

President Ursula von der Leyen has laid out the recovery package - now she needs nations to back it.




BBC News - Published





Coronavirus: European Union unveils unprecedented 750 billion euro recovery plan

European Union chief Ursula von der Leyen on Wednesday proposed a 750-billion-euro post-virus recovery fund for Europe, but will have to win over sceptical member states to push it through. The global..




WorldNews - Published





International pandemic cooperation a 'no brainer': EU Commission chief

International cooperation should be a no brainer during a global pandemic, European Commission President Ursula von der Leyen said on Tuesday.




Reuters - Published





EU Lawmakers Want Probe of Migrant Death on Greece-Turkey Border

While Greek authorities have repeatedly denied a migrant shot dead on the border with Turkey was killed by Greek fire, more than 100 Members of the European Parliament called for a formal..




WorldNews - Published





Russia decrying removal of Soviet liberator statue is... 'HYBRID WAR' on Europe, claims Prague official behind tear-down

A Prague official responsible for removing a statue of Marshal Konev urged Brussels to protect the EU against Moscow's "interference" and "hybrid war," playing the time-tested 'Russia..




WorldNews - Published





World leaders pledge $8 billion in fight against coronavirus, EU says

BRUSSELS (Reuters) - World leaders promised $8 billion on Monday for the fight against the coronavirus pandemic, European Commission head Ursula von der Leyen said at the end of a pledging event that..




WorldNews - Published

Also reported by •Reuters


EU to provide one billion euros for global vaccine search: Von der Leyen

The European Union pledged on Monday 1 billion euros ($1.09 billion) for the global search for vaccines and treatment for the novel coronavirus, the European Commission President Ursula von der Leyen..




Reuters - Published




Italian PM tells EU to 'show more ambition, unity, courage'

ROME: Italian Prime Minister Giuseppe Conte on Friday extended his feud about coronavirus money with EU commission chief Ursula von der Leyen in the pages of a Roman newspaper. Conte wrote a letter to..




WorldNews - Published





European Commission to mobilise €100bn in loans to help companies retain staff

The European Commission has said it will mobilise up to €100 billion in loans for member states to help companies hold on to staff during the coronavirus pandemic. The loans will be based on..




WorldNews - Published





EU executive chief concerned Hungary emergency measures go too far

European Commission President Ursula von der Leyen expressed concern on Thursday that coronavirus restriction measures taken by Hungary went too far and insisted they should be limited in time and..




Reuters - Published





EU to propose new post-virus economic boost

The European Commission will propose a new stimulus package to help the bloc recover from the economic damage caused by the coronavirus pandemic, Commission chief Ursula von der Leyen said Saturday...




WorldNews - Published





Coronavirus: EU president criticises member states for closing borders to each other during coronavirus pandemic

The president of the European Commission has criticised EU member states for throwing up border controls to each other during the coronavirus pandemic. Ursula von der Leyen warned of...




WorldNews - Published





Von der Leyen proposes travel restrictions to EU

BRUSSELS, March 16 (Xinhua) -- European Commission President Ursula von der Leyen said on Monday that she had proposed a temporary restriction on...




WorldNews - Published





European Union proposes 30-day ban on non-essential entry

BRUSSELS — European Commission President Ursula von der Leyen wants the European Union to put in place a 30-day ban on people entering the bloc unless their travel is essential,...




WorldNews - Published





Macron, Merkel to discuss coronavirus, borders with EU officials

French President Emmanuel Macron will discuss the coronavirus and the topic of border controls on Monday with German Chancellor Angela Merkel and leading EU officials Charles Michel and Ursula von der..




Reuters - Published





EU disapproves of US travel ban, taken unilaterally and without consultation

The European Union disapproves of the U.S. decision to impose a unilateral travel ban on European countries, European Commission president Ursula von der Leyen and European Council President Charles..




Reuters - Published




EU presidents hit out at Trump's travel ban and say tackling coronavirus 'requires cooperation'

Ursula von der Leyen and Charles Michel say the EU disapproves of 'unilateral' action




Independent - Published





In migrant crisis, Greece caught between EU job descriptions

When the current European Commission took office in December, its president, Ursula von der Leyen, created the role of a commissioner for 'Promoting our European Way of Life' and handed the job to a..




Reuters - Published




EU suspends aviation slots rule as coronavirus hammers airlines

The European Union will suspend a rule requiring airlines to run most of their scheduled services or else forfeit landing slots, to give carriers some breathing space as the coronavirus crisis..




Reuters - Published





Britain must follow 'rules of the game' if it wants access to our markets, EU president warns

Ursula von der Leyen says UK must make up its mind




Independent - Published





EU executive tells Turkey to take migrants back from Greek border

European Commission President Ursula von der Leyen said ahead of talks with President Tayyip Erdogan that Turkey must move refugees and migrants away from the Greek border.




Reuters - Published





EU Commission head says Europe stands by Greece amidst refugee crisis

European Commission President Ursula von der Leyen on Tuesday voiced support for Greece's efforts to safeguard its borders amidst a build-up of thousands of migrants after Turkey opened its borders to..




Reuters - Published




EU in dilemma over Turkey, but says migrants must not be allowed in

The European Union's chief executive, Ursula von der Leyen, expressed sympathy with Turkey over the conflict in Syria on Monday but said it was impermissible for Ankara to let refugees and migrants on..




Reuters - Published




EU says Turkey in tough situation with migrants but must not let them into Europe

The European Union's chief executive, Ursula von der Leyen, expressed sympathy with Turkey over the conflict in Syria on Monday but said it was impermissible for Ankara to let refugees and migrants on..




Reuters - Published





EU executive says Turkey letting migrants through 'cannot be' answer to Syria war

The European Union's chief executive, Ursula von der Leyen, expressed sympathy with Turkey over the conflict in Syria on Monday but said Ankara deciding to let refugees and migrants through to Europe..




Reuters - Published





EU chief von der Leyen to testify at German defense inquiry

European Commission President Ursula von der Leyen will testify Thursday before a German parliamentary committee investigating whether there was wrongdoing in the use of external experts during her..




WorldNews - Published





Von der Leyen 'surprised' at UK suggestion of Australia-style EU relationship

Boris Johnson's suggestion that the UK could be prepared to accept an Australian-style relationship with the EU without a formal trade deal has "surprised" Brussels. European Commission president..




WorldNews - Published





We can agree on high standards, EU's Von der Leyen urges UK

European Commission President Ursula von der Leyen praised British Prime Minister Boris Johnson's ambition on social protection and climate action and said this could form the basis of level playing..




Reuters - Published





Let's agree social, climate ambitions, EU's Von der Leyen urges UK

European Commission President Ursula von der Leyen praised British Prime Minister Boris Johnson's ambition on social protection and climate action and said this could form the basis of level playing..




Reuters - Published





EU executive promises new strategy to fight cancer

The European Commission will present a new strategy to fight cancer by the end of the year, its president Ursula von der Leyen, who lost her younger sister to the disease, told the European Parliament..




WorldNews - Published





EU leaders send message of unity, hope as UK departs

BRUSSELS, Jan. 31 (Xinhua) -- Top European Union (EU) leaders sent a message of unity and hope on the day of the United Kingdom's departure, vowing that a smaller bloc would not translate into a weaker..




WorldNews - Published





Now EU must deliver, Commission chief says on Brexit day

Britain's departure from the European Union shows the bloc must deliver for its citizens and its leaders must stand up for the project or else risk it failing, the head of the European Union's..




Reuters - Published




Strength does not lie in 'splendid isolation' of Brexit, says EU president Ursula von der Leyen

EU leaders look towards the future at Britain departs




Independent - Published





Brexit to bring new start for EU, no fewer opportunities: Commission chief

The EU will start a new chapter after Britain leaves, with no fewer opportunities as a united force on global issues from climate change to technological transformation, European Commission President..




Reuters - Published




'Every choice has its consequences': EU leaders issue Brexit warning as they lament UK's imminent exit

The presidents of the EU's three major institutions have heralded Brexit Day with an apparent warning to the UK: "every choice has its consequences". European Commission president Ursula von der..




WorldNews - Published





Ursula von der Leyen: 'It's a very emotional day'

The President of the European Commission says Brexit has made the rest of the EU more united.




BBC News - Published





We will find new path with London after Brexit, say EU leaders

The European Union will work hard to forge a future as an ally and partner of Britain after their divorce on Friday, European Commission head Ursula von der Leyen wrote in Germany's Frankfurter..




Reuters - Published




EU executive sets fair competition as condition of post-Brexit trade deal

European Commission President Ursula von der Leyen told Britain on Wednesday that solid guarantees of free competition were a precondition to a new trade agreement with the EU after Brexit.




Reuters - Published