Deutsche Bank
German banking and financial services company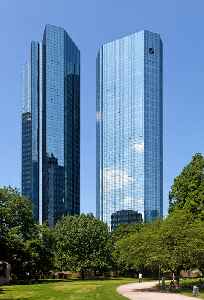 Deutsche Bank AG is a German multinational investment bank and financial services company headquartered in Frankfurt, Germany, and dual-listed in New York Stock Exchange and Frankfurt Stock Exchange.


Wall Street Confident Stocks Are On Course

Business Insider reports that US stocks are on course to close lower for a third consecutive week. The S&P 500 has lost nearly 9% since early September's record high. That decline was mainly driven by..
Credit: Wochit News Duration: 00:27
Published
You Might Like



Gold may test $2,000-$2,100 in 'very near term': Deutsche Bank

Gold prices have more room to go, with weakening in the U.S. dollar and U.S. real rates helping them to go higher, says Michael Hsueh from Deutsche Bank ......




WorldNews - Published





Trump tax returns: Supreme Court rules president does not have to reveal financial documents to House

The Supreme Court on Thursday blocked Congress from obtaining Donald Trump's tax and financial records from his accounting firm and major lenders, meaning voters will not see them before Election Day...




WorldNews - Published





Deutsche Bank to pay $150 million for dealings with Jeffrey Epstein, foreign banks

New York banking regulators reached a deal with Deutsche Bank to settle claims that it failed to respond to red flags with Jeffrey Epstein's accounts.




USATODAY.com - Published





Deustche bank to pay out $150m over Jeffrey Epstein dealings

Deutsche Bank has agreed to pay $150 million (€133 million) to settle investigations into its dealings with Jeffrey Epstein, and with Danske Bank Estonia and FBME Bank, the New York Department of..




WorldNews - Published

Also reported by •BBC News


Deutsche Bank eyes payment systems, including Wirecard - Handelsblatt

Deutsche Bank is on the lookout...




WorldNews - Published





Deutsche Bank faces action from NY regulators over Epstein ties: sources

Deutsche Bank could face enforcement action by New York regulators investigating its ties to the late U.S. financier and accused sex offender Jeffrey Epstein, two sources familiar with the..




Reuters - Published





Deutsche Bank refuses to give U.S. senators information on recent Trump dealings

Deutsche Bank has declined a request by prominent U.S. senators to provide information about the German lender's recent business dealings with President Donald Trump and his family, according to a..




Reuters - Published





UK's poor testing could slow emergence from lockdown, Deutsche Bank says

The United Kingdom's poor novel coronavirus testing capacity means that it is likely be one of the world's laggards to exit the stringent lockdown that has so badly hammered its consumption-based..




Reuters - Published





As Germany reels from coronavirus, some officials debate impact on banks

As Germany rolls out a 750 billion-euro economic stimulus package, officials and experts are discussing whether German lenders, including Deutsche Bank AG and Commerzbank AG, will be able to weather..




Reuters - Published





Trump Organization, hit by virus, tries to delay loan payments: report

New York (AFP) - US President Donald Trump's family company is asking creditors such as Deutsche Bank if it can delay loan payments as the economic impact of the coronavirus pandemic deepens, The New..




WorldNews - Published





Cryptocurrency adoption to hit 200 million users by 2030, Deutsche Bank report

Cryptocurrency adoption set to reach 200 million by 2030, new research report by Deutsch Bank states. The overall adoption of cryptocurrencies has been on a sharp uptrend following Bitcoin's bull run..




WorldNews - Published





The Money Behind Trump's Money

The inside story of the president and Deutsche Bank, his lender of last resort.




NYTimes.com - Published





Turnaround costs push Deutsche Bank to $6 billion loss

Deutsche Bank plunged to a bigger than expected loss of 5.7 billion euros ($6.3 billion) last year, its fifth in a row, as the cost of its latest turnaround attempt hit earnings.




Reuters - Published




Deutsche Bank CEO: Negative rates not an option generally for private customers

Deutsche Bank's chief executive on Thursday told German broadcaster n-tv that he did not think Germany's top bank would apply negative interest rates to the accounts of private customers in general.




Reuters - Published





'Out of market today': Australia brandishes four words crucial to case against Citi, Deutsche

A four-word handwritten note by a JPMorgan Chase & Co banker has been seized by Australian prosecutors as fundamental to a criminal cartel prosecution against Citigroup Inc and Deutsche Bank AG, a..




Reuters - Published





Crypto Market is 0.25% of Global Stock Market: Can Bitcoin Catch Up?

While the creation of Bitcoin has spawned an entire industry of cryptocurrencies and blockchains that are used by individuals around the world, this nascent market remains small. Related Reading:..




WorldNews - Published





Release of Trump's Banking Records Delayed by Justice Ruth Bader Ginsburg

The stay came three days after a lower court had ordered Deutsche Bank and Capital One to turn over President Trump's financial records to Congress.




NYTimes.com - Published





U.S. Justice Ginsburg puts temporary hold on Trump financial records dispute

U.S. Supreme Court Justice Ruth Bader Ginsburg on Friday put a temporary hold on a court ruling that would require records held by Deutsche Bank AG and Capital One Financial Corp to be handed over to..




Reuters - Published





Trump asks Supreme Court to stop banks from disclosing his financial data

President Donald Trump, fighting to keep details of his finances secret, asked the U.S. Supreme Court on Friday to prevent records held by Deutsche Bank AG and Capital One Financial Corp from being..




Reuters - Published




Court tells banks to hand Trump financial records to House Democrats

A U.S. appeals court on Tuesday handed President Donald Trump another defeat in his bid to keep his financial records secret, directing Deutsche Bank AG and Capital One Financial Corp to comply with..




Reuters - Published




Trump loses effort to block subpoenas to Deutsche Bank, Capital One

The 2nd U.S. Circuit Court of Appeals said two House committees can subpoena Capital One and Deutsche Bank for President Trump's business records and ordered the banks to comply.




CBS News - Published





Deutsche Bank, Trump's longtime lender, must turn over financial records, appeals court rules

The Deutsche Bank case is one of several in which President Donald Trump is fighting to prevent release of his tax returns and financial documents.




USATODAY.com - Published





Exclusive: U.S. digs deeper into Deutsche role in Danske money laundering scandal - sources

The U.S. Department of Justice has in recent weeks stepped up its investigation into Deutsche Bank's role in the 200 billion euro ($220 billion) Danske Bank money laundering scandal, four people..




Reuters - Published





Deutsche Bank shares sink 8% after third-quarter loss

Deutsche Bank shares fell more than 8% on Wednesday after the bank reported an 832 million euro ($924 million) third-quarter loss hurt by restructuring costs and weakness in fixed-income trading.




Reuters - Published





Deutsche Bank posts third-quarter loss on restructuring, weakness in trading

Deutsche Bank posted an 832 million euro ($924 million) third-quarter loss on Wednesday hurt by restructuring costs and weakness in fixed income trading, sending shares in Germany's biggest lender down..




Reuters - Published




Exclusive: Deutsche Bank took years to flag suspect Danske money flows - source

Deutsche Bank did not disclose more than one million suspect money transfers with Danske Bank until February, a person with direct knowledge of the matter said, about five years after a whistleblower..




Reuters - Published





A Brazen Scheme, and a Minor Penalty, for Winning Business in China

Confidential documents detail how Deutsche Bank's hiring practices curried favor with China's ruling elite. A $4,000 bottle of French wine also helped.




NYTimes.com - Published





Deutsche Bank tells U.S. court it does not have Trump's tax returns

Deutsche Bank says it does not have copies of U.S. President Donald Trump's tax returns, a U.S. appeals court said on Thursday, closing one possible avenue for the Democratic-led U.S. House of..




Reuters - Published




Exclusive: Deutsche Bank has discussed adding assets to bad bank if sales go well - sources

Some senior Deutsche Bank AG officials have discussed the possibility of putting additional problematic assets worth billions of euros into a unit it created earlier this year, if the bank is able to..




Reuters - Published





Exclusive: U.S. congressional probe finds possible lapses in Deutsche Bank controls - sources

U.S. congressional investigators have identified possible failures in Deutsche Bank AG's money laundering controls in its dealings with Russian oligarchs, after the lender handed over a trove of..




Reuters - Published





Brexit: Deutsche would ditch bearish sterling bet if election called for Oct. 14

Deutsche Bank said on Tuesday it would drop its bearish bet on sterling should Prime Minister Boris Johnson call a general election for Oct. 14, as UK lawmakers braced for a showdown over the nation's..




Reuters - Published




Deutsche Bank still sees 50:50 chance of no-deal Brexit

Deutsche Bank on Wednesday retained its estimate that there is a 50:50 chance Britain will crash out of the European Union without a deal with Brussels following Prime Minister Boris Johnson's move to..




Reuters - Published




Your Wednesday Briefing

Purdue Pharma, Deutsche Bank, Puerto Rico: Here's what you need to know.




NYTimes.com - Published





Deutsche Bank says it has Trump-related tax records Congress wants

But his longtime bank didn't say for sure whether those documents include his tax returns




CBS News - Published





Deutsche Bank says records sought in Trump congressional probe include tax returns

Financial records related to U.S. President Donald Trump and three of his children that congressional Democrats have requested from Deutsche Bank AG include tax returns, the bank disclosed in a court..




Reuters - Published




Trump urges U.S. court to shield Deutsche Bank records from House Democrats

Lawyers for U.S. President Donald Trump asked a federal appeals court on Friday to block Deutsche Bank AG and Capital One Financial Corp from handing the financial records of the president's family and..




Reuters - Published




Trump in court seeks to block House Democrats' access to financial records

Lawyers for U.S. President Donald Trump asked a federal appeals court on Friday to block Deutsche Bank AG and Capital One Financial Corp from handing the financial records of the president's family and..




Reuters - Published