Executive Office of the President of the United States
U.S. government executive agency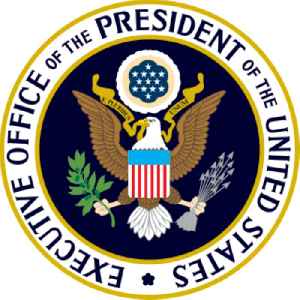 The Executive Office of the President (EOP) is a group of agencies at the center of the executive branch of the United States federal government. The EOP supports the work of the president. It consists of several offices and agencies, such as the White House Office, the National Security Council, and the Office of Management and Budget. Some of these play a very important role in the implementation and regulation of public policy.


'I'm not gonna talk through a mask' -Mark Meadows

White House Chief of Staff Mark Meadows on Monday refused to speak to reporters after he was asked to keep his mask on, as the risk of COVID-19 hung over Monday's opening of Amy Coney Barrett's U.S...
Credit: Reuters Studio Duration: 00:45
Published
White House Chief Of Staff Mark Meadows Broke COVID-19 Rules

White House chief of staff Mark Meadows supposedly broke COVID-19 restriction in May 2020, during the height of the pandemic. Meadows reportedly hosted 70-plus people for his daughter's wedding in..
Credit: Wochit News Duration: 00:27
Published
Teen Daughter Blabs On TikTok About Mom Kellyanne Conway's COVID-19 Status

Former White House adviser Kellyanne Conway failed to get in front of her own story on Friday. That's because her own daughter, Claudia Conway, broke the news on her TikTok account that her mother had..
Credit: Wochit News Duration: 00:35
Published
You Might Like



Jared Kushner criticized after saying Black Americans need to 'want to be successful'

White House adviser Jared Kushner is criticized after saying President Donald Trump can't help Black Americans if they don't want to succeed.




USATODAY.com - Published





Meadows defends against Biden virus criticism

White House chief of staff Mark Meadows is taking issue with Democratic presidential nominee Joe Biden's criticism that the Trump administration has given up on trying to control the coronavirus..




USATODAY.com - Published





Eye Opener: Mark Meadows says U.S. won't control COVID-19 pandemic

White House chief of staff Mark Meadows said the United States won't be able to get COVID-19 under control. Also, Vice President Mike Pence will stay on the campaign trail despite news of his staffers..




CBS News - Published





White House senior adviser Stephen Miller tests positive for COVID-19

Senior White House adviser Stephen Miller was one of several involved in Trump's debate preparation who have since tested positive for the virus.




USATODAY.com - Published





Chief of Staff Mark Meadows on Trump's RNC speech, stimulus talks and Kellyanne Conway's departure

White House Chief of Staff Mark Meadows joined "CBS This Morning" to discuss the upcoming Republican National Convention and the status of stimulus talks with Congressional Democrats. Plus, he..




CBS News - Published





Kellyanne Conway resigns as senior White House advisor

Ms Conway says she is stepping down at the end of August to give her children "less drama, more mama".




BBC News - Published





McDonough: Immigration reform should include path to citizenship

White House chief of staff Denis McDonough discusses immigration reform, the Sochi Olympics, Iran, Syria, and other issues.




CBS News - Published





February 2: Giuliani, McDonough, Cantor

The latest on Gov. Chris Christie's traffic controversy, immigration reform, and more, with former NYC Mayor Rudy Giuliani, White House chief of staff Denis McDonough, House Majority Leader Eric..




CBS News - Published





W.H. "hopeful" about signs of immigration reform progress

White House senior advisor Dan Pfeiffer says President Obama will continue to encourage action on comprehensive immigration reform.




CBS News - Published





W.H.: Minimum wage order helps "as many workers as possible"

White House senior advisor Dan Pfeiffer rebuts criticism from left-leaning groups that an executive order raising the minimum wage for new federal contractors doesn't go far enough.




CBS News - Published





White House trade adviser says Trump will sign executive order aimed at deregulating pharmaceuticals

The Trump administration's director of the Office of Trade and Manufacturing Policy, Peter Navarro, joins "CBS This Morning" ahead of a trip to Ohio with President Trump. He discusses the president's..




CBS News - Published





Transcript: Mark Meadows on "Face the Nation"

The following is a transcript of an interview with White House Chief of Staff Mark Meadows that aired Sunday, August 2, 2020, on "Face the Nation."




CBS News - Published





Meadows says he's "not optimistic" will be coronavirus deal in near term

White House chief of staff Mark Meadows said that negotiations over a coronavirus relief bill "have a long ways to go."




CBS News - Published





After United States, India conducted most COVID-19 tests: White House

As per numbers from the Health Ministry, there are 3,42,473 active cases in the country while 6,35,756 patients have been cured or discharged. One patient has been migrated.




DNA - Published





CDC 'really let the country down' on COVID-19 testing, says White House adviser Peter Navarro

Navarro also placed blame for the extent of the outbreak on China, implying that country's government consciously allowed the virus to spread.




USATODAY.com - Published





Kushner calls the coronavirus response in US 'a great success story'

White House adviser Jared Kushner said the country was "on the other side of the medical aspect of this," despite cases mounting across the country.




USATODAY.com - Published





China may be keeping coronavirus data for commercial gain: Trump adviser

White House adviser Peter Navarro charged on Monday that China may be withholding data about early coronavirus infections because it wants to win the commercial race to create a vaccine.




Reuters - Published




Sanders denies report he will end White House campaign after losses to Biden

Bernie Sanders' U.S. presidential campaign on Wednesday swiftly denied a report that he was abandoning his White House bid after bruising losses to Joe Biden in the most recent round of Democratic..




Reuters - Published




Mick Mulvaney: Trump replaces White House chief of staff

Mr Trump says Mr Mulvaney will become US special envoy to Northern Ireland.




BBC News - Published





US 2020 Election: What did Bloomberg get for his money?

The billionaire has ended his White House bid - but not before spending a whole lot of money on his campaign.




BBC News - Published





Trump lashes out at John Kelly after unprecedented comments against president

Donald Trump and John Kelly, the retired Marine general whom he fired as White House chief of staff, have finally gone to war. "When I terminated John Kelly, which I couldn't do fast enough, he knew..




WorldNews - Published





U.S. Senate's Schumer wants Mulvaney, Bolton, others to testify in impeachment trial

U.S. Senate Democratic leader Chuck Schumer wants White House acting Chief of Staff Mick Mulvaney, former national security adviser John Bolton and other officials to testify in the expected..




Reuters - Published





Acting White House chief of staff under fire after Ukraine comments

The acting White House chief of staff Mick Mulvaney says President Trump didn't expect so much opposition to his plan to host next year's G-7 summit at his Florida resort. The president now says he..




CBS News - Published




Mulvaney and Cipollone feuding over chief of staff job

Acting White House chief of staff Mick Mulvaney has been facing criticism for telling reporters that military aid to Ukraine was withheld to advance President Trump's political requests




CBS News - Published





Mick Mulvaney Struggles to Explain Comments on Ukraine

The acting White House chief of staff admitted he did not have a "perfect press conference," but said the administration did not tie military aid to investigating Democrats.




NYTimes.com - Published





Mick Mulvaney implicated by Trump official who testified before Congress on Monday: report

Acting White House chief of staff Mick Mulvaney was implicated by a former top National Security Council official during nine-hours of congressional testimony, The Wall Street Journal reported Monday...




WorldNews - Published





Lawsuit seeks info on John Kelly's ties to company housing migrants

Lawsuit follows an exclusive CBS News report in May that the former White House chief of staff had joined the board of the nation's only for-profit company holding unaccompanied migrant kids




CBS News - Published





U.S. lawmakers delay action to hold Trump adviser Conway in contempt

U.S. lawmakers have backed off on plans to hold White House senior adviser Kellyanne Conway in contempt of Congress for defying a subpoena last week as a string of current and former Trump officials..




Reuters - Published




Trump adviser Kellyanne Conway defies subpoena for House testimony

White House senior adviser Kellyanne Conway defied a subpoena and failed to appear on Monday at a congressional hearing about allegations she violated federal law, prompting a Democratic threat to hold..




Reuters - Published





House oversight panel backs subpoena for Conway

The House Oversight Committee on Wednesday approved a subpoena to force White House counselor Kellyanne Conway to appear before the panel as it looks into allegations that she repeatedly violated the..




USATODAY.com - Published




House panel votes to subpoena Trump adviser Kellyanne Conway on Hatch Act

The U.S. House of Representatives Oversight Committee voted 25-16 on Wednesday to subpoena testimony from White House senior adviser Kellyanne Conway after she failed to appear at a hearing about her..




Reuters - Published





House panel holds hearing on possible violations by Trump officials

The hearing comes after a federal watchdog urged Trump remove White House counselor Kellyanne Conway from federal service




CBS News - Published





Kushner: Agreement on economic pathway precondition for Mideast peace

White House senior adviser Jared Kushner said that prosperity for the Palestinians is not possible without a fair political solution but that agreement on an economic pathway forward was a necessary..




Reuters - Published




PLO official Hanan Ashrawi explains why Palestinians oppose US Middle East plan

White House senior advisor Jared Kushner is set to launch an international conference to push an investment plan he says will help the Palestinians. FRANCE 24 spoke with the PLO's Hanan Ashrawi about..




France 24 - Published





Highlights: Key quotes from Kushner interview with Reuters Television

White House senior adviser Jared Kushner spoke to Reuters Television exclusively in advance of the release of a U.S. economic plan for the Palestinian economy and surrounding countries to be unveiled..




Reuters - Published




Factbox: U.S. plan for Palestinian economy envisions $50 billion investment

White House senior adviser Jared Kushner is to formally unveil the first part of his Middle East peace plan during a Bahrain conference next week, outlining a path for development of the fragile..




Reuters - Published




Trump won't fire Conway over Hatch Act violations

President Trump said Friday he has no intention of firing White House counselor Kellyanne Conway, whose termination was urged by a government watchdog over her politicking in her federal job. "No,..




WorldNews - Published





Watchdog agency: Kellyanne Conway should be ousted from White House job over repeated political remarks

White House counselor Kellyanne Conway should be removed from office for political statements, the Office of Special Counsel said Thursday.




USATODAY.com - Published





8/5: Conway, Schiff, Duncan

This week on "Face the Nation," moderator Margaret Brennan interviews White House counselor Kellyanne Conway, Rep. Adam Schiff and former Secretary of Education Arne Duncan. Plus, our political panel..




CBS News - Published





Jared Kushner uncertain Palestinians can self-govern

White House senior adviser Jared Kushner said in an interview on 'Axios on HBO' that the Palestinians deserve "self-determination," but stopped short of backing Palestinian statehood and expressed..




WorldNews - Published





Kushner: Palestinians deserve self-determination but uncertain they can govern themselves

White House senior adviser Jared Kushner said in an interview broadcast on Sunday that the Palestinians deserve "self-determination," but stopped short of backing Palestinian statehood and expressed..




Reuters - Published