Rami Malek
American actor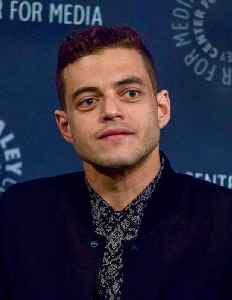 Rami Said Malek is an American actor and producer. His breakthrough role was as computer hacker Elliot Alderson in the USA Network television series Mr. Robot (2015–2019), for which he received several accolades, including the 2016 Primetime Emmy Award for Outstanding Lead Actor in a Drama Series. In 2018, he portrayed rock singer and songwriter Freddie Mercury in the biopic Bohemian Rhapsody, for which he received critical acclaim and won several awards, including the Academy Award, Golden Globe Award, Screen Actors Guild Award, and British Academy Film Award for Best Actor. He is the first actor of Egyptian heritage to win the Academy Award for Best Actor. Time magazine named Malek one of the 100 most influential people in the world in 2019.


Happy birthday Rami Malek!

The actor is now 39-years-old: so we've listed some facts about the star to celebrate his special day.
Credit: Bang Media World Duration: 01:18
Published
You Might Like
#RelationshipGoals on the Golden Globes red carpet
RED CARPET COUPLES: From Greta Gerwig and Noah Baumbach to Lucy Boynton and Rami Malek, couples hit the Golden Globes carpet in style. (Jan. 6)  
USATODAY.com - Published
Golden Globes 2020: Rami Malek gushes about James Bond co-star Daniel Craig on red carpet
Rami Malek had nothing but love for his soon-to-be on-screen nemesis Daniel Craig in the next James Bond film on the Golden Globes red carpet.
USATODAY.com - Published
Golden Globes 2020: Celebs hit the red carpet at LA's biggest pre-parties
Get ready for Golden Globes! Celebrities such as Saoirse Ronan, Cynthia Erivo, Rami Malek and Billy Porter warmed up on pre-party red carpets.
USATODAY.com - Published
Young M.A on her debut album, 'Mr. Robot' and LBGTQ representation
Rapper Young M.A. discusses dropping her debut album, "Herstory in the Making" three years after her massive single "Ooouuu." She also talks about her part in LBGTQ representation in hip-hop and..
USATODAY.com - Published
Malek on 'Mr Robot': 'It's very difficult to say goodbye'
Rami Malek says he is thankful that "Mr. Robot" provided him a platform as an actor and admits she's sad to say goodbye to the hit series. (Oct. 2)  
USATODAY.com - Published
'Mr Robot' creator's 'terrifying' foresight
At the New York premiere of the last season of hacking drama "Mr Robot," stars Rami Malek and Christian Slater discuss the show creator Sam Esmail's foresight on hacking and social engineering. (Oct...
USATODAY.com - Published
Daniel Craig's next James Bond film finally gets its official (and deadly) title
The new James Bond movie has its returning hero in Daniel Craig, a villain (Oscar winner Rami Malek) and now finally a title: "No Time to Die."
USATODAY.com - Published
Oscars 2019: Who Won the Big Awards?
by Graham Pierrepoint - We've just seen the biggest event in the Hollywood calendar come to pass, and as always, there were a number of upsets and surprises. The Academy Awards, otherwise known..
One News Page Staff - Published