Grammy Award
Accolade by the National Academy of Recording Arts and Sciences of the United States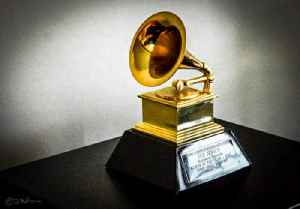 The Grammy Award, or just Grammy, is an award presented by the Recording Academy to recognize achievements in the music industry. The trophy depicts a gilded gramophone. The annual presentation ceremony features performances by prominent artists, and the presentation of those awards that have a more popular interest. The Grammys are the first and biggest award of the Big Three networks' major music awards held annually.


Mary Gauthier | Morning Blend

Grammy nominated songwriter Mary Gauthier joins us to share her new music video "Soldiering On"
Credit: ABC Action News Duration: 07:21
Published
Billie Eilish Bond 'No Time to Die' Video

The 18-year-old Grammy winner has now become the youngest artist to ever write and perform a James Bond movie theme. "No Time to Die" is the 25th film in the 007 franchise and the music video for..
Credit: Wochit News Duration: 00:33
Published
The Savage x Fenty Vol 2

Truthfully, who is doing it like Rihanna? The Savage x Fenty Show Vol 2. Last year, the show made headlines for its amazing choreography, celebrity performances and cameos, and most importantly,..
Credit: Wochit News Duration: 00:33
Published
Policewoman rakes in over £1,500 an hour as a Mariah Carey lookalike

An ex-military policewoman is fulfilling her 'Fantasy' and raking in over£1,500 an hour for impersonating her idol Mariah Carey – after more than 4,000fans subscribed to her YouTube channel to..
Credit: PA - Press Association STUDIO Duration: 01:32
Published
Kanye West blocked from Twitter after Grammy pee storm

Kanye West has been temporarily blocked from Twitter after sharing a video of himself urinating on one of his Grammy awards.
Credit: Cover Video STUDIO Duration: 00:50
Published
Kanye West posts video of himself peeing on his Grammy

In the midst of his Twitter firestorm, the rapper tweeted a video of himself peeing on one of his 21 Grammy Awards.
Credit: Cover Video STUDIO Duration: 01:22
Published
Jim Carey Set to Play Joe Biden on 'SNL,' Kanye West Urinates on Grammy Trophy & More News | THR News

Jim Carey is set to play Joe Biden on 'Saturday Night Live,' Kanye West caused quite a stir on Twitter while calling out the music industry, even sharing a video of a Grammy being urinated on and Fox..
Credit: The Hollywood Reporter Duration: 02:06
Published
K-pop legends BTS talk 2020 success

Following a record-breaking 2019, boyband BTS reached new heights with hit "Dynamite" getting U.S. Billboard success. But they wish they could celebrate with their fans. Caroline Malone reports.
Credit: Reuters - Politics Duration: 01:59
Published
You Might Like



Alanis Morissette looks back through the past 25 years in her new Audible original

Her music was the soundtrack of the 90s, and now Alanis Morissette is revealing the background stories to some of those songs. The Grammy Award winner released an Audible original, "Alanis..




CBS News - Published





Adele to make rare public appearance hosting 'SNL' for the first time: 'Absolutely terrified!'

Adele is returning to the world of "Saturday Night Live" as a first-time host but, no, the 15-time Grammy Award winner isn't the musical guest.




USATODAY.com - Published





Christopher Cross on his near-fatal COVID illness

In his first TV interview since contracting the coronavirus, the Grammy-winning singer-songwriter talks about his diagnosis for Guillain-Barré Syndrome, and being paralyzed and near death in the ICU




CBS News - Published





Saturday Sessions: Matt Berninger performs "Collar of Your Shirt"

Matt Berninger was working in advertising in Cincinnati when he decided to turn his passion for music into his full-time job. He moved to Brooklyn, New York with friends and formed The National, the..




CBS News - Published




COVID-19 nearly killed Grammy-winner Christopher Cross

Preview: The singer-songwriter was paralyzed and in intensive care for what he tells "CBS Sunday Morning" were the worst 10 days of his life




CBS News - Published





Mary J. Blige talks breast cancer awareness, 2020 and new music

Nine-time Grammy Award-winning singer Mary J. Blige is using her powerful voice to address barriers Black women face when it comes to breast cancer screenings. Blige also shares how the events of 2020..




CBS News - Published





After making big changes in her personal life, Ellie Goulding releases her first album in five years

With successful tours and platinum albums, Grammy-nominated English pop star Ellie Goulding's career was skyrocketing, but inside she was crumbling amid anxiety and the "mad chaos." Stepping out of the..




CBS News - Published





On This Day: 8 October 1985

Multiple Grammy-winning star Bruno Mars was born Peter Gene Hernandez, in Honolulu. (Oct. 8)  




USATODAY.com - Published





Jon Bon Jovi on "2020" album, new song about Black Lives Matter movement, and family

Grammy award-winning band Bon Jovi recently released its highly anticipated new album. Rock icon Jon Bon Jovi discusses how the pandemic and the death of George Floyd inspired the songs on the band's..




CBS News - Published





Rock musician Lenny Kravitz writes about his early life in new memoir

Grammy award-winning singer and songwriter Lenny Kravitz joins "CBS This Morning" to discuss his new memoir "Let Love Rule," on sale October 6. It takes readers through the first 25 years of his life,..




CBS News - Published





Lenny Kravitz on finding his voice

Having written an introspective new memoir, "Let Love Rule," the Grammy-winning singer talks about his struggles with identity, the road to rock stardom, and his extended, blended family. "CBS This..




CBS News - Published




Deborah Cox Talks 'Nobody's Supposed to Be Here' Challenge

Deborah Cox finds herself front and center of a new social media challenge that's been all the rage ... and so far, she's impressed by what she's seeing. The Grammy-nominated singer tells TMZ ... it's..




TMZ.com - Published





Singer Helen Reddy dies at 78

Reddy was the first Australian to win a Grammy Award.




CBS News - Published





Country Star Alan Jackson Selling Tennessee Estate for $23M

Alan Jackson -- one of the OG kings of country music -- is ready to get dethroned ... from his castle-like pad, that is, 'cause he's selling his massive estate. The two-time Grammy and 16-time CMA..




TMZ.com - Published





Carrie Underwood's son sings on her Christmas record

The Grammy Award for cutest collaboration of the year goes to Carrie Underwood and her five-year-old son Isaiah, who backs up his mom on "Little Drummer Boy." It's part of the country superstar's new..




USATODAY.com - Published





'Our time has come': Lizzo makes waves as Black, plus-size Vogue Magazine cover model

Breakout hip-hop artist Lizzo is making waves, gracing the cover of Vogue Magazine's October 2020 issue. The three-time Grammy award winning singer celebrated the opportunity on her Instagram, posting..




WorldNews - Published





'I work on my emotional recovery daily': Mariah Carey reveals true vulnerability in new memoir

Where does one begin when talking about Grammy Award-winning and chart-topping icon Mariah Carey? Her new memoir is a key place to start.




USATODAY.com - Published





AJ McLean says Kanye West Peeing on Grammy is Disrespectful

AJ McLean would never bust a Kanye West and pee on a Grammy ... not because he doesn't have one to pee on, but because it's just downright wrong. We got the Backstreet Boys member leaving 'DWTS'..




TMZ.com - Published





Saturday Sessions: NEEDTOBREATHE performs "Hang On"

Grammy-nominated band NEEDTOBREATHE are no strangers to the top of the charts — their album "The Reckoning," from 2011, hit number one on Billboard's Rock Album Chart. Their 2014 collection also..




CBS News - Published




Naomi Osaka's BF, Rapper Cordae, Cheers On Tennis Star From Stands At US Open

Tennis superstar Naomi Osaka had a Grammy-nominated cheerleader pulling for her at the US Open on Thursday -- her rapper boyfriend, Cordae!! As we previously reported, the young power couple has been..




TMZ.com - Published





Justin Timberlake becomes an investor, joins effort to bring Major League Baseball to Nashville

Ten-time Grammy award winner Justin Timberlake joins effort to bring Major League Baseball to Nashville.




USATODAY.com - Published





What's The Big Frigin' Difference?

Don't let these two almost identical images of The Weeknd have you feeling confused ... get it together and do your best to find the sneaky switches that have been made to this tricky pic! The Grammy..




TMZ.com - Published





12/7: CBSN AM

Millions in path of wicked winter storm; Grammy nominations announced




CBS News - Published





Is a Grammy nomination coming for BTS?

After taking home all four awards they were nominated at the MTV VMAs, BTS has the sights set on a Grammy nomination. (Sept. 3)  




USATODAY.com - Published





Rihanna Says Repairing Relationship With Her Dad Led To Forgiving Chris Brown

Rihanna and Chris Brown have reconciled their relationship and remain close friends, according to the FENTY CEO. Riri recently sat down with Oprah on her Supersoul Conversations Podcast. During the..




WorldNews - Published





Country star Chris Stapleton on his new album and the challenges of 2020

Only on "CBS This Morning," five-time Grammy winner Chris Stapleton talks to Anthony Mason about his upcoming fourth album, collaborating with his wife, a new song he wrote about the 2017 Las Vegas..




CBS News - Published





"Sunday Morning" Matinee: Hillsong Young & Free

The last album from the Sydney-based Christian music group Hillsong Young & Free, titled "III," peaked at No. 2 on Billboard's Top Christian/Gospel Albums Chart two years ago. The..




CBS News - Published





Billie Eilish says to 'vote like our lives depend on it' in DNC performance

(CNN)Grammy award winning singer Billie Eilish debuted a new song and delivered a plea for the nation to vote against Donald Trump on Election Day in an appearance at the 2020 Democratic National..




WorldNews - Published





Tedeschi Trucks Band plays "It's So Heavy"

Grammy-winning band performs on "CBS This Morning: Saturday" from their album Made Up Mind.




CBS News - Published





Tedeschi Trucks Band members talk group's start, leaving Allman Brothers

Grammy-winning Tedeschi Trucks Band members Susan Tedeschi and Derek Trucks sit down with Anthony Mason to talk about the band's origins, its sound, family and more.




CBS News - Published





Grammys 2014: Stars turn up at after party

One of the most popular parties after the Grammy Awards was Universal Music Group's party at Ace Hotel in downtown Los Angeles. KCBS-TV's Serene Branson was there with the stars to talk about their big..




CBS News - Published





Behind-the-scenes: Grammy Awards cuisine

A massive team of chefs is preparing to cook a feast for the 56th Annual Grammy Awards. CBS News' Bigad Shaban goes into the STAPLES Center's kitchen to see what the biggest stars will be eating..




CBS News - Published





The Grammys to host a rare Beatles reunion

The Recording Academy will celebrate the Beatles, plus Ciara shows off her baby bump. Bigad Shiban has those stories and more in today's Eye on Entertainment.




CBS News - Published





Gregory Porter performs "No Love Dying"

Jazz artist Gregory Porter performs "No Love Dying". The song is featured on his Grammy-nominated album "Liquid Spirit."




CBS News - Published





In 2009, Dolly Parton talked to 60 Minutes about being underestimated

Dolly Parton is nominated for two Grammys this year. In 2009, Dolly Parton told Morley Safer as a little girl she wanted to look like the town tramp when she grew up.




CBS News - Published





Watch Steve Wozniak's celebrity-packed 70th birthday celebration tonight at 8PM ET

Photo by Sonia Recchia/WireImage Apple co-founder Steve Wozniak turns 70 years old today, and you can celebrate by attending his celebrity-studded virtual birthday party that's happening in just a..




The Verge - Published





Burna Boy: "A revolution is needed. I want to inspire it"

Burna Boy was not a well-behaved student. Back then – before the Brit and Grammy nominations, the sold-out arena shows all around the world and the 600million streams of his irresistible music – he..




WorldNews - Published





Dan + Shay release quarantine-recorded song

Grammy-winning country duo Dan + Shay released their first new music in 2020, a single they recorded by themselves at home. "I Should Probably Go To Bed" came after their tour abruptly was cut..




USATODAY.com - Published





"Sunday Morning" Full Episode 8/2

Hosted by Jane Pauley. In our cover story, David Pogue checks up on why nearly half of Americans are believed to be living without high-speed internet access. Plus: Mo Rocca sits down with actress and..




CBS News - Published





Tanya Tucker: Legend

Since the ripe old age of 13, Tanya Tucker has had nearly two dozen Top-40 albums. And after more than 50 years on stage, her latest album, "While I'm Livin'," has gotten the best reviews of her career..




CBS News - Published





The Chicks return after a decade with new album

Billboard executive editor Melinda Newman previews "Gaslighter," the first new album in 14 years from Grammy-winning country group The Chicks. (July 15)  




USATODAY.com - Published





John Legend says it's "almost impossible" for Black artists to win Album of the Year ...

John Legend has reflected on racial injustice in the music industry, claiming that it's "almost impossible" for Black artists to triumph in the top awards category at the Grammys. Speaking in the..




WorldNews - Published





Lady Antebellum changes name to Lady A: 'We feel like we have been awakened'

Grammy Award-winning country trio Lady Antebellum dropped "Antebellum" from its name Thursday, per a social media post from the group.




USATODAY.com - Published





Last dance for legendary Madrid flamenco joint, stung by coronavirus

A Madrid flamenco bar that has played host to some of Spain's top performers, including an early-career set from Grammy-award winner Rosalia, is shutting down as audiences dwindle in the wake of the..




Reuters - Published





ShowBiz Minute: Grammys, 'Fresh Off The Boat,' Zoo

Winfrey, Pitt part of Grammys special for essential workers; The casts of "Fresh Off the Boat" and "Kim's Convenience" are teaming up for a charity event; Boston zoo reopens after losing $3M in..




USATODAY.com - Published





The-Dream on co-writing 'Savage' remix, new album and going back to college

Grammy award-winning songwriter "The-Dream" reveals how the "Savage" remix came together. He also talks about his new solo album, "SXTP4" and enrolling in the Savannah College of Art and Design to..




USATODAY.com - Published





Grammy winning R&B artist Betty Wright dead at 66

Grammy award-winning soul singer Betty Wright died in her home this weekend, according to multiple reports. The New York Times reported that Steve Greenberg, founder of S-Curve Records, confirmed the..




WorldNews - Published