European Parliament
Directly elected parliament of the European Union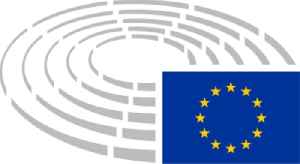 The European Parliament (EP) is one of three legislative branches of the European Union and one of its seven institutions. Together with the Council of the European Union, it adopts European legislation, commonly on the proposal of the European Commission. The Parliament is composed of 705 members (MEPs). It represents the second-largest democratic electorate in the world and the largest trans-national democratic electorate in the world.


EU plans for health union to boost pandemic preparedness

European Commission President, Ursula von der Leyen, announced on Wednesday her plans for a European Health Union during her first State of the Union address to the European Parliament. But what will..
Credit: euronews (in English) Duration: 02:48
Published
Michel Barnier departs London's EU liaison office

The European Union's chief Brexit negotiator Michel Barnier was greeted by reporters as he departed the European Parliament's Liaison Office in London on Thursday. Mr Barnier is in the UK capital..
Credit: ODN Duration: 00:43
Published
You Might Like



EU leaders call on Philippines to drop charges against Maria Ressa

Resolution passed by the European Parliament calls out the extrajudicial killings of thousands of Filipinos and retaliation against journalists.




CBS News - Published





EU calls for boycott, isolation and sanctions against Russia

The European Union wants to isolate Russia. To be more precise, the EU wants to "to continue the isolation" of Russia against the background of what happened to Russian opposition activist and blogger..




WorldNews - Published





European Parl. excludes Suu Kyi from Sakharov Prize community for crimes against Rohingya

The European Parliament has formally removed Myanmar's de facto leader Aung San Suu Kyi from the "Sakharov Prize community" because of her "acceptance" of state-sponsored crimes against the persecuted..




WorldNews - Published





'A Peaceful Revolution': exiled Belarus election candidate Tikhanovskaya insists Belarusian opposition is now majority

Svetlana Tikhanovskaya, officially the losing candidate in this month's contested Belarus election, has told members of the European Parliament that her country has gone through a "peaceful..




WorldNews - Published





Majority of MEPs demand improvement of EU budget

BRUSSELS, July 23 (Xinhua) -- A sizeable majority of members of the European Parliament (MEPs) on Thursday demanded significant changes to the European Union's (EU) 2021-2027 budget, which was agreed..




WorldNews - Published





The German MEP leading the fight against racism in Brussels

Exclusive: Pierrette Herzberger-Fofana, Germany's first MEP of African origin, talks of her 'traumatising' encounter with police and her struggle against discrimination in the EU Pierrette..




WorldNews - Published





Brexit: European Parliament says it won't 'consent' to watered-down trade deal

MEPs demand UK stays tied to regulations for market access




Independent - Published





Lawmakers Form Global Coalition to Tackle the China 'Challenge'

Lawmakers from several countries announced on Friday the formation of a new coalition formed to counter the "challenge" presented by China's ascendancy on the world stage. The Inter-Parliamentary..




WorldNews - Published





Ming the pantless! Politician caught on VIDEO stream attending European parliament in underwear

Irish politician Luke 'Ming' Flanagan has taken video conferencing calamities to extraordinary new heights by being caught on camera attending a European Parliament committee in his underpants...




WorldNews - Published





Slovakia lifts last Roma settlement quarantine

Slovakia lifted a quarantine on the last of five Roma settlements that were closed off in April to contain the spread of the new coronavirus, a member of the European Parliament and the country's..




Reuters - Published





EU Lawmakers Want Probe of Migrant Death on Greece-Turkey Border

While Greek authorities have repeatedly denied a migrant shot dead on the border with Turkey was killed by Greek fire, more than 100 Members of the European Parliament called for a formal..




WorldNews - Published





Coronavirus: European Parliament shelters 100 homeless women

The shelter in a Brussels building helps women affected by domestic abuse in Belgium's lockdown.




BBC News - Published





EU leaders to hold coronavirus video conference on March 26

European Union leaders will hold another video conference on March 26 to discuss the impact of coronavirus, a top official said on Thursday, the same day the European Parliament plans to increase EU..




Reuters - Published





EU assembly to meet on March 26 to approve coronavirus measures

The European Parliament is set to approve special measures on March 26 to soften the sudden economic impact of coronavirus, including releasing 37 billion euros ($39.48 billion) of European Union funds..




Reuters - Published





Head of EU parliament Sassoli in self-isolation as precaution

The president of the European Parliament Davide Sassoli said on Tuesday he was in self-isolation at his Brussels home as a precaution after having traveled to Italy.




Reuters - Published




EU Parliament to consider calling off session due to coronavirus

The European Parliament will hold an emergency meeting on Monday to consider calling off this week's plenary session of the EU assembly due to the coronavirus outbreak, two officials said.




Reuters - Published





EU parliament moves session from France over virus risk

The European Parliament has exceptionally moved its planned session in Strasbourg, France, next week to Brussels because of concerns about the coronavirus risk.




Reuters - Published





Jailed Catalan leader can't temporarily serve as EU lawmaker: EU court

A jailed Catalan separatist leader elected to the European Parliament while behind bars cannot serve as an EU lawmaker or enjoy immunity while his case is heard by the European Union Court of Justice,..




Reuters - Published




European Parliament suspends visits as precaution against coronavirus

The European Parliament will limit access to visitors for three weeks, its president said on Monday, as part of precautionary measures to reduce the spread of the coronavirus.




Reuters - Published




European Parliament considering virtual meetings, plenary due to virus

The European Parliament is considering whether to hold its meetings and plenary sessions by teleconference instead of in person due to growing concerns about the fast-spreading coronavirus that..




Reuters - Published




Brexit: EU Parliament makes tough demands for talks

MEPs call on the UK to follow EU policies in many areas in return for an ambitious free trade deal.




BBC News - Published





EU executive promises new strategy to fight cancer

The European Commission will present a new strategy to fight cancer by the end of the year, its president Ursula von der Leyen, who lost her younger sister to the disease, told the European Parliament..




WorldNews - Published





Number of BAME members of the European Parliament falls by 20% with Brexit

Campaigners fear racism will become even less of a priority in Brussels following UK departure




Independent - Published





EU leaders send message of unity, hope as UK departs

BRUSSELS, Jan. 31 (Xinhua) -- Top European Union (EU) leaders sent a message of unity and hope on the day of the United Kingdom's departure, vowing that a smaller bloc would not translate into a weaker..




WorldNews - Published





UK flags taken down at EU buildings in Brussels ahead of Brexit

Britain's Union Jack was removed from lines of EU member state flags at the European Council and European Parliament buildings in Brussels on Friday evening ahead of the United Kingdom's exit from the..




Reuters - Published




'Every choice has its consequences': EU leaders issue Brexit warning as they lament UK's imminent exit

The presidents of the EU's three major institutions have heralded Brexit Day with an apparent warning to the UK: "every choice has its consequences". European Commission president Ursula von der..




WorldNews - Published





CAA internal matter of India, will continue to remain engaged with European Parliament members: MEA

Asserting that the CAA is an internal matter of India, the MEA said it has noted the EU Parliament's decision to not put to vote a resolution on the citizenship law and will continue to engage with the..




IndiaTimes - Published





AP Top Stories January 30 A

Here's the latest for Thursday January 30th: Senate impeachment trial witness vote could come Friday; People buying masks due to coronavirus; L.A. church raided in immigration fraud bust; European..




USATODAY.com - Published





Brexit: Tears and Auld Lang Syne as MEPs back terms

There were emotional moments as members of the European Parliament backed the terms of the UK's exit.




BBC News - Published





European Parliament puts off vote on anti-CAA resolution

The groups, which jointly introduced the anti-CAA resolution — from centre-right to far-left — account for more than 500 MEPs in the 751-member house. But when the resolution was taken up, of the..




IndiaTimes - Published

Also reported by •DNA


European Parliament gives final approval to Brexit deal

Britain's departure from the European Union was set in law Wednesday as, amid emotional scenes, the bloc's parliament voted to ratify the divorce papers.




France 24 - Published

Also reported by •Reuters


Vote on anti-CAA motion in European Parliament delayed till March, debate goes ahead

A joint motion, combining five different resolutions tabled by Members of the European Parliament (MEPs) against India's Citizenship Amendment Act (CAA), has been placed on the final agenda for debate..




IndiaTimes - Published





Final stage before Brexit done as European Parliament approves Boris Johnson's deal

The European Parliament has approved Boris Johnson's Brexit deal, paving the way for Britain to leave the bloc.




Independent - Published





'Put your flags away, and take them with you': European Parliament speaker scolds Brexit MEPs as they wave Union Jacks

Nigel Farage gives final speech to European Parliament




Independent - Published





Second EU referendum would not be 'wholly unreasonable' after Brexit, says Nigel Farage

Brexit Party leader says he will miss being the 'pantomime villain' of the European Parliament




Independent - Published





'I'm not going to make the best of it' Britain's last MEPs retreat from the European Parliament

As Britain withdraws its representation from Brussels, Jon Stone speaks to MEPs packing up their offices




Independent - Published





British MEPs pack their bags ahead of Brexit

Two days before Brexit goes into effect, European Parliament members from the United Kingdom are turning the page on Europe and saying their goodbyes.




France 24 - Published





European Parliament schedules anti-CAA resolution for discussion: All you need to know




IndiaTimes - Published





European Parliament: MEPs set to approve Brexit deal in historic vote

MEPs are set to back the terms of the UK's departure from the EU in a landmark session in Brussels.




BBC News - Published





Lok Sabha speaker Om Birla writes to EU Parliament President on resolutions against CAA

Om Birla has penned down a letter to the EU President David Maria Sassoli saying that it is inappropriate for one legislature to pass judgment on another.




DNA - Published





Brexit: Tears and relief as the UK's MEPs bid farewell

It's been a "grim" last week for some but others are "delighted" to be leaving the European Parliament.




BBC News - Published





India ramps up efforts to counter anti-CAA move in European Parliament

PM Modi is scheduled to visit Brussels in March for the India-EU summit while foreign minister S Jaishankar is expected to visit in mid-February. India is ramping up diplomacy in Brussels and..




IndiaTimes - Published





'Respect sovereign processes of fellow legislatures': Om Birla to EU Parliament prez over CAA resolution




IndiaTimes - Published





'Doesn't reflect official position': EU Foreign Office on anti-CAA resolutions in European Union Parliament

Six resolutions have been tabled in the EU Parliament against the controversial citizenship act.




DNA - Published





Rethink move against CAA, India tells EU

​​​With the European Union Parliament set to introduce an anti-CAA resolution, the govt on Sunday urged sponsors and supporters of the draft to engage with India to get a full and accurate..




IndiaTimes - Published





'Matter entirely internal': India on anti-CAA resolutions in EU Parliament

More than 600 of 751 members of the EU Parliament are part of the six groups that have tabled the resolutions.




DNA - Published