Fritz Hollings
Politician from the United States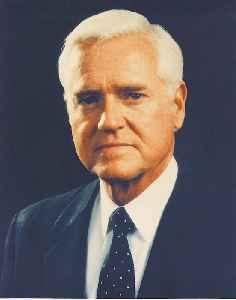 Ernest Frederick "Fritz" Hollings was an American politician who served as a United States Senator from South Carolina from 1966 to 2005. A conservative Democrat, he was also the Governor of South Carolina and the 77th Lieutenant Governor of South Carolina. He served alongside Republican Senator Strom Thurmond for 36 years, making them the longest-serving Senate duo in history. At the time of his death, he was the oldest living former U.S. Senator.


Biden's emotional eulogy at Fritz Hollings funeral
Funeral services were held Tuesday for South Carolina's Ernest F. "Fritz" Hollings at Summerall Chapel in Charleston with eulogies from former Vice President Joe Biden. (April 16)
USATODAY.com - Published
Biden, at Hollings Funeral, Talks About How 'People Can Change'
Mr. Biden once called Fritz Hollings his best friend in the Senate, strengthening his connection to the state, which is pivotal in the Democratic primary.
NYTimes.com - Published
'He was South Carolina': Biden on 'Fritz' Hollings
Former Vice President Joe Biden eulogized the late South Carolina politician Ernest 'Fritz' Hollings at his funeral on Tuesday in Charleston, and said it was 'Fritz' who endorsed a young Biden for U.S...
Credit: Reuters Studio Duration: 01:32Published
Sen. Fritz Hollings Dies
Former Senator Ernest "Fritz" Hollings died April 6 at age 97. He was a South Carolina Democrat and former governor of the state He will lie in repose at the South Carolina State House April 15, 10..
Credit: Wochit News Duration: 00:32Published
Former Sen. Ernest 'Fritz' Hollings Has Died
​The former senator from South Carolina died of natural causes early Saturday morning.
Credit: Newsy Studio Duration: 00:46Published
Joe Biden honors late Senator Ernest "Fritz" Hollings -- live stream
The funeral caps off three days of mourning for the former governor and longtime senator
CBS News - Published
Notre Dame Cathedral fire, Sen. Ernest Hollings funeral: 5 things to know Tuesday
Notre Dame Cathedral fire, the funeral for late Senator Ernest F. "Fritz" Hollings and more things to start your day.
USATODAY.com - Published
Search this site and the web:
You Might Like