New York Knicks
Professional basketball team based in New York City, New York.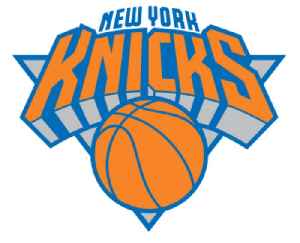 The New York Knickerbockers, more commonly referred to as the Knicks, are an American professional basketball team based in the borough of Manhattan, in New York City. The Knicks compete in the National Basketball Association (NBA) as a member of the Atlantic Division of the Eastern Conference. The team plays its home games at Madison Square Garden, an arena they share with the New York Rangers of the National Hockey League (NHL). They are one of two NBA teams located in New York City; the other is the Brooklyn Nets. Alongside the Boston Celtics, the Knicks are one of two original NBA teams still located in its original city.


Nuggets beat Knicks for 6th straight, share of 1st in West
Nikola Jokic had 21 points and 17 rebounds, Jamal Murray scored 18 points, and the Denver Nuggets beat the New York Knicks 111-93 for their sixth straight victory
USATODAY.com - Published
Why the Knicks need Zion Williamson more than any other NBA team
Landing Duke star Zion Williamson in the NBA draft would be huge for a New York Knicks franchise in desperate need of a hero.
USATODAY.com - Published
Knicks Humiliate LeBron
The NY Knicks dealt another embarrassing loss to LeBron James LA Lakers. The Knicks beat the Lakers 124-123. James scored 33 points. He had 8 rebounds and 6 assists. But, his humiliation came in the..
Credit: Wochit News Duration: 00:32Published
Should James Dolan Be Confident the Knicks Can Land Top Free Agents?
Knicks owner James Dolan is no stranger to making headlines and on Tuesday he said that New York is still an attractive destination for NBA free agents. SI Now's Madelyn Burke and Amy Campbell discuss..
Credit: Sports Illustrated Duration: 01:47Published
Knicks Guard Dennis Smith Jr. On Dunk Contest
Dennis Smith Jr. has had a whirlwind season, from being traded from the Dallas Mavericks to the New York Knicks to participating in the dunk contest weeks later. Smith said he had fun in the dunk..
Credit: Wochit News Duration: 00:38Published
Mitchell scores 30, Jazz pound Knicks 137-116
Donovan Mitchell scored 30 points, Rudy Gobert made all seven shots and added 18, and the Utah Jazz romped to their fifth straight lopsided victory by beating the New York Knicks 137-116
USATODAY.com - Published
Lin leads Raptors to rout of Knicks; Lowry injured
Jeremy Lin scored 20 points, Fred VanVleet had 13 points and 12 assists, and the Toronto Raptors beat the New York Knicks 128-92
USATODAY.com - Published
Knicks block LeBron at the finish, rally to beat Lakers
Mario Hezonja blocked LeBron James' potential game-winning shot with 2.3 seconds to play, allowing the New York Knicks to complete a late rally and beat the Los Angeles Lakers 124-123
USATODAY.com - Published
Mario Hezonja blocks LeBron James' final shot to seal Knicks win over Lakers
Mario Hezonja hadn't played in a month, but he made the biggest play of the game, blocking LeBron James' last-second shot to seal a one-point win.
USATODAY.com - Published
Spurs defeat Knicks, 109-83, extending win streak to 7
LaMarcus Aldridge had 18 points and 11 rebounds and the San Antonio Spurs beat the New York Knicks 109-83 on Friday night, extending their season-best winning streak to seven straight
USATODAY.com - Published
You Might Like