Miami Marlins
Baseball team and Major League Baseball franchise in Miami, Florida, United States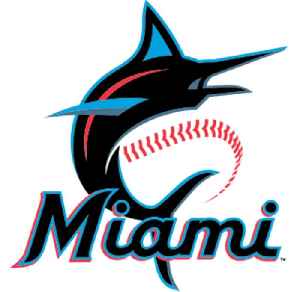 The Miami Marlins are an American professional baseball team based in Miami, Florida. They compete in Major League Baseball (MLB) as a member club of the National League (NL) East division. Their home park is Marlins Park. Though one of only two MLB franchises to have never won a division title, the Marlins have won two World Series championships as a wild card team.


Hamels pitches 7 innings, Cubs complete sweep with 6-0 win
Cole Hamels pitches 7 innings, Chicago Cubs complete sweep of Miami Marlins with 6-0 win
USATODAY.com - Published
Quintana goes 7 innings, Cubs beat Marlins 4-0
Jose Quintana (2-1) scattered six hits and struck out seven as he extended his scoreless innings streak to 14
USATODAY.com - Published
Brycer Harper To Sign With Philadelphia Phillies
According to Business Insider, Bryce Harper will sign a record-setting contract with the Philadelphia Phillies. The 26-year-old's contract with the Phillies is a 13-year deal. Sources from Major League..
Credit: Wochit News Duration: 00:38Published
Contreras homer, 3 RBIs help Cubs beat Marlins 7-2
Willson Contreras hit his sixth homer, drove in three and reached base four times, and the Chicago Cubs thawed out to beat the Miami Marlins 7-2
USATODAY.com - Published
Segura homers in 14th, Phillies top Marlins 3-1
Segura homers in the 14th, Phillies top Marlins 3-1 to take 2 of 3 in series
USATODAY.com - Published
Dean's career-high 4 hits, 5 RBIs help Miami beat Phils 10-3
Newcomer Austin Dean had four hits and five RBIs, both career highs, to help the Miami Marlins break a five-game losing streak by beating the Philadelphia Phillies 10-3
USATODAY.com - Published
Arrieta earns 100th win as Phillies beat Marlins 9-1
Jake Arrieta allowed one run in seven innings to earn his 100th career victory Friday, and the Philadelphia Phillies sent the Miami Marlins to their fifth consecutive loss, 9-1
USATODAY.com - Published
Puig returns with RBI double, Reds sweep Marlins 5-0
Yasiel Puig returned from a two-game suspension and doubled home a pair of runs, and the Cincinnati Reds completed a reinvigorating three-game sweep of the Miami Marlins with a 5-0 win
USATODAY.com - Published
Reds use late homers to rally for 2-1 win over Marlins
Jose Iglesias led off the eighth inning with a tying homer _ only Cincinnati's second hit of the game _ and Jesse Winker connected one out later, rallying the Reds to a 2-1 victory over the Miami..
USATODAY.com - Published
Reds end 8-game skid, drub Marlins 14-0 with 5 HRs
Matt Kemp hits 3-run homer as Cincinnati Reds pound Miami Marlins 14-0
USATODAY.com - Published
You Might Like