Deferred Action for Childhood Arrivals
Immigration policy for unlawfully present immigrants within the U.S. who entered as minors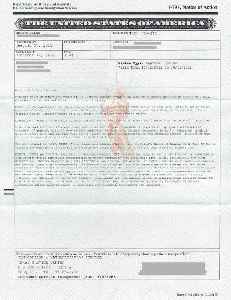 Deferred Action for Childhood Arrivals (DACA) is a United States immigration policy that allows some individuals with unlawful presence in the United States after being brought to the country as children to receive a renewable two-year period of deferred action from deportation and become eligible for a work permit in the U.S. To be eligible for the program, recipients cannot have felonies or serious misdemeanors on their records. Unlike the proposed DREAM Act, DACA does not provide a path to citizenship for recipients. The policy, an executive branch memorandum, was announced by President Barack Obama on June 15, 2012. U.S. Citizenship and Immigration Services (USCIS) began accepting applications for the program on August 15, 2012.


Young, undocumented, and getting out the vote

Twenty-four year-old Maria Jose Rodriguez's immigration status means she can't vote in November's election, but that hasn't stopped her from mobilizing and advocating in her community. Libby Hogan..
Credit: Reuters - Politics Duration: 02:41
Published
You Might Like



Groups challenge Trump's decision to scale back DACA program

The Trump administration has closed the DACA program to first-time applicants, dashing the hopes of tens of thousands of young undocumented immigrants who would have been eligible.




CBS News - Published





Trump administration adds new restrictions on work permits for asylum-seekers

The Trump administration is implementing a new rule requiring asylum-seekers to wait 365 days before applying for a work permit, instead of the previous 150-day timeline. It also disqualifies them from..




CBS News - Published





DHS to limit current DACA protections and reject new applicants

The move effectively closes the program to hundreds of thousands of potential new applicants, including roughly 66,000 immigrant teens who turned 15 after September 2017.




CBS News - Published





Undocumented but unafraid: How my immigrant story led to DACA protections for young people

Should students not attend college because they are undocumented? Should we live in fear for our loved ones' safety because they are undocumented? No.




USATODAY.com - Published





Cristina Jiménez Moreta helped get DACA, now she helps young immigrants find their voice

Cristina Jiménez Moreta co-founded United We Dream, which became the country's largest immigrant-youth led network.




USATODAY.com - Published





Immigrant 'Dreamers' in Search of a Job Are Being Turned Away

President Trump hopes to end DACA, which has granted employment authorization to thousands of young immigrants. Already, some large employers are refusing to hire them.




NYTimes.com - Published





Some "Dreamers" locked out of DACA after Trump move

Tens of thousands of immigrant teens and young adults remain vulnerable to deportation due to President Trump's decision to reject new DACA applications.




CBS News - Published





Does the Supreme Court's DACA decision give President Trump more power?

The Supreme Court dealt a blow to President Trump at the end of June by ruling against his effort to block the Obama-era DACA program. But could that decision have actually given him more executive..




CBS News - Published





Trump to extend current DACA protections, reject new applications after Supreme Court knockdown

White House officials said the administration will conduct a review of the Obama-era DACA program for "Dreamers," which Trump has tried to end.




USATODAY.com - Published





Trump Delays Move to End DACA

After the Supreme Court ruled that President Trump failed to present a valid rationale for ending DACA, the administration said it would conduct a "comprehensive review" of the program.




NYTimes.com - Published





Business Leaders Urge Trump to Leave DACA Alone After Court Ruling

Executives with companies including Target, Apple, Google and Facebook warned the president that any actions related to DACA would disrupt the economy and affect the battle against the coronavirus.




NYTimes.com - Published





Trump eyes 'road to citizenship' for DACA

President Donald Trump told a Spanish language network news anchor that during the next few weeks, he will be signing an executive order on immigration that will provide a "road to citizenship" for..




USATODAY.com - Published





One Brother Got DACA, One Didn't. It Made All the Difference.

The Supreme Court ruled that DACA was improperly terminated, but the Trump administration has not reopened the life-changing immigration program to new applicants.




NYTimes.com - Published





Fact check: Supreme Court decision doesn't give DACA recipients jobs over U.S. citizens

The claim that the Supreme Court's ruling upholding the DACA program made it illegal to hire U.S. citizens over so-called Dreamers is false.




USATODAY.com - Published





Trump visits border wall in Arizona, talks DACA

President Donald Trump visited the U.S.-Mexico border Tuesday and tried to credit his new wall with stopping both illegal immigration and the coronavirus. (June 23)  




USATODAY.com - Published





Donald Trump to issue executive order limiting temporary work visas

Trump's executive order comes days after the Supreme Court ruled the administration erred in its effort to halt the DACA program created by Obama.




USATODAY.com - Published





Trump Says Administration Will Try Again to End DACA

Responding to Thursday's Supreme Court decision, the president said he will follow the rules set out by the justices to challenge the Obama-era program protecting young immigrants from deportation.




NYTimes.com - Published





Aligning with liberals on DACA and LGBTQ rights, Chief Justice John Roberts asserts his independence

In delivering a one-two punch to President Trump and his base this week, John Roberts served notice that he can be either side's punching bag.




USATODAY.com - Published





Arizona DACA recipients applaud Supreme Court ruling

Young immigrants in Phoenix, Arizona expressed some relief Thursday that the U.S. Supreme Court has kept alive, for now, the Obama-era program that allows immigrants brought here as children to work..




USATODAY.com - Published




In CA: The masks have it in California

In a move possibly designed to save neighbor v. neighbor fights, Gov. Gavin Newsom mandates masks be worn in most public spaces. And DACA recipients can stay, the U.S. Supreme Court rules, even as it..




USATODAY.com - Published





AP Top Stories June 18 P

Here are the top stories for Thursday, June 18th: US political leaders praise DACA decision; GOP blocks Democrats effort to remove Confederate statues; UK Prime Minister Johnson meets President Macron..




USATODAY.com - Published





'It Feels Like I Can Finally Breathe': 'Dreamers' Get a Reprieve on DACA

Thousands of young people who were in the country illegally as children have been caught in legal limbo. A new Supreme Court ruling gave them a temporary win.




NYTimes.com - Published





Trump blasts DACA decision, asking if people get the impression 'the Supreme Court doesn't like me?'

Trump denounced the Supreme Court for upholding a program allowing young, undocumented immigrants to remain in the U.S., accusing the court of "shotgun blasts" in the face of conservatives.




USATODAY.com - Published





'We won': DACA recipients overwhelmed by surprise Supreme Court victory over Trump

The Supreme Court handed a victory to 650K DACA recipients, a rare win over a Trump administration that tried to end the Obama-era program.




USATODAY.com - Published




Pelosi praises DACA decision, no regrets on Bolton

Speaker of the House Nancy Pelosi praised the Supreme Court decision that allows young immigrants to retain protection from deportation. She also criticized John Bolton who she says knows President..




USATODAY.com - Published





Court rejects Trump bid to end young immigrants' protections

The Supreme Court on Thursday rejected President Donald Trump's effort to end legal protections for 650,000 young immigrants, a stunning rebuke to the president in the midst of his reelection..




WorldNews - Published





DACA recipient relieved at Supreme Court decision

DACA recipient surprised and relieved at Supreme Court decision, but vows to concentrate on permanent protection for immigrants. (June 18)  




USATODAY.com - Published





What Is DACA? And How Did It End Up in the Supreme Court?

Here's what you need to know about a policy that protected from deportation people who were brought into the United States as children.




NYTimes.com - Published





DACA Explained: What is it?

Here's what you need to know about a policy that protected from deportation people who were brought into the United States as children.




NYTimes.com - Published





Trump Can't Shut Down DACA, Supreme Court Rules

The program, Deferred Action for Childhood Arrivals, protects people brought to the United States as children by shielding them from deportation and letting them work.




NYTimes.com - Published





Supreme Court ruling upholds DACA program for young, undocumented immigrants

The program, created by President Barack Obama in 2012, allows nearly 700,000 immigrants to live and work in the U.S. without fear of deportation.




USATODAY.com - Published




Immigrant anxiously awaits Supreme Court decision

A DACA recipient who became an immigrant activist is now anxiously awaiting a U.S. Supreme Court decision on President Donald Trump's attempt to end protection from deportation. Alejandra Gonzalez's..




USATODAY.com - Published





Coronavirus, unemployment, DACA: A 'Dreamer' graduates into an especially uncertain world

As the Supreme Court weighs DACA protections and the world shelters from coronavirus, a college graduate celebrates the rocky path she has traveled.




USATODAY.com - Published





Trump administration to bar DACA and undocumented students from billions in federal aid

The White House on Tuesday blocked tens of thousands of undocumented immigrants and DACA recipients from getting billions of dollars in aid earmarked for college students affected by COVID-19.




USATODAY.com - Published





Supreme Court lets DACA proponents cite recipients' work fighting coronavirus

An estimated 27,000 DACA recipients work in the health care field, out of nearly 700,000 brought to the United States without legal papers as children




USATODAY.com - Published





I'm a nurse battling against COVID-19, but DACA fight could end in my deportation

Many DACA recipients are essential in the fight against COVID-19 and yet are faced with uncertainty about their immigration status every day




USATODAY.com - Published





Lift the cloud over front-line DACA Dreamers fighting coronavirus, let them keep working

Trump should automatically extend work authorizations for DACA recipients immediately. We need more help fighting the coronavirus pandemic, not less.




USATODAY.com - Published





Undocumented immigrants working on pandemic's front lines fear for health and home

USA TODAY spoke with DACA recipients working on the front lines of the pandemic in California, Florida, Texas and the suburbs of New York City.




USATODAY.com - Published





'It's scary': As DACA decision looms, Texas college students worry about their future

The U.S. Supreme Court could issue a decision that would mean the end of deferred action for hundreds of thousands of young immigrants.




USATODAY.com - Published





The Supreme Court May Let Trump End DACA. Here's What the Public Thinks About It.

Polls show the program to protect young undocumented immigrants from deportation is broadly popular. Democratic organizers see an opportunity to mobilize voters if it is ended.




NYTimes.com - Published





What to Know About DACA and California

Wednesday: The case has major implications for the Golden State. Also: Caspian terns and evolving quinceañeras.




NYTimes.com - Published





Supreme Court considers future of "Dreamers" in DACA case

There are protests in major cities in support of the DACA program, which enabled immigrants brought to the U.S. illegally as children to remain and work in the U.S. The Supreme Court heard arguments on..




CBS News - Published




Hundreds show support for DACA in Los Angeles

Hundreds of students marched in Los Angeles Tuesday to show support for immigrants who receive protections under the DACA program. The US Supreme Court is considering a Trump administration plan to end..




USATODAY.com - Published





Supreme Court signals willingness to side with Trump in DACA case

The court heard arguments in a case over whether the Trump administration can end protections for "Dreamers"




CBS News - Published





'I'm just as American as they are': Activists, DACA recipients gather as Supreme Court hears case

The high court's ruling on the Obama -era program is expected next spring in the midst of the 2020 presidential race.




USATODAY.com - Published





Immigrants urge Supreme Court to protect DACA

Undocumented immigrants walked out of the Supreme Court vowing to fight on after justices heard arguments about the legality of the Trump administration's decision to wind down the Deferred Action for..




USATODAY.com - Published





Daca: US Supreme Court seems to back Trump on key immigration case

The fate of hundreds of thousands of migrants who arrived in the US as children hangs in the balance.




BBC News - Published





U.S. Supreme Court divided over Trump bid to end DACA immigrant program

U.S. Supreme Court justices on Tuesday appeared divided over the legality of President Donald Trump's effort to rescind a program that protects from deportation hundreds of thousands of immigrants who..




Reuters - Published





One sister has DACA status, the other doesn't. Their lives are worlds apart.

As they wait to see if the Supreme Court decides the program is legal, Deysi is safe from deportation, but her younger sister is at risk.




USATODAY.com - Published




Were You Homeless in California? What Helped?

Tuesday: We want to hear from people who have experienced homelessness. Also: Catch up on the DACA case before the Supreme Court.




NYTimes.com - Published