Australia national rugby union team
National team representing Australia in rugby union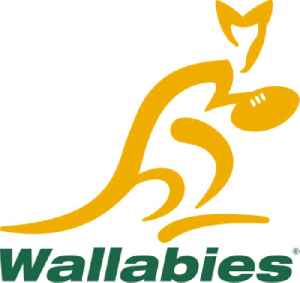 The Australia national rugby union team, nicknamed the Wallabies, is controlled by Rugby Australia. The team first played at Sydney in 1899, winning their first test match against the touring British Isles team.


Israel Folau: Sacking by Australia sends clear message, says referee Nigel Owens
Rugby referee Nigel Owens says Israel Folau's sacking by Rugby Australia for anti-gay comments was an important step for the sport.
BBC News - Published
Rugby bosses 'knew' they had to sack Folau after speaking with parents of LGBTQI+ kids
Rugby Australia boss Raelene Castle sacked Wallabies star Israel Folau after speaking to parents of fans who were struggling with their sexuality.
SBS - Published
Israel Folau sacked by Rugby Australia over social media post
Rugby Australia terminates Israel Folau's contract following his controversial posting on social media
Credit: Reuters - Sports Duration: 01:01Published
Israel Folau conduct hearing to continue Sunday
Israel Folau's code of conduct hearing will continue for a second day with no decision expected before next week at the earliest, Rugby Australia said on Saturday.
Credit: Reuters - Sports Duration: 01:02Published
Rugby Australia chief admits to issues over Israel Folau hearing
Rugby Australia chief Raelene Castle says with the benefit of hindsight her organisation could have handled the Israel Folau saga better.
SBS - Published
Folau fired by Rugby Australia for contentious online posts
Israel Folau's status as the unrivaled star of Australian rugby wasn't enough to save his job in the wake of a social media post that condemned gay people and other so-called sinners to eternal..
WorldNews - Published
Folau sacked by Rugby Australia after hearing
Israel Folau's contract is terminated by Rugby Australia after he said "hell awaits" gay people in a social media post.
BBC News - Published
'Israel left us with no choice': Folau sacked by Rugby Australia following social media post
The fundamentalist Christian has been awaiting a verdict after being found guilty of a 'high-level' breach of Rugby Australia's code of conduct for a post on social media.
SBS - Published
You Might Like