New South Wales
State of Australia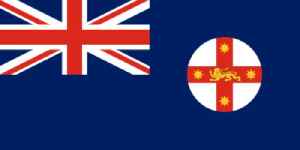 New South Wales is a state on the east coast of Australia. It borders Queensland to the north, Victoria to the south, and South Australia to the west. Its coast borders the Coral and Tasman Seas to the east. The Australian Capital Territory is an enclave within the state. New South Wales' state capital is Sydney, which is also Australia's most populous city. In March 2019, the population of New South Wales was over 8 million, making it Australia's most populous state. Just under two-thirds of the state's population, 5.1 million, live in the Greater Sydney area. The demonym for inhabitants of New South Wales is New South Welshmen; but some have protested this term while there is no commonly accepted alternative.


Australian politicians are at war over koalas

[NFA] A dispute over policies to protect koalas has split the governing coalition in the Australian state of New South Wales in a political drama dubbed the "koala war." Emer McCarthy reports.
Credit: Reuters Studio Duration: 01:20
Published
Zac Efron reportedly finds love in Australia

The Baywatch star has spent the coronavirus lockdown in Byron Bay, New South Wales and recently cancelled a flight home to Los Angeles and extended his tourist visa from three to 12 months.
Credit: Cover Video STUDIO Duration: 00:48
Published
'You just react': man punches shark to save wife

When a shark attacked his wife as the pair surfed off the coast of Australia's New South Wales, Mark Rapley says he 'just reacted' - punching the shark until it released her. David Doyle reports.
Credit: Reuters Studio Duration: 01:34
Published
A 12-Year-Old Girl Caught Gambling In Australian Casino

(CNN) A 12-year-old girl was among three minors caught gambling at a casino in Sydney, Australia, regulators said Saturday. According to Liquor & Gaming New South Wales (NSW), the state regulator, The..
Credit: Wochit News Duration: 00:32
Published
You Might Like



NZ travel to NSW, SA coming very soon: PM

Prime Minister Scott Morrison says NSW and South Australia will be the first states to benefit from New Zealanders being allowed to travel to Australia.




SBS - Published





Sixth day of no local COVID-19 cases in NSW amid new Queensland bubble

NSW notched its sixth consecutive day without community coronavirus transmission on Thursday, as Queensland's border bubble officially shifted further south.




SBS - Published





NSW records sixth day without community COVID-19 transmission as new Queensland bubble comes into effect

NSW notched its sixth consecutive day without community coronavirus transmission on Thursday, as Queensland's border bubble officially shifted further south.




SBS - Published





No new locally acquired virus cases in NSW

Pressure is mounting on Gladys Berejiklian to relax restrictions in regional NSW as the Queensland border bubble extends 100km into her state.




SBS - Published




Scott Morrison hits out at NSW Environment Minister Matt Kean over 'out of step' gas comments

NSW Environment Minister Matt Kean has been accused of being a "bit out of step" over the future of gas as an energy source.




SBS - Published





Australia's cherry farms need workers and Year 12s are getting the call up

With the cherry season due to begin soon in central west New South Wales, growers are desperate for workers. The short and intense season aligns with the end of school for many, prompting recruiters to..




SBS - Published





Expanded Queensland border bubble comes into effect as pressure to open up regional NSW grows

Pressure is mounting on Gladys Berejiklian to relax restrictions in regional NSW as the Queensland border bubble extends 100km into her state.




SBS - Published





Covid 19 coronavirus: Queensland reopens border with New South Wales

The state border that has kept Queensland closed to most of northern New South Wales has finally relaxed from today – but it comes with a stern warning.The border that has kept Queensland closed to..




New Zealand Herald - Published





Locals, environmentalists furious as Narrabri gas project gets green light in northern NSW

Experts, locals, and environmentalists have voiced their dismay after a controversial coal seam gas project in northwest NSW was granted approval.




SBS - Published




Covid 19 coronavirus NSW: Fifth day without community transmission

Four new cases of coronavirus have been diagnosed in New South Wales up to 8pm on Tuesday, but zero community transmission.Wednesday marks the fifth day in a row of no community transmission in the..




New Zealand Herald - Published

Also reported by •SBS


'Don't be complacent': Gladys Berejiklian concerned as NSW records zero locally acquired cases for fifth day

NSW has gone five days without recording a single case of locally acquired COVID-19 but the premier says everyone must maintain social distancing.




SBS - Published





Jacinda Ardern's message to Australia: 'As much as we hate to admit it, we miss each other'

A travel bubble between New Zealand and New South Wales in Australia could soon be established with both leaders declaring they're open to individual deals.Prime Minister Jacinda Ardern told Sunrise..




New Zealand Herald - Published





WA eases coronavirus rules for arrivals from Victoria, NSW as case numbers continue to fall

People arriving in Western Australia from Victoria will no longer be required to enter COVID-19 hotel quarantine at their own expense.




SBS - Published





NSW records zero locally acquired coronavirus cases for fourth consecutive day

NSW has gone four days without recording a single case of locally acquired COVID-19 but testing rates remain quite low just days before NSW school holidays.




SBS - Published





NSW records no new coronavirus cases for second day in a row as testing rates decline

NSW has again recorded no new cases of COVID-19 - however health authorities are urging more testing as schools break up on Friday and holidays begin.




SBS - Published




No new coronavirus cases recorded in NSW for the first time in three months

The last time the state recorded zero new coronavirus cases in a 24 hour period was 10 June.




SBS - Published





NSW hopes raw sewage testing will strengthen fight against COVID-19

A research program to find traces of COVID-19 in Sydney sewage could prove a useful tool in the fight against the pandemic, NSW's chief health officer says.




SBS - Published





Sewage tests a tool in NSW pandemic fight

A research program to find traces of COVID-19 in Sydney sewage could prove a useful tool in the fight against the pandemic, NSW's chief health officers says.




SBS - Published





Heavy spring snow falls recorded in parts of New South Wales

Up to 40cm of snow is expected to drop around the Central and Southern Tablelands in New South Wales over the weekend.




SBS - Published





NSW records one new COVID-19 case amid concerns mystery infection could reset QLD 'border clock'

NSW has recorded zero new locally acquired cases of COVID-19, with a returned traveller in hotel quarantine the only new case recorded across the state.




SBS - Published





Border restrictions lifted in South Australia, Queensland - what is the policy state by state?

As South Australia and Queensland open borders with New South Wales, what are the border restrictions in place in each state?




SBS - Published





Queensland says federal withdrawal of army unfair as accusations fly over 'political' border policy

The withdrawal of Australian Defence Force troops on October 1 will come a day after Queensland opens to more than 150,000 extra NSW residents when a border bubble is widened.




SBS - Published





NSW zero community transmission run ends

NSW's run of consecutive days without locally acquired COVID-19 cases has come to an end after a man in his 50s from southwest Sydney tested positive.




SBS - Published





NSW arts scene gets a boost as state eases coronavirus restrictions for venues

NSW is easing coronavirus restrictions for certain entertainment venues after the state marked a third straight day without any locally acquired cases of COVID-19.




SBS - Published





One community coronavirus case under investigation in NSW, as wedding restrictions eased

Health authorities are investigating one locally-acquired coronavirus case in NSW, after two days without any community transmission.




SBS - Published





Watch: NSW COVID-19 update

South Australia has officially opened its border with NSW, as Premier Gladys Berejiklian urges vigilance ahead of the school holidays. NSW Premier Gladys Berejiklian and state health officials are live..




SBS - Published





SA border reopens to NSW travellers as Gladys Berejiklian urges vigilance

NSW Premier Gladys Berejiklian is urging caution with residents set to travel more thanks to an easing of COVID-19 restrictions and school holidays.




SBS - Published





SA border reopens to NSW travellers

NSW Premier Gladys Berejiklian is urging caution with residents set to travel more thanks to an easing of COVID-19 restrictions and school holidays.




SBS - Published





Australian uni students rally against education cuts

University students and staff across New South Wales have held protests over education cuts. Some protesters were fined for breaching COVID-19 public health orders.




SBS - Published





SA travel breach as NSW border reopens

SA is ready to welcome NSW visitors "with open arms" from midnight when border restrictions are eased, Premier Steven Marshall says.




SBS - Published





SA confirms it will reopen border with NSW

There have been no locally acquired cases of COVID-19 recorded in NSW in the past two days, paving the way for free travel to South Australia from midnight.




SBS - Published




Australian blunder with NZ flag on Sydney bridge

The New South Wales government has rushed to replace the New Zealand flag being flown over Sydney's Anzac Bridge after an embarrassing mistake was discovered.The Anzac Bridge was given its name on..




New Zealand Herald - Published





Second consecutive day of no locally acquired cases for NSW

There have been no locally acquired cases of COVID-19 recorded in NSW in the past two days, paving the way for free travel to South Australia from midnight.




SBS - Published





Second day of no locally acquired cases for NSW as South Australia set to open border

There have been no locally acquired cases of COVID-19 recorded in NSW in the past two days, paving the way for free travel to South Australia from midnight.




SBS - Published





NSW records zero locally acquired cases of coronavirus amid increased testing rates

South Australia is likely to re-open to travellers from NSW at midnight after no new locally acquired cases of COVID-19 were recorded.




SBS - Published





Instagram model jailed for bizarre masked robberies

Instagram model Monique Agostino has been jailed in NSW's toughest women's prison for a series of bizarre masked robberies with juvenile males, as well as drug offences, shoplifting and having a knife..




New Zealand Herald - Published





SA, Qld to relax NSW border restrictions

There have been no new cases of locally acquired COVID-19 recorded in NSW as Queensland eases its border rules and SA prepares to welcome people from NSW.




SBS - Published





South Australia reopens to NSW residents as Queensland widens southern border bubble

Queensland will extend its border bubble to include residents of five NSW government areas as South Australia moves to lift its COVID-19 restrictions with NSW from midnight on Wednesday.




SBS - Published





SA to lift COVID-19 border rules with NSW

South Australia's transition committee has moved to lift border restrictions with NSW from midnight on Wednesday.




SBS - Published





Queensland extends border bubble to include five NSW local government areas

Queensland will extend its border bubble to include the Byron Shire, Ballina, Lismore, the Richmond Valley and Glen Innes in NSW.




SBS - Published





Nationals MP to defect over NSW koala saga

The fallout from the political showdown between the NSW Nationals and NSW Liberals continues, with a Nationals MP quitting the party to join the NSW Liberals.




SBS - Published





NSW joins federal pandemic leave scheme as state records first coronavirus death in five weeks

New South Wales joins Victoria in accessing the federal government scheme, which provides residents with pandemic leave payments of $1,500 during the 14-day period of self-isolation because of..




SBS - Published





Fewer than 200 wild koalas survive near this NSW town. The locals hope to change that

A new koala sanctuary is opening near Port Stephens this week to help rehabilitate sick and injured animals. It's the result of a long campaign by local volunteers.




SBS - Published





NSW records its first coronavirus death in weeks as health warnings are issued after a taxi driver tested positive

NSW has recorded its first coronavirus death in five weeks, while a Sydney taxi driver has tested positive for coronavirus, prompting health warnings for potential contacts to monitor for symptoms in a..




SBS - Published





NSW records three new coronavirus cases as Queensland border tensions simmer

NSW's weekly cap on returning overseas travellers will soon rise by 500 as tensions with Queensland simmer over its border policy.




SBS - Published





Just one new local COVID-19 case in NSW

NSW's weekly cap on returning overseas travellers will soon rise by 500 as tensions with Queensland simmer over its border policy.




SBS - Published





NSW Deputy Premier John Barilaro takes one month of mental health leave

The NSW Nationals leader will miss next week's sitting of parliament, with his deputy Paul Toole installed acting leader.




SBS - Published





Young Sydney woman wins 'insane' $65m Powerball prize in Australia

An Australian woman in her twenties from New South Wales has become an instant multi-millionaire after winning the Powerball jackpot of more than A$60 million in Thursday night's draw.The winning..




New Zealand Herald - Published





John Barilaro survives no-confidence vote, refuses to guarantee he'll keep NSW coalition intact

John Barilaro clashed with Labor in Parliament before he survived a no-confidence motion that was put against him this afternoon.




SBS - Published