Broadway theatre
Class of professional theater presented in New York City, New York, USA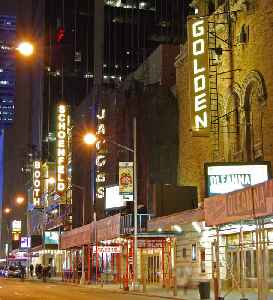 Broadway theatre, commonly known as Broadway, refers to the theatrical performances presented in the 41 professional theatres, each with 500 or more seats located in the Theater District and Lincoln Center along Broadway, in Midtown Manhattan, New York City. Along with London's West End theatre, Broadway theatre is widely considered to represent the highest level of commercial theatre in the English-speaking world.


"To Kill a Mockingbird": A story for our time
The critically-lauded Broadway play adapted from Harper Lee's Pulitzer Prize-winning novel is finding cogent meaning among today's young audiences
CBS News - Published
Only one woman directing musical on Broadway
As another Broadway season draws to a close, the opening of "Hadestown" marks its only musical directed by a woman, Tony nominee Rachel Chavkin. (April 16)
USATODAY.com - Published
Fact-Check: Political Ad Goes After Beto O'Rourke's Past
The Club For Growth, a conservative advocacy group, released a two-minute ad packed with a number of negative claims about Beto O'Rourke.
Credit: Newsy Studio Duration: 02:16Published
The music of Britney Spears hits Broadway
"Once Upon A One More Time" is scheduled to debut in 2020. Alicia Powell reports.
Credit: Reuters Studio Duration: 00:54Published
Kimono comedy hits Times Square
Canadian Katsura Sunshine brings laughter to off-Broadway audiences as he performs the 400-year-old art of Japanese comic storytelling called rakugo. Fred Katayama reports.
Credit: Reuters Studio Duration: 02:35Published
Search this site and the web:
You Might Like