Lebanon
Country in Western Asia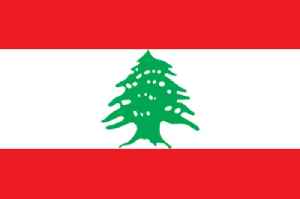 Lebanon, officially known as the Lebanese Republic, is a country in Western Asia. It is bordered by Syria to the north and east and Israel to the south, while Cyprus is west across the Mediterranean Sea. Lebanon's location at the crossroads of the Mediterranean Basin and the Arabian hinterland facilitated its rich history and shaped a cultural identity of religious and ethnic diversity. At just 10,452 km2, it is the smallest recognized sovereign state on the mainland Asian continent.


Houthi Interior Minister Dies In Lebanon Hospital
A minister in the administration of the Houthi-run area of Yemen died in a Lebanese hospital on Saturday, a Lebanese official told Reuters on Monday, confirming earlier Houthi media reports about the..
WorldNews - Published
Also reported by •Reuters
Report: Lebanese FM Meets With Senior Israeli Officials In Moscow
The Jerusalem Post, quoting a report in the Saudi Arabian newspaper Elaph, reports Lebanon's Foreign Minister Gebran Bassil reportedly met with senior Israeli officials in Moscow and "discussed..
WorldNews - Published
Lebanon citizenship laws: Mothers want to pass on nationality
Women married to foreigners are not allowed to pass on citizenship, rights campaigners want the decades-old nationality law to be reformed.
Credit: Al Jazeera STUDIO Duration: 02:27Published
Lebanon urges Syria to lower trade tariffs
Syrian roads are vital to Lebanese trade, instead of the high cost of air cargo or shipping by sea.
Credit: Al Jazeera STUDIO Duration: 02:34Published
U.S.: Iran's revolutionary guards a 'terror' group
U.S. Secretary of State Mike Pompeo on Monday designated Iran's elite Islamic Revolutionary Guard Corps a foreign terrorist organization, an unprecedented step that raises tension in the Middle East...
Credit: Reuters Studio Duration: 02:01Published
Experimental art captivates Lebanon's dance festival
Performances from established and emerging local artists reflecting themes of war & destruction enthralled audiences at the Beirut International Platform of Dance event.
Credit: Reuters Studio Duration: 00:59Published
Soccer unites Lebanese and Syrian refugee children
A Spanish charity is working on drawing attention to the global refugee crisis by encouraging displaced Syrian & Lebanese children to get together and play soccer.
Credit: Reuters Studio Duration: 00:58Published
Putin To Discuss Golan Heights With Lebanon
Reuters reports Russian President Vladimir Putin will discuss the U.S. decision to recognize Israel's sovereignty over the Golan Heights with Lebanon's president at talks in Moscow later on..
Credit: Wochit News Duration: 00:35Published
Pressure on Iran, Hezbollah is working: Pompeo
U.S. Secretary of State Mike Pompeo says U.S. financial pressure on Iran and its Lebanese ally Hezbollah is working and calls on Lebanon to stand up to the Shi'ite group which he accused of..
Credit: Reuters Studio Duration: 01:05Published
U.S. Secretary of State Pompeo arrives in Lebanon
Secretary of State Mike Pompeo landed in Beirut after visting Israel on Friday. He is expected to pile pressure on the government to curb the influence of the Iran-backed Hezbollah. Rough cut (no..
Credit: Reuters Studio Duration: 00:49Published
Pompeo confers with Israel on Hezbollah before Lebanon trip
The U.S. Secretary of State described Hezbollah as a risk to Middle East stability ahead of his visit to Beirut. Rough cut (no reporter narration)
Credit: Reuters Studio Duration: 00:46Published
New Lebanon minister makes Syrian refugees' return his priority
Going back home - a bittersweet journey for Syrian refugees who fled to neighbouring Lebanon to escape the war.
Credit: Al Jazeera STUDIO Duration: 02:33Published
Assad makes first Iran visit since Syrian war
Syrian President Bashar al Assad made his first public visit to his closest regional ally Iran since the start of Syria's war in 2011, meeting Supreme Leader Ayatollah Ali Khamenei in Tehran on Monday..
Credit: Reuters Studio Duration: 00:43Published
UK moves to ban Lebanon-based Hezbollah
The new ban will come into force on Friday if approved by parliament. The armed group with a political wing controls 30 ministries in Lebanon's government.
Credit: Al Jazeera STUDIO Duration: 04:28Published
Today in History for April 18th
Highlights of this day in history: The San Francisco earthquake; What becomes known as 'Paul Revere's ride'; A suicide bomb hits the U.S. embassy in Lebanon; Physicist Albert Einstein dies; Wayne..
USATODAY.com - Published
Search this site and the web:
You Might Like